---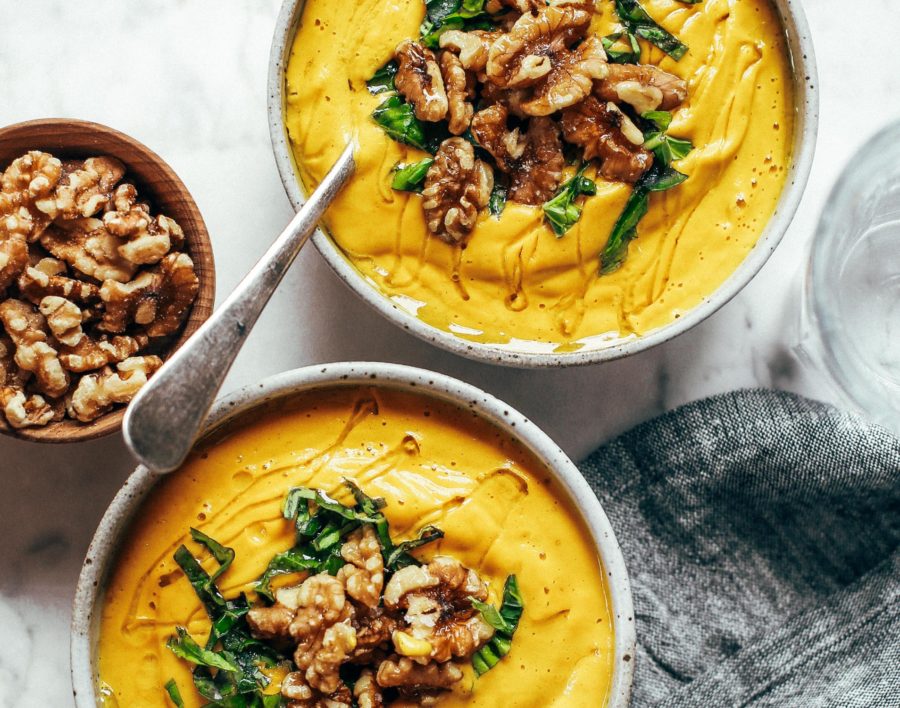 Creamy golden turmeric vegetable soup; made with vegetables, cashews, and curry spices! A warm and comforting paleo whole30 dinner recipe, full of rich earthy flavors.

Print Recipe Golden Turmeric Vegetable Soup Creamy golden turmeric vegetable soup; made with vegetables, cashews, and curry spices! A warm and comforting paleo whole30 dinner recipe, full of rich earthy flavors. Ingredients Info Cook Time 10 minutes Prep Time 10 minutes Servings servings MetricUS Imperial Course Main Dish Votes: 8
Rating: 3.63
You: Rate this recipe! Info Cook Time 10 minutes Prep Time 10 minutes Servings servings MetricUS Imperial Course Main Dish Votes: 8
Rating: 3.63
You: Rate this recipe! Ingredients Instructions
In a large soup pot add olive oil, cashews, and vegetables. Cover with a lid and saute until soft (stirring on occasion). Then add spices and water.
Blend everything in a large blender until smooth and serve.
Nutrition Facts Golden Turmeric Vegetable Soup Amount Per Serving Calories 480 Calories from Fat 297 % Daily Value* Total Fat 33g 51% Saturated Fat 5g 25% Polyunsaturated Fat 5g Monounsaturated Fat 20g Sodium 1109mg 46% Potassium 505mg 14% Total Carbohydrates 35g 12% Dietary Fiber 7g 28% Sugars 9g Protein 13g 26% Vitamin A 193% Vitamin C 56% Calcium 8% Iron 33% * Percent Daily Values are based on a 2000 calorie diet.
Read more