---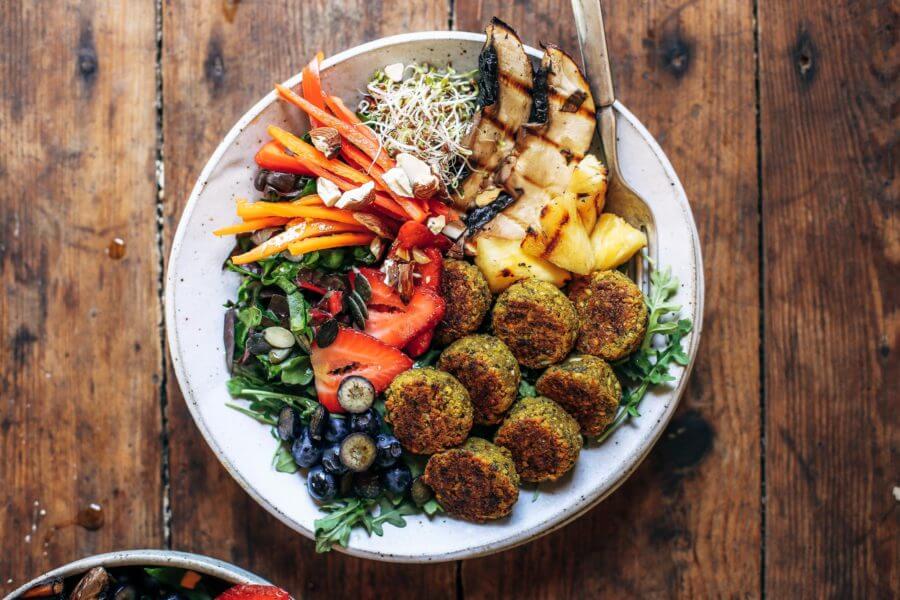 Baked falafel made with sweet potato and cauliflower in a food processor! Healthy whole30 vegan falafel recipe with minty herb sauce and a summer salad! This easy paleo falafel can be made ahead and frozen.

Print Recipe Whole30 Vegan Sweet Potato Falafel Bowl Baked falafel made with sweet potato and cauliflower in a food processor! Healthy whole30 vegan falafel recipe with minty herb sauce and a summer salad! This easy paleo falafel can be made ahead and frozen. Ingredients Falafel Main Dish Votes: 6
Rating: 4.17
You: Rate this recipe! Recipe Notes

Flax egg instructions: Mix 2 tablespoons golden milled flax meal with 1/4 cup water and let it set for 5 minutes, then use.

Info Cook Time 30 minutes Prep Time 15-20 minutes Servings servings MetricUS Imperial Course Main Dish Votes: 6
Rating: 4.17
You: Rate this recipe! Recipe Notes

Flax egg instructions: Mix 2 tablespoons golden milled flax meal with 1/4 cup water and let it set for 5 minutes, then use.

Ingredients Falafel
Preheat oven to 400F. Line a baking tray with parchment paper.
In a food processor combine ingredients for falafel.
Scoop one heaping tablespoon at a time onto a baking tray lined with parchment paper. Drizzle falafel balls with olive oil and bake on 400F for 20 minutes on one side then turn and cook for another 10 on the other side.
Blend ingredients for sauce in a blender or food processor.
Assemble salad bowl with any of the following ingredients: chopped rainbow chard, arugula, clover sprouts, red bell pepper, orange bell pepper, grilled portobello mushrooms, grilled pineapple, grated apple, fresh berries, crushed almonds, pumpkin seeds, falafel balls, and sauce.
Nutrition Facts Whole30 Vegan Sweet Potato Falafel Bowl Amount Per Serving Calories 509 Calories from Fat 270 % Daily Value* Total Fat 30g 46% Saturated Fat 6g 30% Polyunsaturated Fat 8g Monounsaturated Fat 4g Cholesterol 51mg 17% Sodium 477mg 20% Potassium 644mg 18% Total Carbohydrates 50g 17% Dietary Fiber 16g 64% Sugars 15g Protein 16g 32% Vitamin A 255% Vitamin C 275% Calcium 34% Iron 50% * Percent Daily Values are based on a 2000 calorie diet.
Read more