---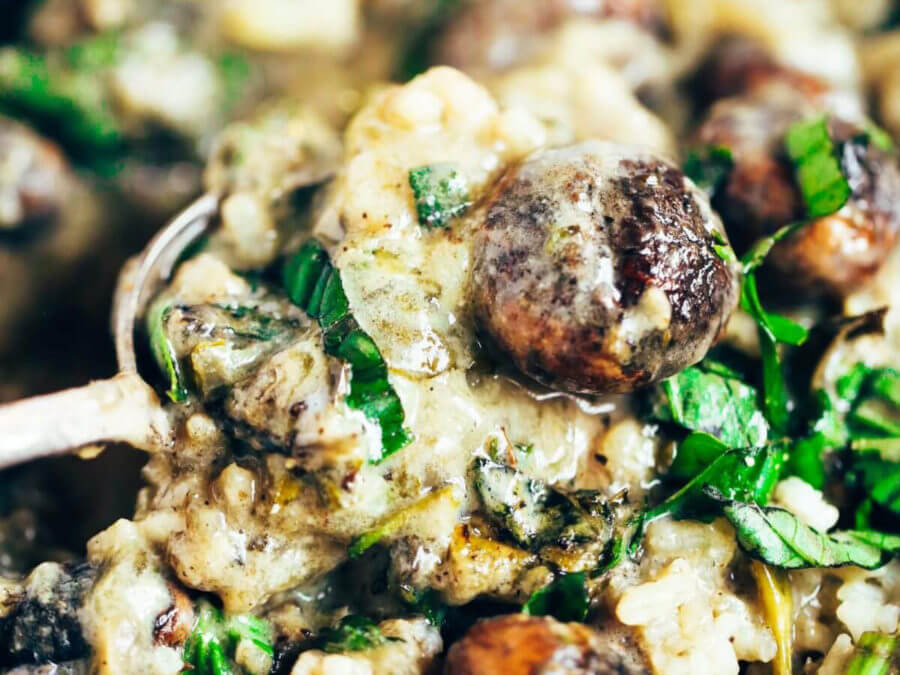 Warm and addicting comfort food alert! Cream of mushroom casserole (paleo, whole30, and dairy free). Layers of creamy sauce, cauliflower rice, herbed mushrooms, and lots of fresh basil! Made in minutes, then it's in the oven!

Print Recipe Cream Of Mushroom Paleo Casserole *Warm and addicting comfort food alert! Cream of mushroom casserole (paleo, whole30, and dairy free). Layers of creamy sauce, cauliflower rice, herbed mushrooms, and lots of fresh basil! Made in minutes, then it's in the oven! Ingredients Base Main Dish Votes: 3
Rating: 4.67
You: Rate this recipe! Info Cook Time 55 minutes Prep Time 10 minutes Servings servings MetricUS Imperial Course Main Dish Votes: 3
Rating: 4.67
You: Rate this recipe! Ingredients Base
Preheat oven to 350F. Grease a 8" square casserole baking dish with avocado oil.
In a skillet, sauté the chopped onions and minced garlic in water or oil until soft.
Layer in the cauliflower rice, sautéed onions and garlic, mushrooms, and fresh basil into the casserole dish and set aside.
Add all the ingredients for the sauce into a saucepan. Blend using a hand immersion blender or whisk. Once the mixture is smooth, bring to a simmer and continue to whisk (or if you are using a hand blender- just blend it on occasion). Simmer and whisk for a few minutes until the sauce thickens, then take off the heat and pour over the casserole.
Bake casserole on 350F for about 55 minutes until the edges are golden.
Nutrition Facts Cream Of Mushroom Paleo Casserole Amount Per Serving Calories 257 Calories from Fat 99 % Daily Value* Total Fat 11g 17% Saturated Fat 8g 40% Polyunsaturated Fat 0.3g Monounsaturated Fat 0.3g Cholesterol 31mg 10% Sodium 577mg 24% Potassium 578mg 17% Total Carbohydrates 27g 9% Dietary Fiber 8g 32% Sugars 5g Protein 10g 20% Vitamin A 45% Vitamin C 101% Calcium 12% Iron 22% * Percent Daily Values are based on a 2000 calorie diet.
Read more