---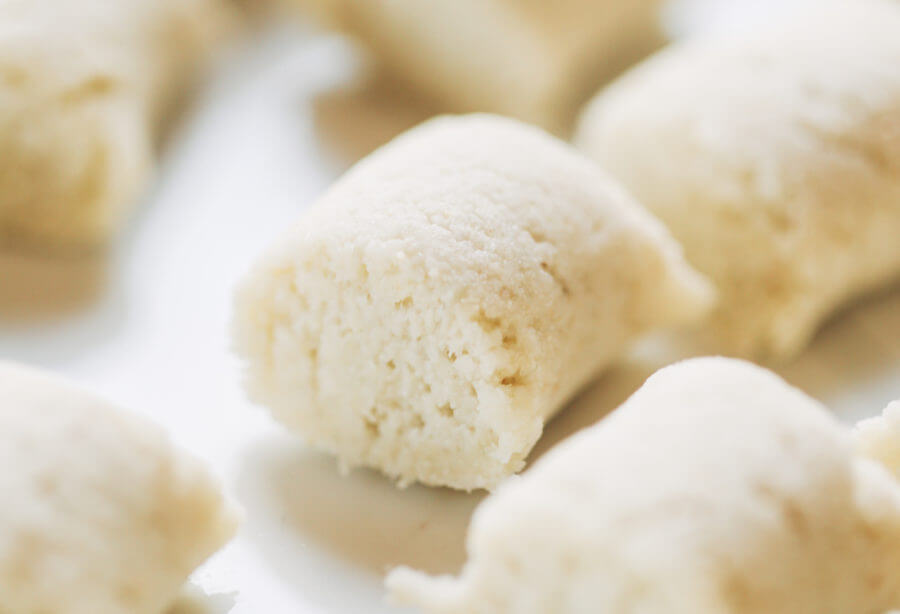 Homemade two ingredient cauliflower gnocchi. Easy, healthy, and delicious! An easy whole30 and paleo dinner that makes for easy meal prep.

Print Recipe 2 Ingredient Cauliflower Paleo Gnocchi Homemade two ingredient cauliflower gnocchi. Easy, healthy, and delicious! An easy whole30 and paleo dinner that makes for easy meal prep. Ingredients Gnocchi Main Dish Votes: 1
Rating: 5
You: Rate this recipe! Info Cook Time 40 minutes Prep Time 20 minutes Servings servings MetricUS Imperial Course Main Dish Votes: 1
Rating: 5
You: Rate this recipe! Ingredients Gnocchi
Heat oven to 425F.
Steam cauliflower for about five minutes until soft. Ring water out of cauliflower by putting it in a dish towel and squeezing the excess water out. The remaining cauliflower should measure out to about 1 1/2 cups.
In a food processor blend ingredients for gnocchi until smooth (you may have to add more or less cassava flour to get the dough to be kneadable).
Separate dough into four equal parts and roll out into 3/4" diameter tubes on a surface dusted lightly with cassava flour. Cut the tubes of dough into 1" pieces.
Bring a large pot of water to a boil and drop gnocchi in. Once they have risen to the surface, remove, and drizzle lightly with olive oil.
Place gnocchi on a baking tray lined with parchment paper and lightly drizzled with olive oil. Bake on 425F for 20 minutes, then turn gnocchi over and bake for another 20 minutes until golden.
In a saucepan stir together ingredients for sauce (except spinach) and whisk continuously (or use a hand blender) until smooth and the sauce begins to thicken. If you overcook it, it will become too thick and gooey from the flour. Stir continuously to avoid clumping. Then remove from heat, add spinach, wilt it, then stir in gnocchi.
Nutrition Facts 2 Ingredient Cauliflower Paleo Gnocchi Amount Per Serving Calories 298 Calories from Fat 126 % Daily Value* Total Fat 14g 22% Saturated Fat 12g 60% Polyunsaturated Fat 0.3g Monounsaturated Fat 0.1g Sodium 129mg 5% Potassium 1062mg 30% Total Carbohydrates 39g 13% Dietary Fiber 8g 32% Sugars 7g Protein 7g 14% Vitamin A 81% Vitamin C 217% Calcium 10% Iron 16% * Percent Daily Values are based on a 2000 calorie diet.
Read more