Vegan Artichoke Dip
---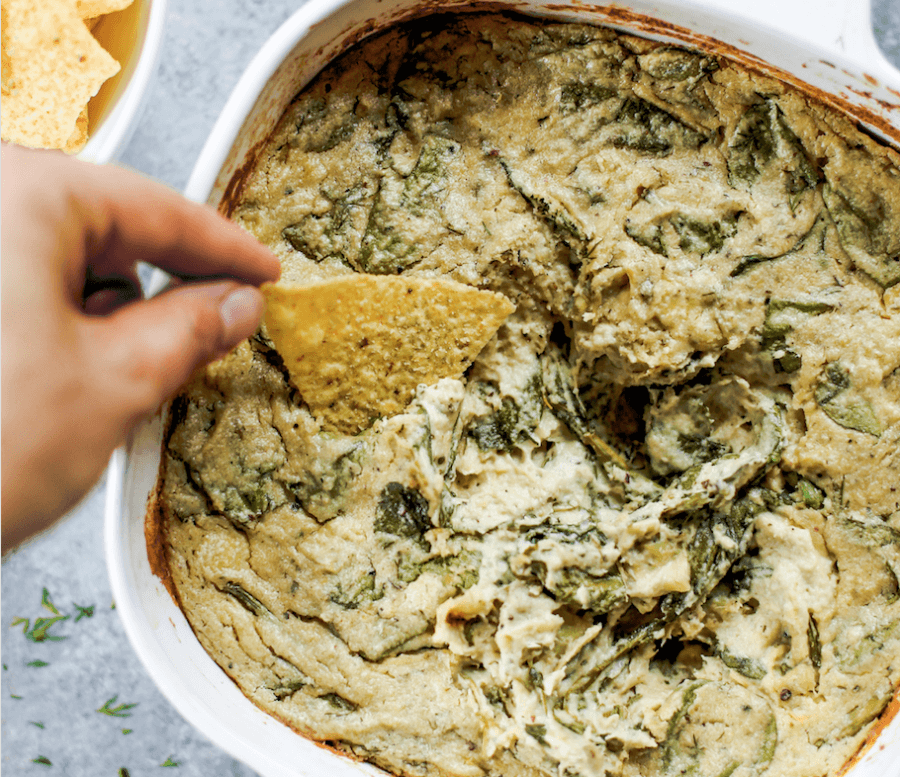 Creamy vegan artichoke dip made with cashews instead of dairy. A healthy snack and dip for veggie sticks, crackers, or bread. This paleo artichoke dip recipe is so easy to make and will keep you full and satisfied.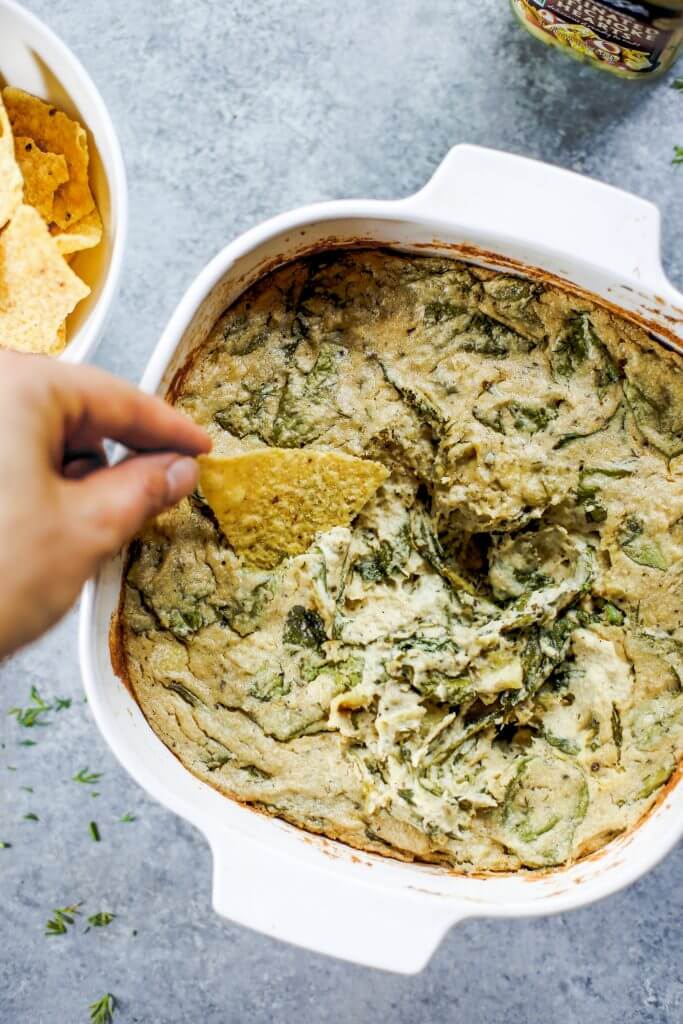 Thank You Reese Specialty Foods For Sponsoring This Recipe!
This creamy artichoke dip has been my go-to snack this week.
Paired with crunchy beet chips or carrot sticks, it's an amazing duo.
…and yes, corn chips because I'm not 100% paleo. 🙂
This easy dip recipe is made with cashews instead of dairy!
It's a vegan-friendly and healthy way to enjoy your afternoon snack or a great dish to serve up at a party (win over all your vegan friends!).
Watch how to make this recipe!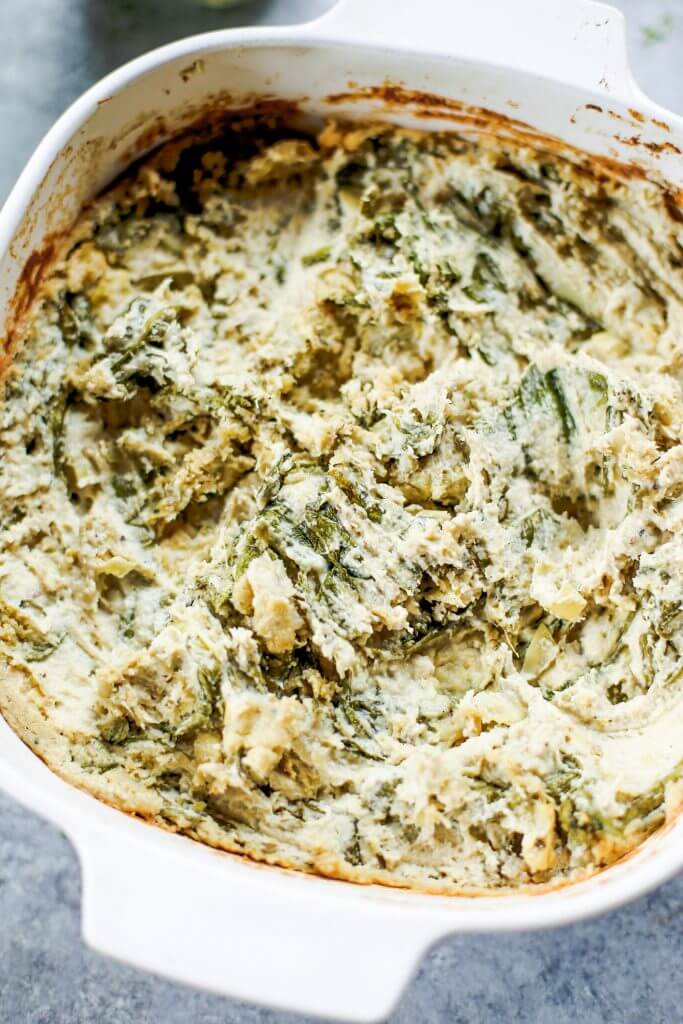 If I could choose one diet/food group to eat for the rest of my life it would be Mediterranean hands down, game over.
I'll take all the fish, figs, cucumbers, dates, olives, and artichokes.
The star of this dish is of course, Reese Specialty Foods marinated artichoke hearts– bomb!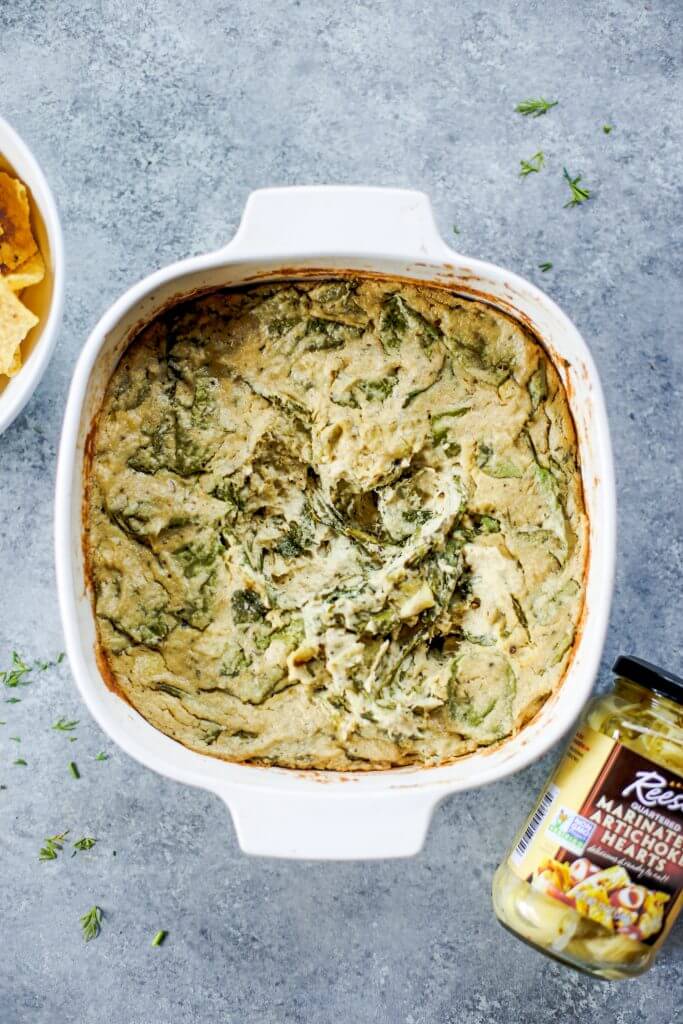 Artichoke dip on the go
I've been on the go most of the week, so I'll let you in on my pro tip: glass storage for meal prep!
I have packed this dip with kale, beet, or carrot chips for on-the-go snacking.
Also, I packaged up single serving size proportions of this dip and stashed them in the freezer for meal prep throughout the week.
When I was craving artichoke dip, I just pulled out a serving from the freezer and reheated it on the stove in a saucepan (you could also reheat in the microwave, but I'm not into that, so yeah…). 🙂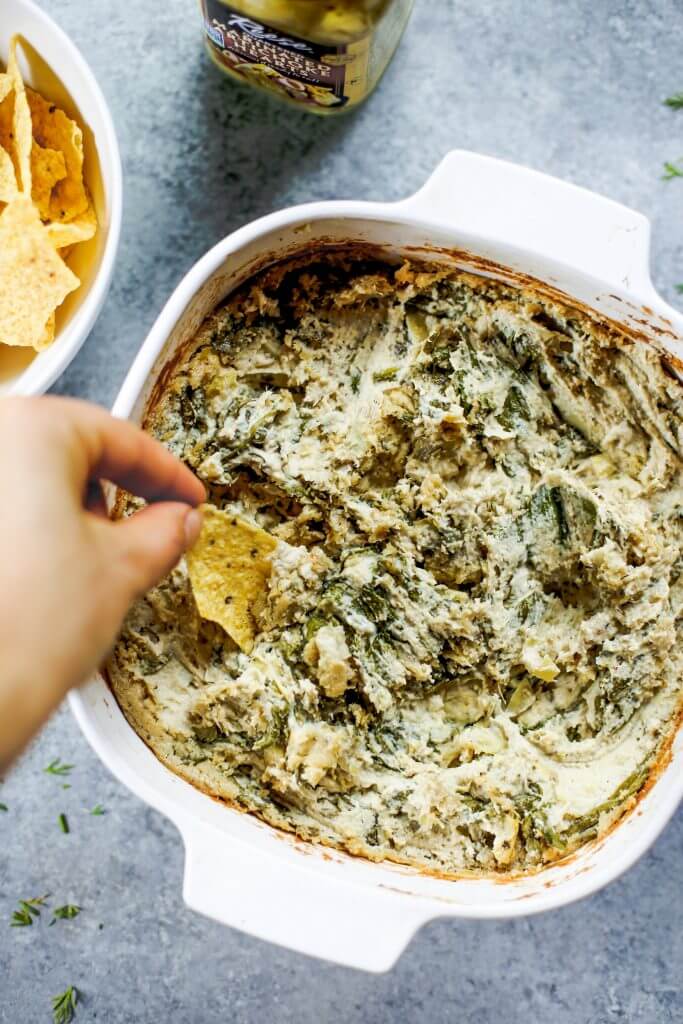 Soak raw cashews (in a glass jar) in hot water for about 15 minutes or until soft, then drain and add to a food processor. Combine with lemon juice and almond milk until cashews are blended into a smooth and creamy consistency.

Add rest of ingredients (except spinach and 1 cup diced artichoke hearts) and blend until combined.

Transfer dip into a bowl and stir in spinach and chopped artichoke hearts.

Transfer dip to a 8" by 8" baking dish. Bake on 350F for about 45 minutes until golden on top, then serve with chips or veggie sticks. Store in fridge or freezer.
Nutrition Facts

Vegan Artichoke Dip

Amount Per Serving

Calories 122

Calories from Fat 81

% Daily Value*

Total Fat 9g 14%

Cholesterol NaNmg 0%

Sodium 177mg 7%

Potassium 68mg 2%

Total Carbohydrates 7g 2%

Protein 4g 8%

* Percent Daily Values are based on a 2000 calorie diet.