---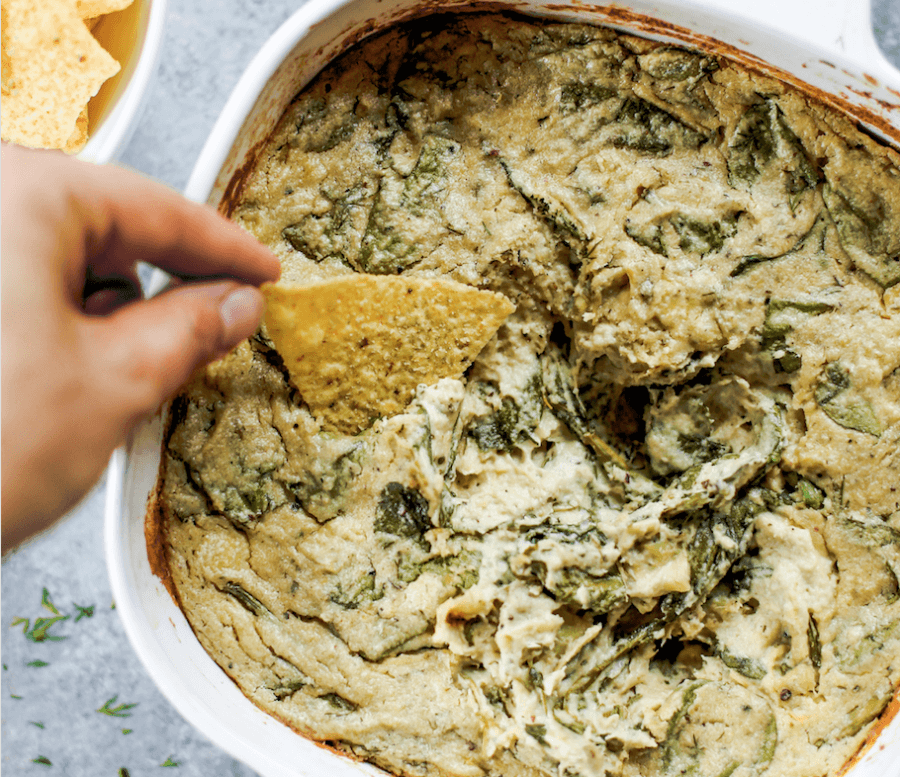 Creamy vegan artichoke dip made with cashews instead of dairy. A healthy snack and dip for veggie sticks, crackers, or bread. This paleo artichoke dip recipe is so easy to make and will keep you full and satisfied.

Print Recipe Vegan Artichoke Dip Creamy vegan artichoke dip made with cashews instead of dairy. A healthy snack and dip for veggie sticks, crackers, or bread. This paleo artichoke dip recipe is so easy to make and will keep you full and satisfied. Ingredients Info Cook Time 45 minutes Prep Time 10 minutes Servings servings MetricUS Imperial Course Side Dish, Snack Votes: 7
Rating: 4
You: Rate this recipe! Info Cook Time 45 minutes Prep Time 10 minutes Servings servings MetricUS Imperial Course Side Dish, Snack Votes: 7
Rating: 4
You: Rate this recipe! Ingredients Instructions
Preheat oven to 350F.
Soak raw cashews (in a glass jar) in hot water for about 15 minutes or until soft, then drain and add to a food processor. Combine with lemon juice and almond milk until cashews are blended into a smooth and creamy consistency.
Add rest of ingredients (except spinach and 1 cup diced artichoke hearts) and blend until combined.
Transfer dip into a bowl and stir in spinach and chopped artichoke hearts.
Transfer dip to a 8" by 8" baking dish. Bake on 350F for about 45 minutes until golden on top, then serve with chips or veggie sticks. Store in fridge or freezer.
Nutrition Facts Vegan Artichoke Dip Amount Per Serving Calories 122 Calories from Fat 81 % Daily Value* Total Fat 9g 14% Saturated Fat NaNg 0% Trans Fat NaNg Polyunsaturated Fat 2g Monounsaturated Fat 3g Cholesterol NaNmg 0% Sodium 177mg 7% Potassium 68mg 2% Total Carbohydrates 7g 2% Dietary Fiber 2g 8% Sugars NaNg Protein 4g 8% Vitamin A 16% Vitamin C NaN% Calcium 4% Iron 10% * Percent Daily Values are based on a 2000 calorie diet.
Read more