Kale Pesto Paleo Sweet Potato Pitas
---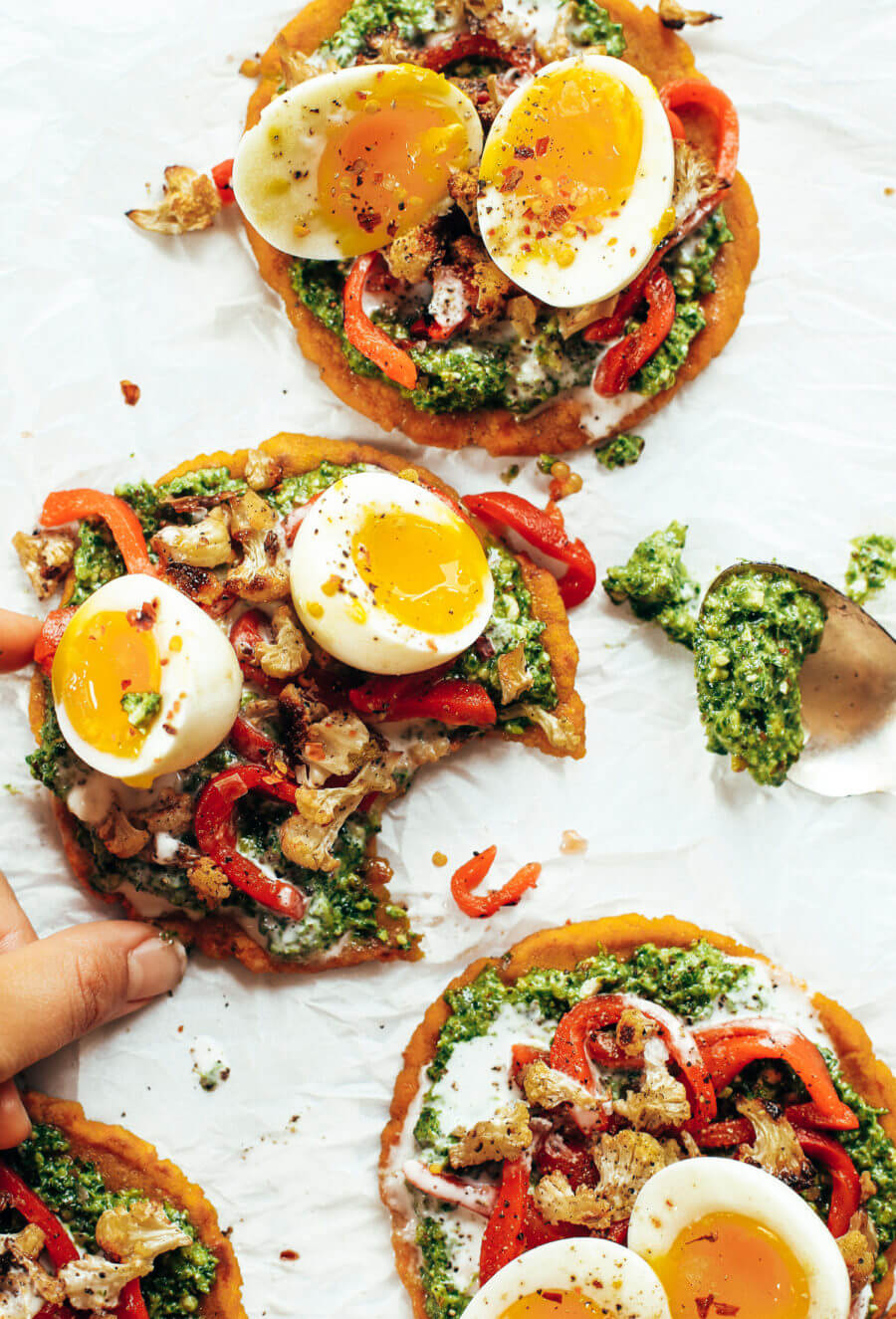 Fresh and flavorful sweet potato pitas with 5 minute kale avocado pesto! An easy whole30 and paleo meal prep idea for family dinners this summer.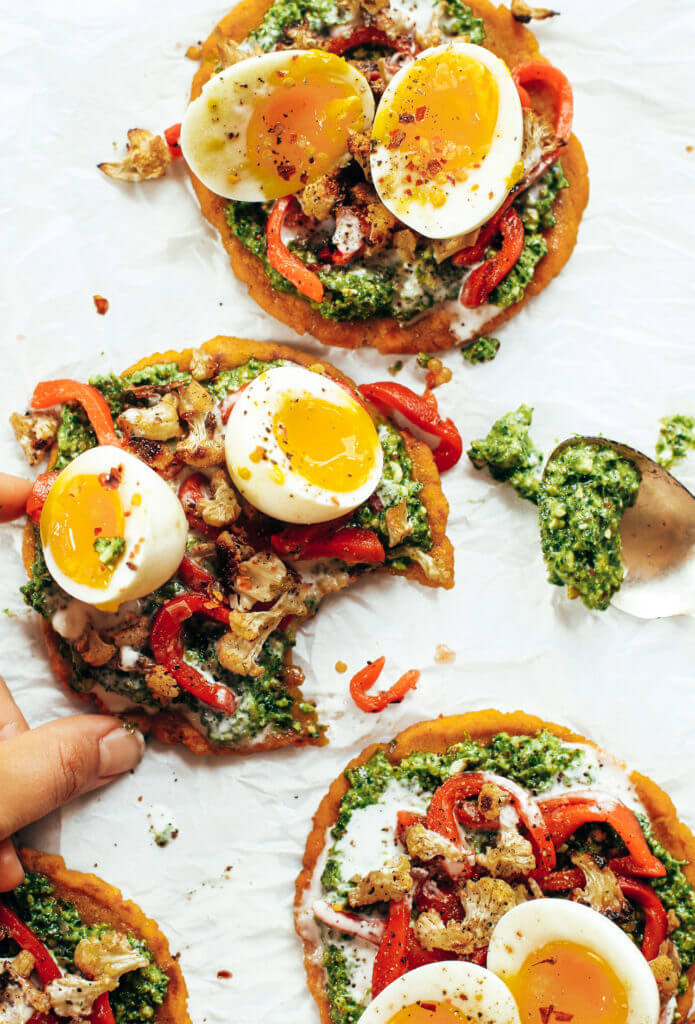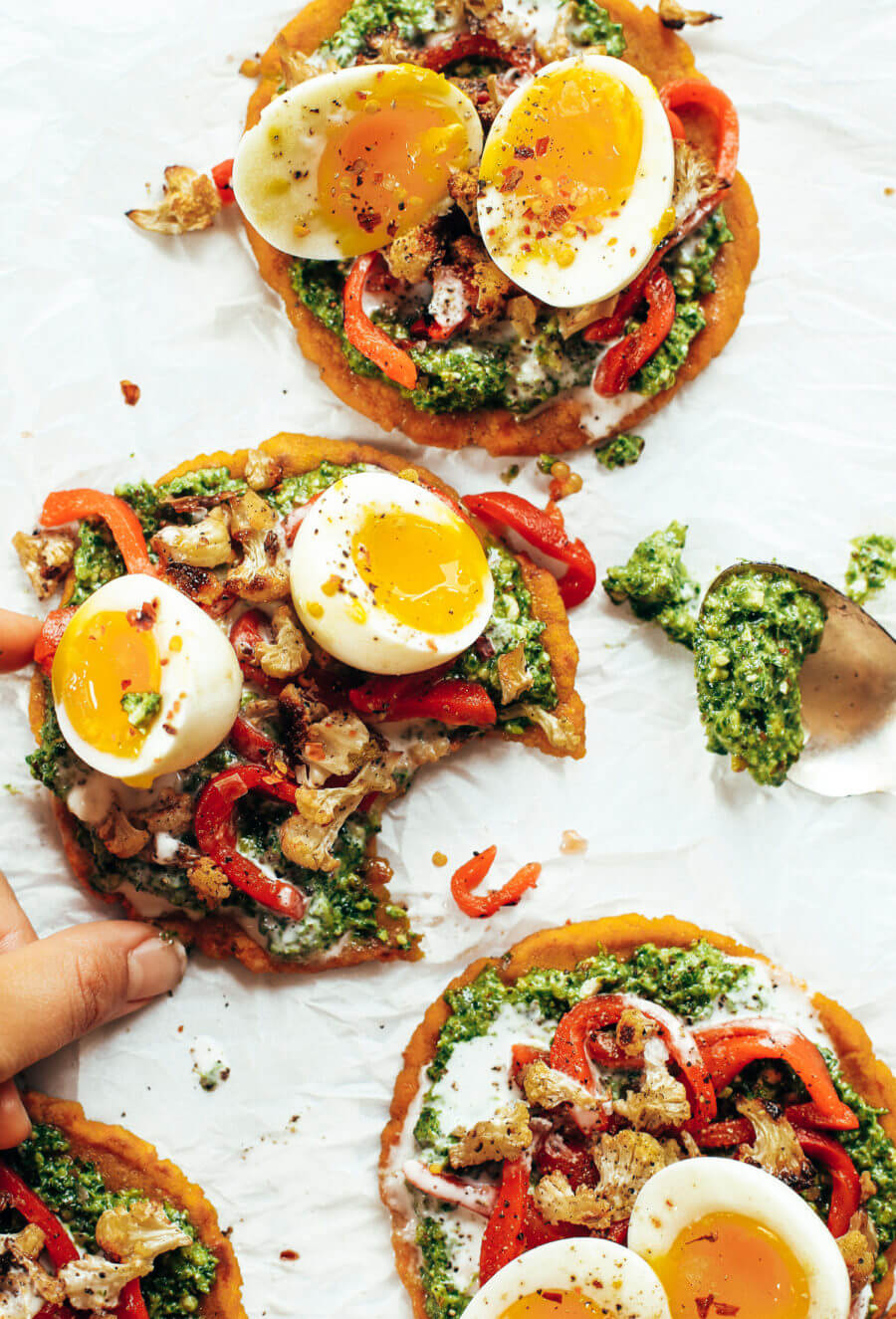 Are you sure you are ready for this?
For the layers of kale pesto, golden roasted cauliflower florets, and jammy eggs.
It's the real deal peeps.
Think breakfast taco, meets pizza, meets best-flavors-ever.
All my major food groups are in here: sweet potatoes, kale, more kale, and avo.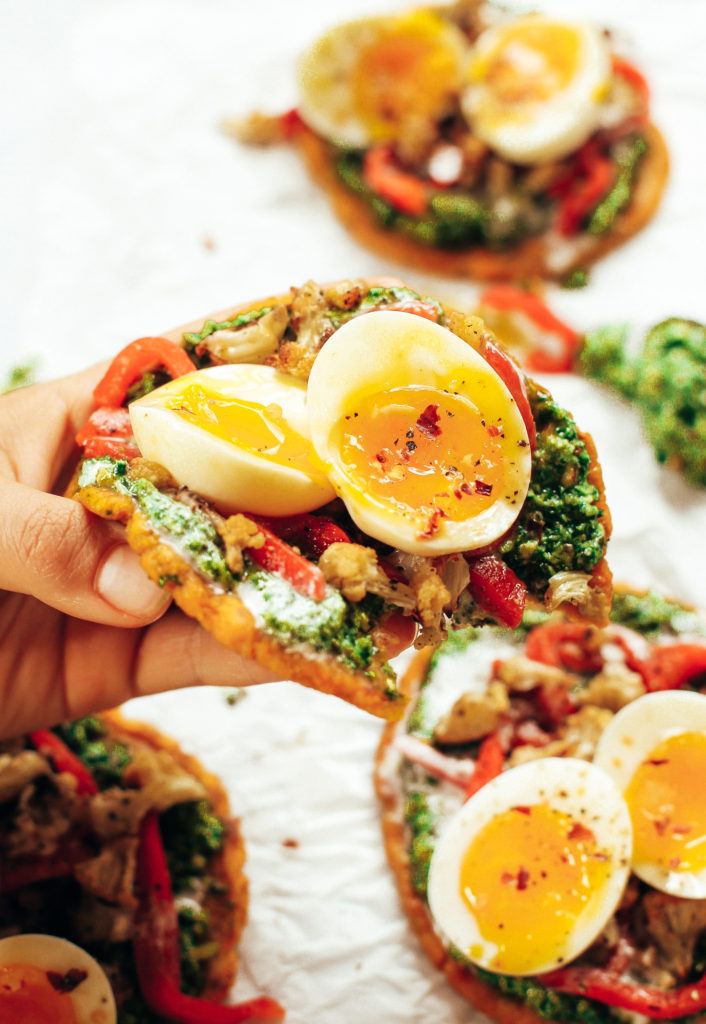 about pitas
A few favorites about these pitas:
The leftovers are BOMB.
Makes for great travel food!
I have been packing these for my lunches on the go and they are a serious life saver and tasty treat.
Sweet potato crust… I can't decide if that's the best part or if the kale pesto is.
Kale pesto with avocado.
It's basically like salad you eat with a spoon.
I have been dipping my veggies in this glorious stuff, putting it on my eggs, eating with a spoon, and on pitas, duh.
Any excuse to eat pitas, I'm there.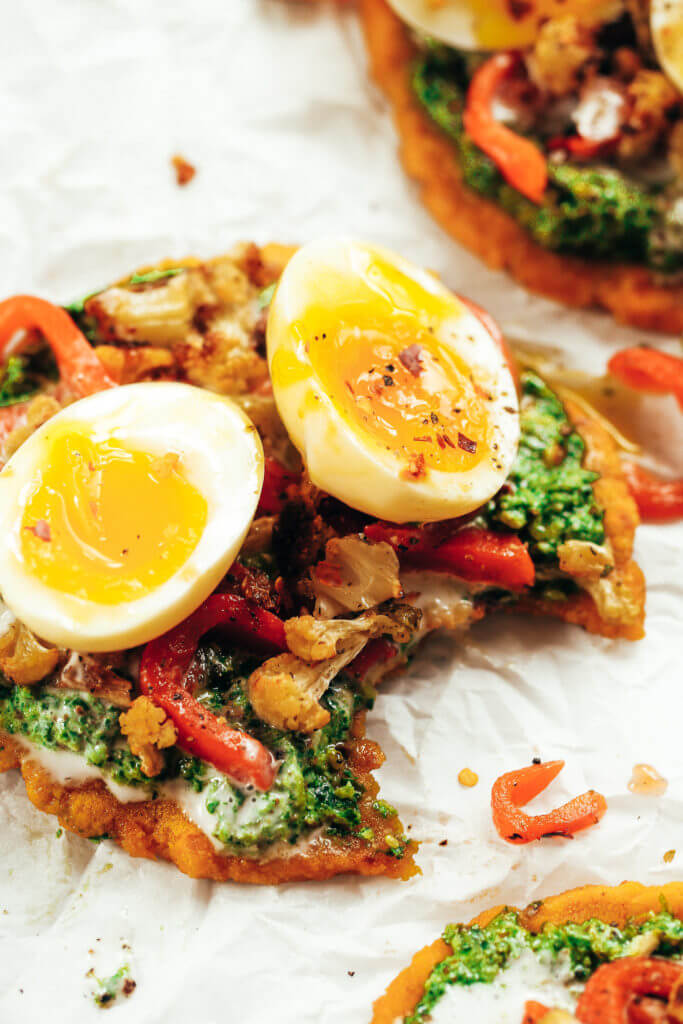 I'm noticing some major trends in my life recently.
The majority of them including:
The never ending golden latte saga.
I was so happy to find a cute coffee stop with golden turmeric lattes on the menu when I was in Montana this week.
It was like, hello! I know you! You make me happy.
I'll drink one of those because they taste like sunshine and happiness in my belly.
If you have any excuse to drink a golden, DO IT.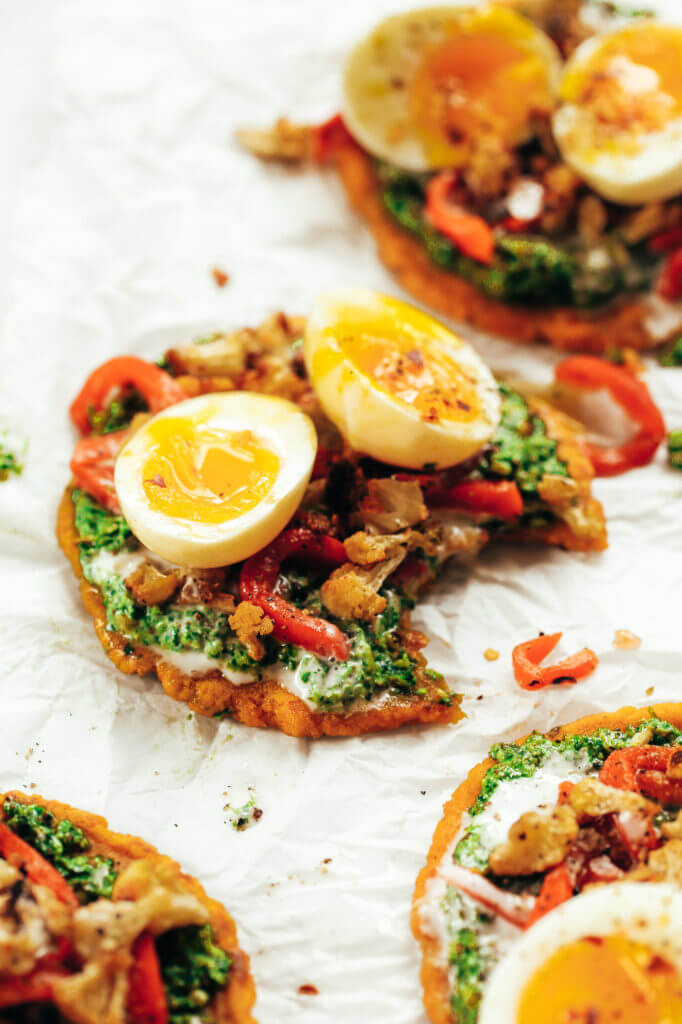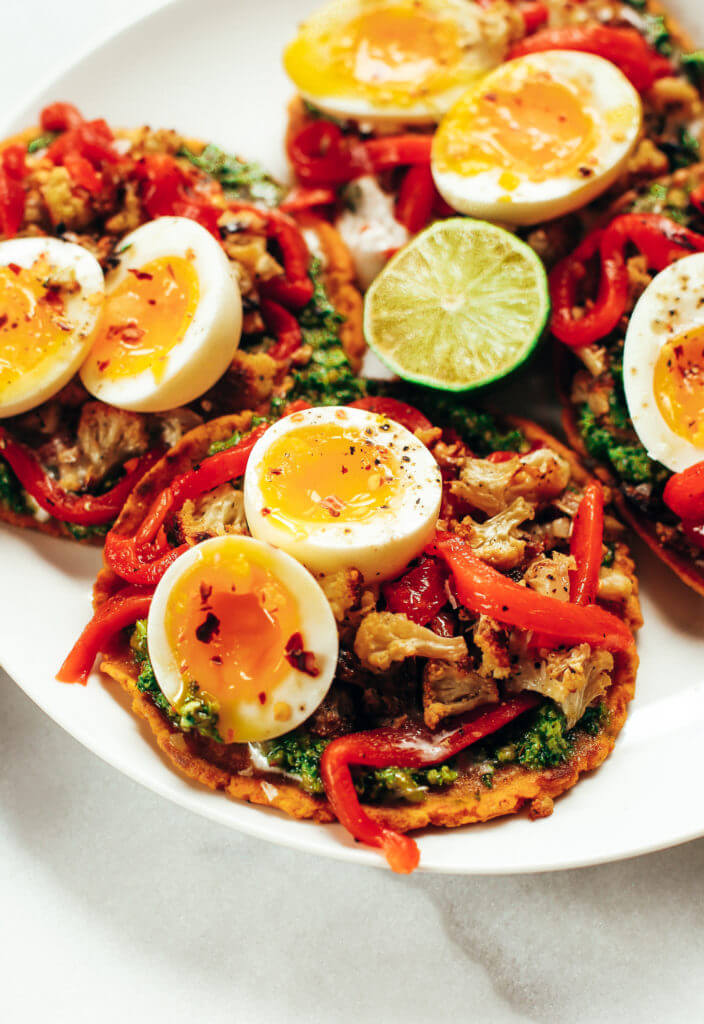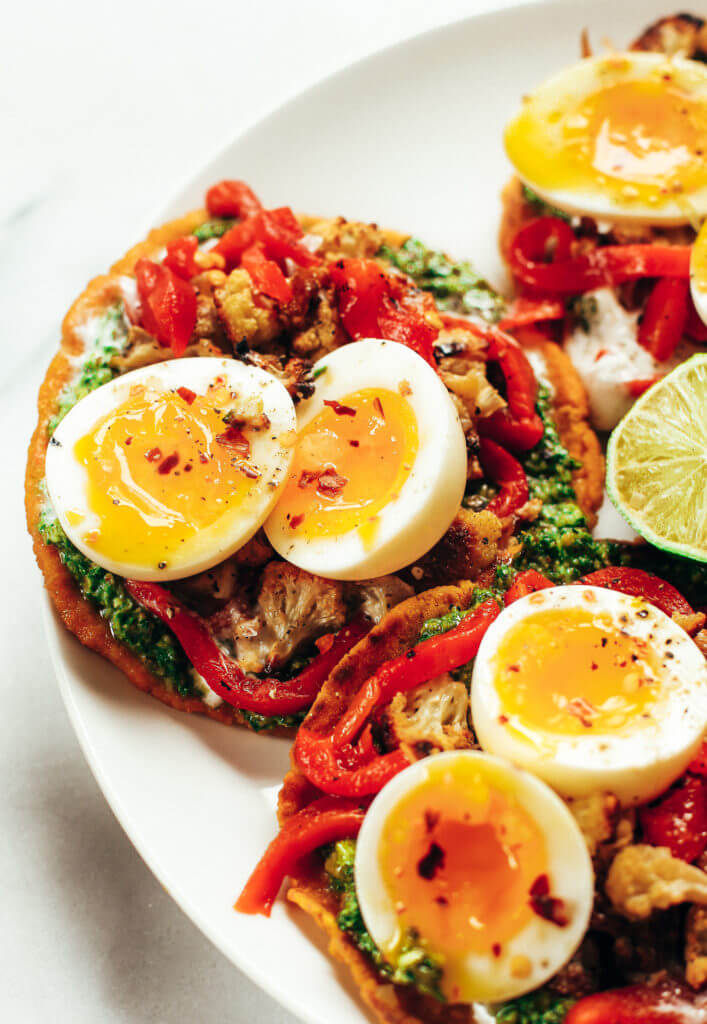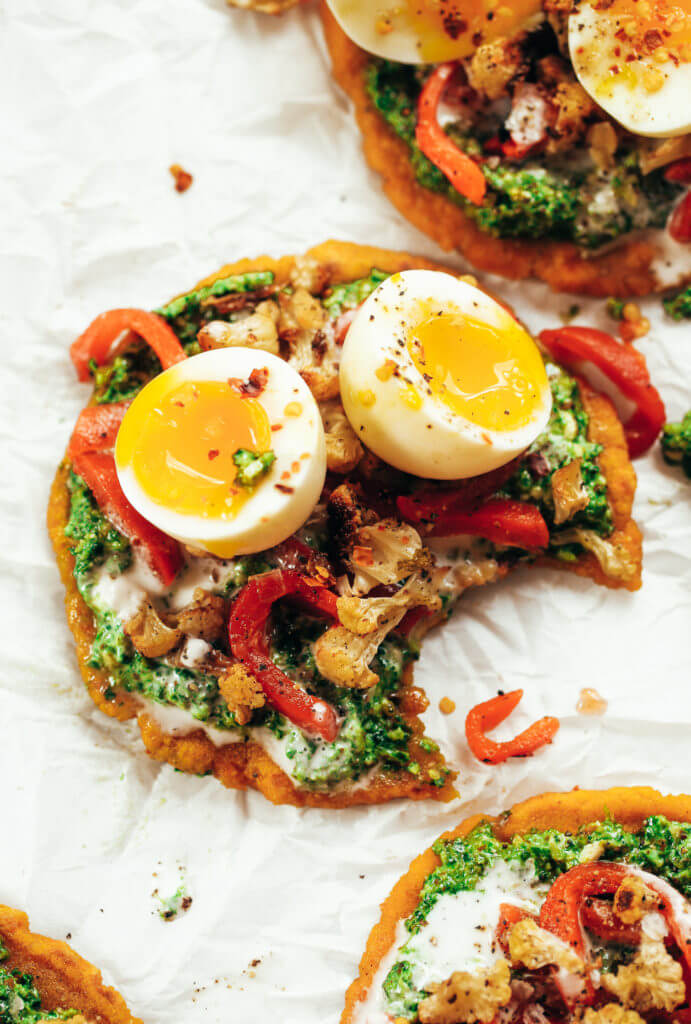 In a food processor or bowl combine ingredients for pitas until smooth. Note: Add more or less cassava flour to get the dough to be pliable. If you don't have cooked sweet potato on hand, make it by peeling a large sweet potato, cutting into 2" chunks, and boiling in water until soft (drain water from sweet potatoes after boiling).

Separate dough into 4-5 equal parts and press down with your fingers into flat 5" pitas on a baking tray lined with parchment paper. Bake on 350F for 10 minutes on each side until golden brown.

Preheat oven to 425F. Add chopped cauliflower on a baking tray lined with parchment paper, drizzle with olive oil, salt and pepper to taste, and bake on 425F for 30 minutes.

To make soft boiled eggs, bring a pot of water to a boil then add eggs and boil for 7 minutes. Remove eggs and chill in an ice bath before peeling.

In a food processor blend ingredients for kale pesto until it reaches desired consistency.

Assemble pitas by layering on pesto, roasted cauliflower, red peppers, and eggs. Top with fresh lime juice, chili flakes, and coconut milk to taste.
Nutrition Facts

Kale Pesto Paleo Sweet Potato Pitas

Amount Per Serving

Calories 481

Calories from Fat 261

% Daily Value*

Total Fat 29g 45%

Cholesterol 233mg 78%

Sodium 841mg 35%

Potassium 1141mg 33%

Total Carbohydrates 45g 15%

Protein 16g 32%

* Percent Daily Values are based on a 2000 calorie diet.