---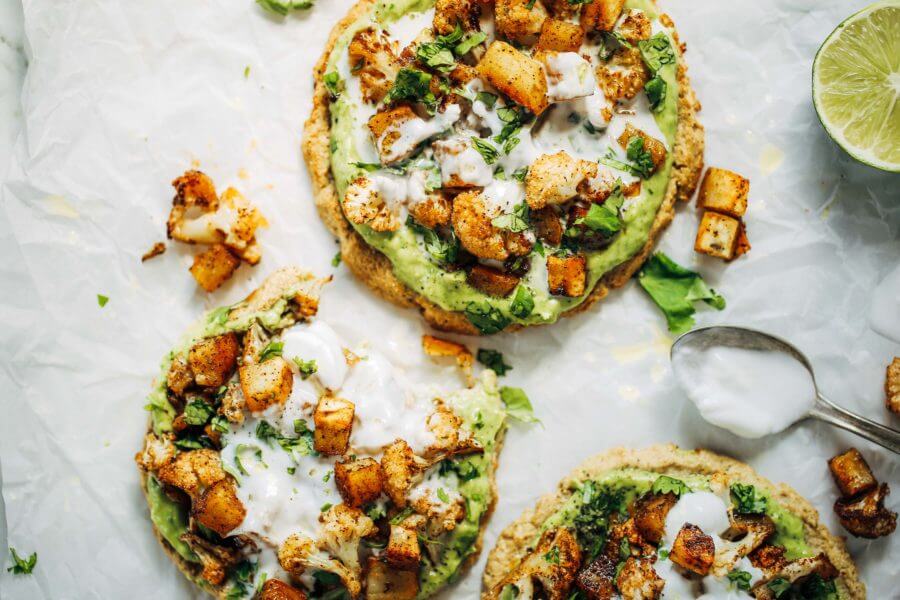 Favorite paleo/whole30 lunch idea: these pitas made with cauliflower, topped with roasted vegetables and the best avocado sauce you'll ever have!

Print Recipe Roasted Veggie Paleo Cauliflower Pitas With Avocado Crema New favorite paleo whole30 lunch idea: these roasted veg cauliflower pitas with avocado crema. The pitas are made with cauliflower and eggs and taste amazing! Topped off with roasted vegetables and the best avocado crema that will change your life! Ingredients Cauliflower Pitas Main Dish Votes: 20
Rating: 3.9
You: Rate this recipe! Info Cook Time 30 minutes Prep Time 10 minutes Servings pitas MetricUS Imperial Course Main Dish Votes: 20
Rating: 3.9
You: Rate this recipe! Ingredients Cauliflower Pitas
Preheat oven to 425F. Line a baking tray with parchment paper.
Steam cauliflower rice for five minutes until soft, then drain excess water- put the cauliflower into a colander and press the cauliflower down with a large spatula to really get rid of any water, otherwise tortillas will be soggy. You can also squeeze out the water by wringing it out in a clean dish towel.
In a food processor blend cauliflower with rest of ingredients until smooth.
Make four equal balls of dough and press down into 1/2" thick pitas. Bake on 425F for 30-40 minutes until golden. After pitas have cooked allow to cool, so they can "solidify". Note: if the pitas are still set inside, pop them in the toaster for a few minutes!
Vegetables
Preheat oven to 425F. Line a baking sheet with parchment paper.
Dice sweet potato into 1/2" chunks. Add sweet potatoes and cauliflower florets on a baking tray lined with parchment paper, drizzle with olive oil, toss with spices, and bake on 425F for 30 minutes.
Avocado Crema
In a food processor or high speed blender combine ingredients for avocado crema until smooth.
Assemble pitas by layering on avocado crema and roasted vegetables onto cauliflower pitas. Optional: top with cilantro and full fat coconut milk or yogurt.
Nutrition Facts Roasted Veggie Paleo Cauliflower Pitas With Avocado Crema Amount Per Serving Calories 414 Calories from Fat 252 % Daily Value* Total Fat 28g 43% Saturated Fat 5g 25% Polyunsaturated Fat 3g Monounsaturated Fat 18g Cholesterol 93mg 31% Sodium 1133mg 47% Potassium 594mg 17% Total Carbohydrates 33g 11% Dietary Fiber 14g 56% Sugars 11g Protein 8g 16% Vitamin A 132% Vitamin C 154% Calcium 7% Iron 25% * Percent Daily Values are based on a 2000 calorie diet.
Read more