---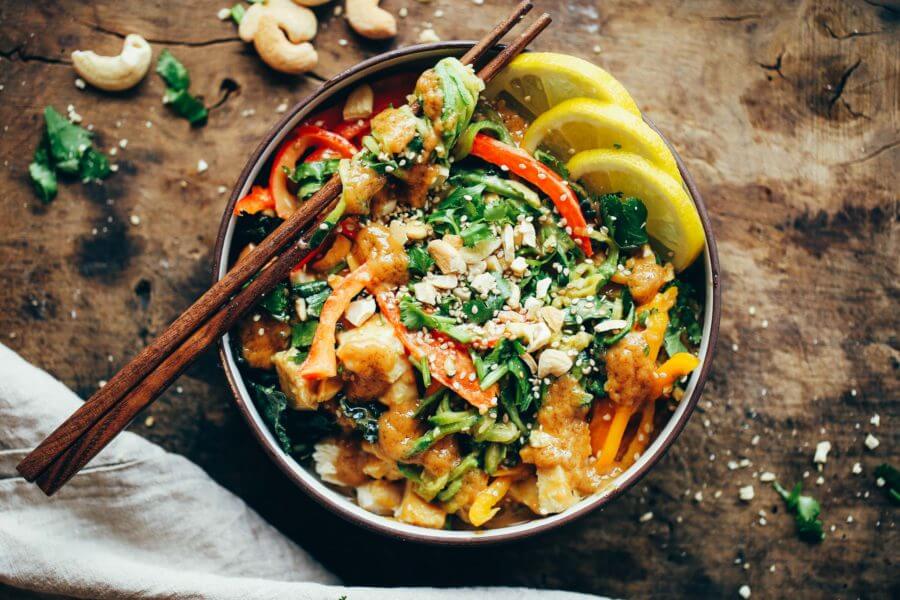 Meet your lunch plans. 🙂 Healthy whole30 Thai noodle salad with chicken, "peanut" sauce, and kale. An easy family friendly meal, serve hot or cold!

Print Recipe Whole30 Thai Chicken Noodles Meet your lunch plans. 🙂 Healthy whole30 Thai noodle salad with "peanut" sauce, chicken, and kale. An easy family friendly meal, serve hot or cold! Ingredients Salad Main Dish Votes: 22
Rating: 4.09
You: Rate this recipe! Info Prep Time 15 minutes Servings servings MetricUS Imperial Course Main Dish Votes: 22
Rating: 4.09
You: Rate this recipe! Ingredients Salad
In a blender (or food processor) puree all ingredients for the sauce until creamy and smooth.
Place the zucchini noodles on a baking tray and cook in a convection toaster (or oven) on 450F for about 10-15 minutes until soft. Then set aside. *You can also cook them in a skillet on the stovetop or steam them, but I have found that convection baking the noodles turns out perfect results every time and eliminates excess water! Be sure to drain excess water from the noodles after cooking!
In a large bowl add the chopped ingredients, chicken, noodles, and sauce. Toss together and top with cashews, sesame seeds, more cilantro, etc...
Nutrition Facts Whole30 Thai Chicken Noodles Amount Per Serving Calories 542 Calories from Fat 288 % Daily Value* Total Fat 32g 49% Saturated Fat 6g 30% Polyunsaturated Fat 3g Monounsaturated Fat 7g Cholesterol 56mg 19% Sodium 659mg 27% Potassium 350mg 10% Total Carbohydrates 30g 10% Dietary Fiber 12g 48% Sugars 10g Protein 32g 64% Vitamin A 373% Vitamin C 390% Calcium 36% Iron 34% * Percent Daily Values are based on a 2000 calorie diet.
Read more