---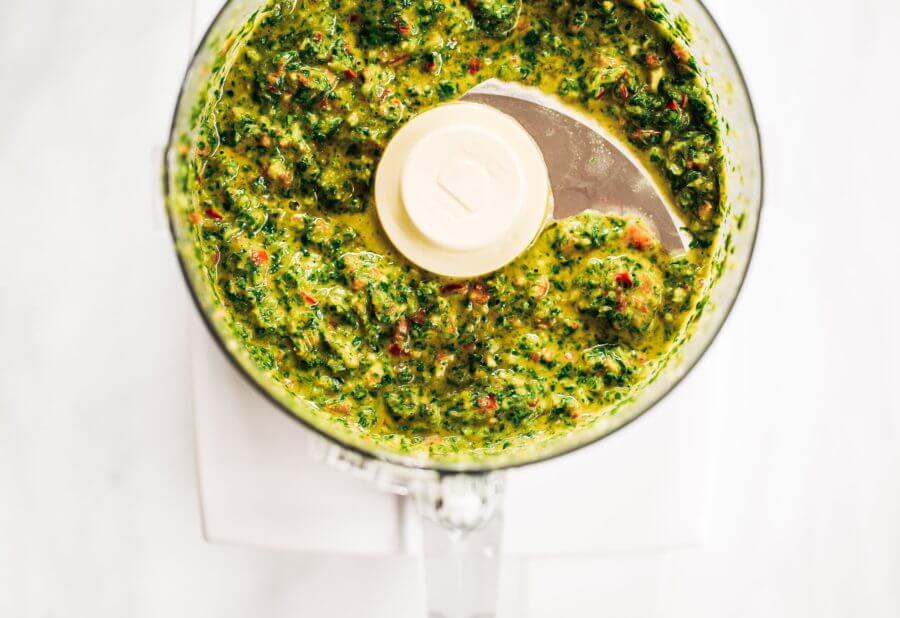 Zesty, fresh, and flavorful, cilantro garlic chimichurri with jalapeno pepper. Perfect for marinating chicken, beef, or topping off sweet potato fries and salads! Made easy in the blender in five minutes. Paleo, gluten free, and whole30 friendly.

Print Recipe 5 Minute Paleo Chimichurri Sauce Zesty, fresh, and flavorful, cilantro garlic chimichurri with jalapeno pepper. Perfect for marinating chicken, beef, or topping off sweet potato fries and salads! Made easy in the blender in five minutes. Paleo, gluten free, and whole30 friendly. Ingredients Info Prep Time 5 minutes Servings batch MetricUS Imperial Course Condiment, Sauce Votes: 2
Rating: 5
You: Rate this recipe! Info Prep Time 5 minutes Servings batch MetricUS Imperial Course Condiment, Sauce Votes: 2
Rating: 5
You: Rate this recipe! Ingredients Instructions
Blend all ingredients in a food processor (or blender) until it reaches desired consistency. Store in fridge for up to one week.
To make this into a salad dressing, just add fresh lime juice to taste!
Nutrition Facts 5 Minute Paleo Chimichurri Sauce Amount Per Serving Calories 984 Calories from Fat 999 % Daily Value* Total Fat 111g 171% Saturated Fat 16g 80% Polyunsaturated Fat 12g Monounsaturated Fat 79g Sodium 977mg 41% Potassium 275mg 8% Total Carbohydrates 9g 3% Dietary Fiber 3g 12% Sugars 1g Protein 2g 4% Vitamin A 133% Vitamin C 264% Calcium 1% Iron 12% * Percent Daily Values are based on a 2000 calorie diet.
Read more