---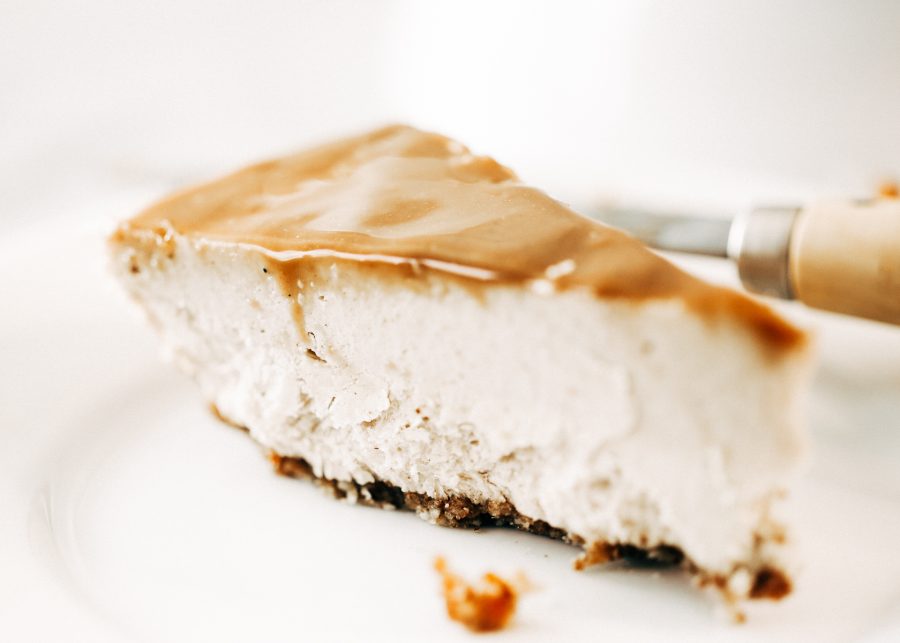 Calling all cheesecake fans, have I got a recipe for you!
Dairy-free and grain-free, this creamy cheesecake is made from cashews and coconut milk and sweetened with maple syrup.
Topped with caramel sauce made from coconut sugar and coconut milk for an extra sweet treat.

Print Recipe Paleo Chai Caramel Cheesecake Calling all cheesecake fans, have I got a recipe for you! Dairy-free and grain-free, this creamy cheesecake is made from cashews and coconut milk and sweetened with maple syrup. Topped with caramel sauce made from coconut sugar and coconut milk for an extra sweet treat. Ingredients Fillilng Dessert Votes: 3
Rating: 3.33
You: Rate this recipe! Info Prep Time 1.5 hours Servings slices cheesecake MetricUS Imperial Course Dessert Votes: 3
Rating: 3.33
You: Rate this recipe! Ingredients Fillilng
In a food processor, combine the ingredients for the crust until the dough sticks together and is mostly smooth.
Line the bottom of a 8" round springform cake pan with parchment paper. Press the crust dough into the baking dish then set aside.
Filling
Begin by soaking the cashews in boiling water for about 1 hour until they are soft. Once the cashews are soft, drain the water.
In a food processor, blend the cashews until they become a pulp.
Combine the maple syrup and coconut oil in a small saucepan. Heat the maple syrup and coconut oil on the stove to room temperature. Then slowly incorporate the warm maple syrup and melted coconut oil into the cashews while blending. Puree this mixture until completely smooth!
Add in coconut milk to cashew mixture. Make sure the coconut milk is at room temperature. Do not add in any extra liquid that may have risen to the top of the can.
Add the vanilla chai spice and salt to the filling and finish blending.
Pour the filling over the crust. Chill cheesecake in the freezer until it is solid about 3-5 hours. It will still be soft enough to eat.
Caramel Topping
Place all caramel ingredients into a medium sauce pot and set over medium high heat. Stirring frequently bring the caramel to a boil.
Once boiling reduce heat to medium or medium low depending on your stove. You want to keep it at a simmer. Continue to stir frequently for about 15 minutes until it has reduced and thickened just enough to coat the back of a spoon. Set aside to cool.
Once caramel has cooled take the cheese cake out of the freezer and pour caramel over the top. Spread with a knife.
Nutrition Facts Paleo Chai Caramel Cheesecake Amount Per Serving Calories 359 Calories from Fat 234 % Daily Value* Total Fat 26g 40% Saturated Fat 15g 75% Polyunsaturated Fat 2g Monounsaturated Fat 5g Sodium 128mg 5% Potassium 150mg 4% Total Carbohydrates 31g 10% Dietary Fiber 2g 8% Sugars 26g Protein 3g 6% Vitamin C 1% Calcium 1% Iron 3% * Percent Daily Values are based on a 2000 calorie diet.
Read more