mashed sweet potato
Category
---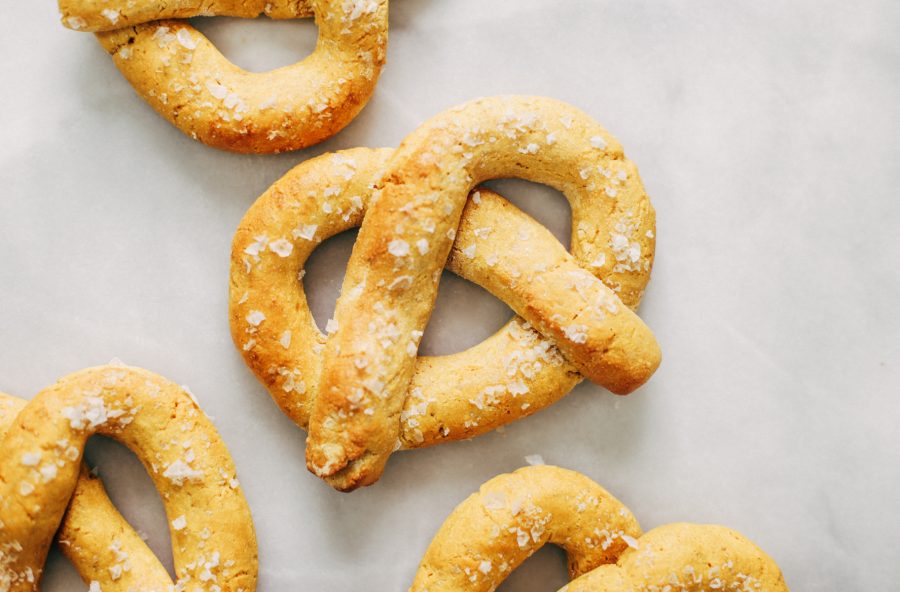 Paleo pretzels made with sweet potato! These gluten-free pretzels are easy to make and they are soft and chewy, like a real soft-baked pretzel. Can't stop eating them!

Print Recipe Paleo Pretzels Made With Sweet Potato Paleo pretzels made with sweet potato! These gluten-free pretzels are easy to make and they are soft and chewy, like a real soft-baked pretzel. Can't stop eating them! Ingredients Info Passive Time 60 minutes Cook Time 25 minutes Prep Time 15 minutes Servings large pretzels MetricUS Imperial Course Bread, Snack Votes: 17
Rating: 3.71
You: Rate this recipe! Info Passive Time 60 minutes Cook Time 25 minutes Prep Time 15 minutes Servings large pretzels MetricUS Imperial Course Bread, Snack Votes: 17
Rating: 3.71
You: Rate this recipe! Ingredients Instructions
Add warm water and maple syrup to a small cup or bowl and sprinkle yeast over top and set aside for 10 minutes until yeast is bubbly and activated.
Add all ingredients (except egg) to a food processor (or mix by hand). Once dough is combined, cover with a clean towel and let it sit in a still and warm area of the kitchen for 60 minutes until dough has risen.
Preheat oven to 350F. Line a baking tray with parchment paper.
Once dough has risen, knead dough, then divide into four equal parts of dough. Roll out into about 3/4" tubes and fold into pretzel shapes.
Place pretzels on baking tray lined with parchment paper and brush with an egg wash. Sprinkle with sea salt flakes and bake on 350F for 25 minutes.
Nutrition Facts Paleo Pretzels Made With Sweet Potato Amount Per Serving Calories 219 Calories from Fat 45 % Daily Value* Total Fat 5g 8% Saturated Fat 4g 20% Polyunsaturated Fat 0.1g Monounsaturated Fat 0.4g Sodium 429mg 18% Potassium 445mg 13% Total Carbohydrates 43g 14% Dietary Fiber 3g 12% Sugars 9g Protein 2g 4% Vitamin A 191% Vitamin C 43% Calcium 3% Iron 4% * Percent Daily Values are based on a 2000 calorie diet.
Read more