---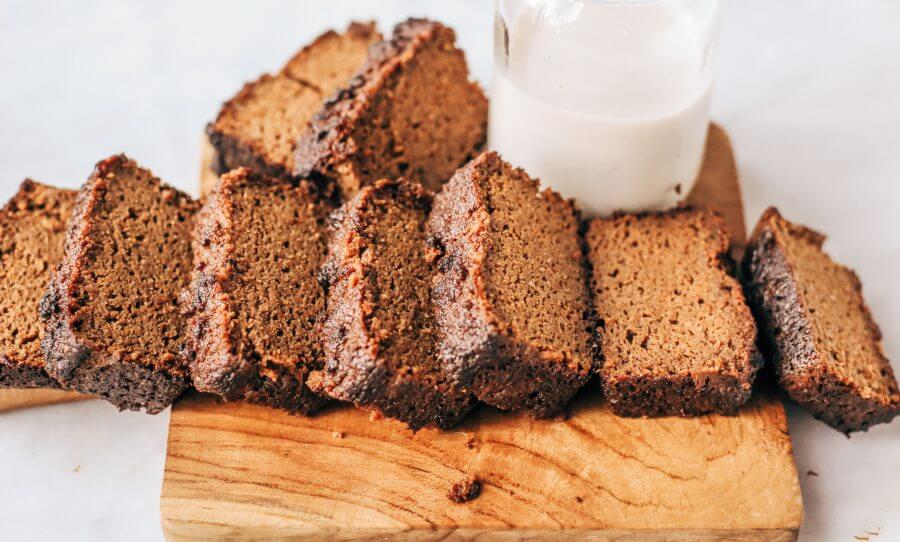 Easy recipe for healthy paleo gingerbread- made with sweet potatoes instead of flour! This loaf is such a yummy fall treat that is easy to make in a food processor. Gluten free, grain free, and dairy free gingerbread made with real ingredients. Kid approved!

Print Recipe Gingerbread Loaf Made With Sweet Potatoes Easy recipe for healthy paleo gingerbread- made with sweet potatoes instead of flour! This loaf is such a yummy fall treat that is easy to make in a food processor. Gluten free, grain free, and dairy free gingerbread made with real ingredients. Kid approved! Ingredients Info Cook Time 45 minutes Prep Time 8-10 minutes Servings slices- 2 small loafs, or 1 regular MetricUS Imperial Course Bread Votes: 15
Rating: 4.13
You: Rate this recipe! Info Cook Time 45 minutes Prep Time 8-10 minutes Servings slices- 2 small loafs, or 1 regular MetricUS Imperial Course Bread Votes: 15
Rating: 4.13
You: Rate this recipe! Ingredients Instructions
Preheat oven to 350F. Line two small bread pans with parchment paper (5.75 " x 3.25").
Mince sweet potato in a food processor until it reaches rice consistency. Add rest of ingredients and combine until smooth.
Evenly divide batter between loaf pans and bake on 350F for 40-45 minutes until golden on top, you will know they are finished baking when a toothpick inserted into the center of the loaf comes out clean.
Nutrition Facts Gingerbread Loaf Made With Sweet Potatoes Amount Per Serving Calories 116 Calories from Fat 27 % Daily Value* Total Fat 3g 5% Saturated Fat 2g 10% Polyunsaturated Fat 0.2g Monounsaturated Fat 1g Cholesterol 47mg 16% Sodium 138mg 6% Potassium 475mg 14% Total Carbohydrates 18g 6% Dietary Fiber 2g 8% Sugars 10g Protein 3g 6% Vitamin A 81% Vitamin C 1% Calcium 59% Iron 10% * Percent Daily Values are based on a 2000 calorie diet.
Read more