---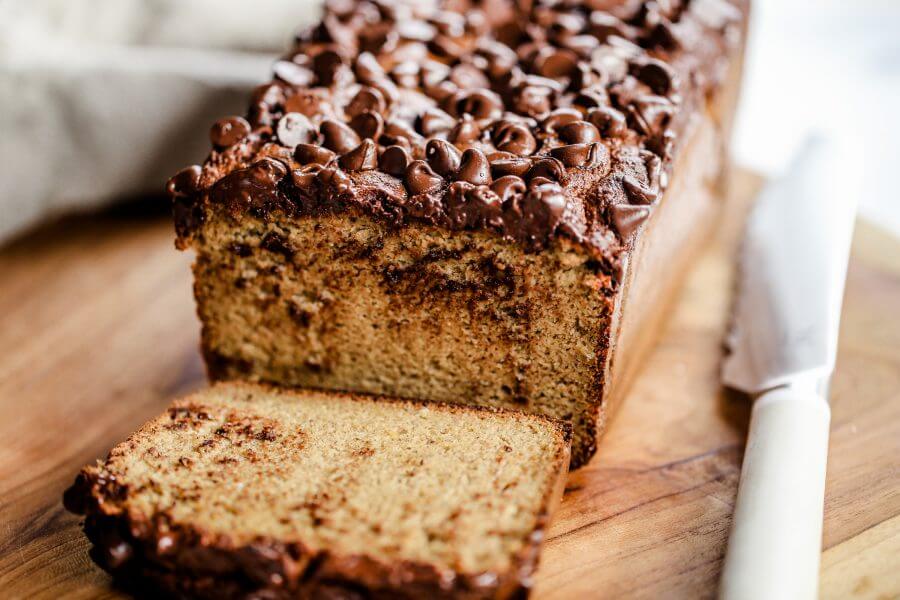 Healthy banana bread recipe made in just 5 minutes! This easy paleo gluten free banana bread has a secret healthy ingredient: cauliflower! No one ever tastes it though- and all the wheat eaters love this delicious banana bread. Easy almond flour banana bread recipe. 

Print Recipe Banana Bread Paleo Gluten Free Healthy banana bread recipe made in just 5 minutes! This easy paleo gluten free banana bread has a secret healthy ingredient: cauliflower! No one ever tastes it though- and all the wheat eaters love this delicious banana bread. Ingredients Info Cook Time 80 minutes Prep Time 5 minutes Servings slices MetricUS Imperial Course Bread Votes: 5
Rating: 5
You: Rate this recipe! Info Cook Time 80 minutes Prep Time 5 minutes Servings slices MetricUS Imperial Course Bread Votes: 5
Rating: 5
You: Rate this recipe! Ingredients Instructions
Preheat oven to 350F. Line a 8" by 4" bread pan with parchment paper.
In a food processor or high powered blender, combine all ingredients (except chocolate chips) until completely smooth. Then pour batter into the bread pan lined with parchment paper. Sprinkle chocolate chips over batter and bake on 350°F for 80 minutes.
Nutrition Facts Banana Bread Paleo Gluten Free Amount Per Serving Calories 296 Calories from Fat 189 % Daily Value* Total Fat 21g 32% Saturated Fat 3g 15% Polyunsaturated Fat 0.2g Monounsaturated Fat 0.4g Cholesterol 40mg 13% Sodium 212mg 9% Potassium 154mg 4% Total Carbohydrates 24g 8% Dietary Fiber 5g 20% Sugars 13g Protein 10g 20% Vitamin A 1% Vitamin C 17% Calcium 12% Iron 12% * Percent Daily Values are based on a 2000 calorie diet.
Read more