---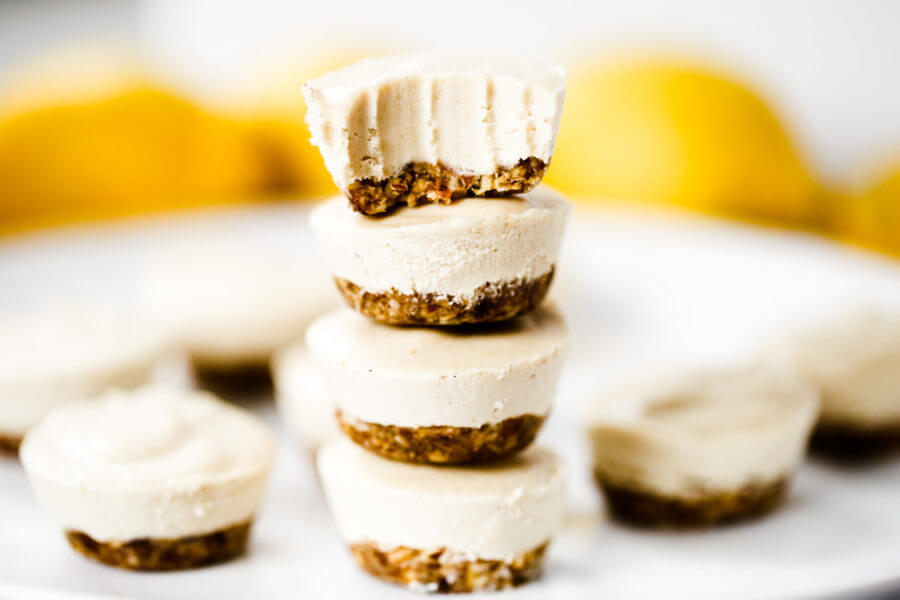 This no-bake Paleo and vegan cheesecake is topped with a thick creamy lemon layer with a simple nuts and date crust. Bite size cashew cheesecake is made quickly in a blender or food processor, then chilled before eating! Gluten free, dairy free, refined sugar free.

Print Recipe No Bake Lemon Cheesecake Bites This no-bake Paleo and vegan cheesecake is topped with a thick creamy lemon layer with a simple nuts and date crust. Bite size cashew cheesecake is made quickly in a blender or food processor, then chilled before eating! Gluten free, dairy free, refined sugar free. Ingredients Crust Dessert Votes: 23
Rating: 4
You: Rate this recipe! Info Prep Time 10 minutes Servings servings MetricUS Imperial Course Dessert Votes: 23
Rating: 4
You: Rate this recipe! Ingredients Crust
In a food processor blend all ingredients for the crust until it reaches a coarse consistency- if you pinch it, it should stick together in your fingers.
Grease a mini muffin tin with coconut oil and press 1/2 tablespoon crust into the bottom.
Puree soaked cashews in a food processor for about 1 minute. Then slowly pour in the maple syrup first and then the rest of the ingredients. Blend until completely smooth and pour 1 tablespoon filling into each serving. Chill in the freezer for 4-12 hours until firm- more or less time depending on the desired consistency.
Nutrition Facts No Bake Lemon Cheesecake Bites Amount Per Serving Calories 168 Calories from Fat 117 % Daily Value* Total Fat 13g 20% Saturated Fat 5g 25% Polyunsaturated Fat 1g Monounsaturated Fat 3g Sodium 2mg 0% Potassium 23mg 1% Total Carbohydrates 12g 4% Dietary Fiber 2g 8% Sugars 7g Protein 4g 8% Vitamin A 0.01% Vitamin C 3% Calcium 3% Iron 6% * Percent Daily Values are based on a 2000 calorie diet.
Read more