Dairy Free Paleo Raspberry Cream Bars
---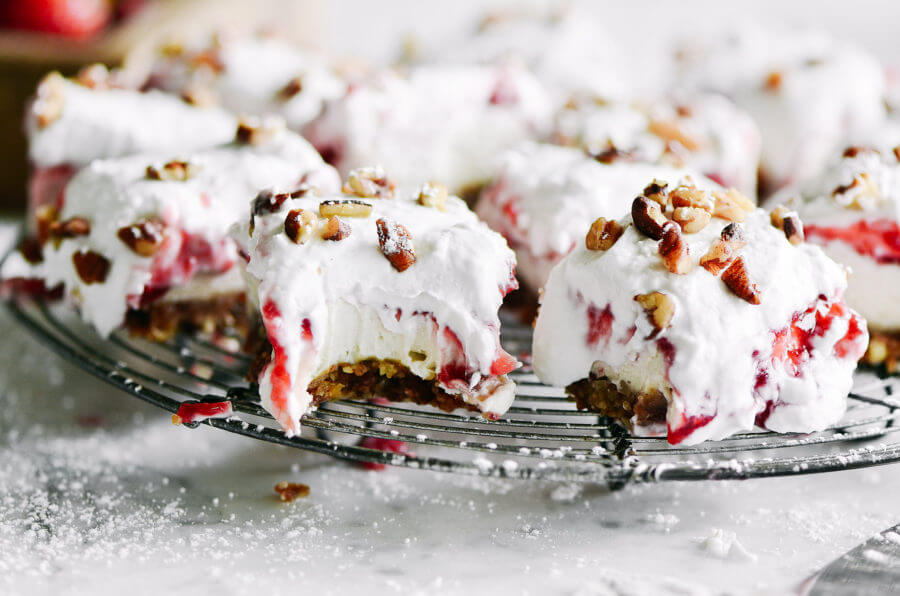 Made in 10 minutes! Heavenly dairy free, raw, and paleo cream cheese bars layered with a 2 ingredient crust, cashew cream cheese, raspberry filling, and whipped cream. Super easy to make in the blender and have 9g protein per square!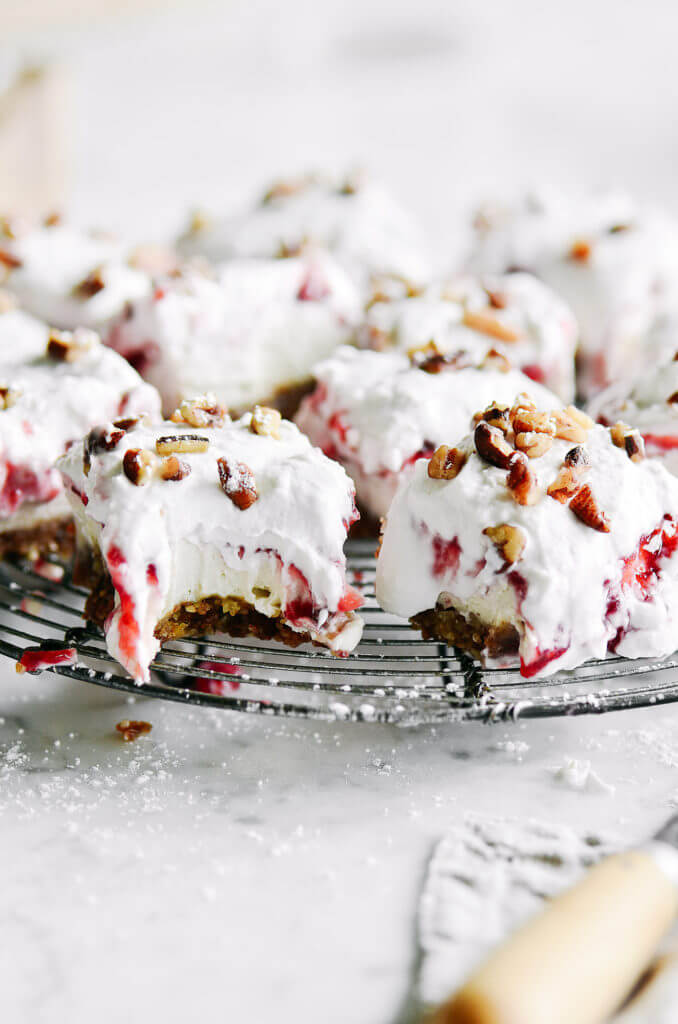 Get ready for the the most delicious cream cheese addiction waiting to happen… raspberry cream cheese bars! Still can't believe they are paleo, you guys!!!
A big thank you to Vitamix and The Feed Feed for making today's recipe possible. The Vitamix Ascent 3500 blender whipped up these creamy cloud like raspberry bars like a boss. And the best part was: at the end of making the recipe I just put the blender in the dishwasher. And then I focused solely on eating these. Win!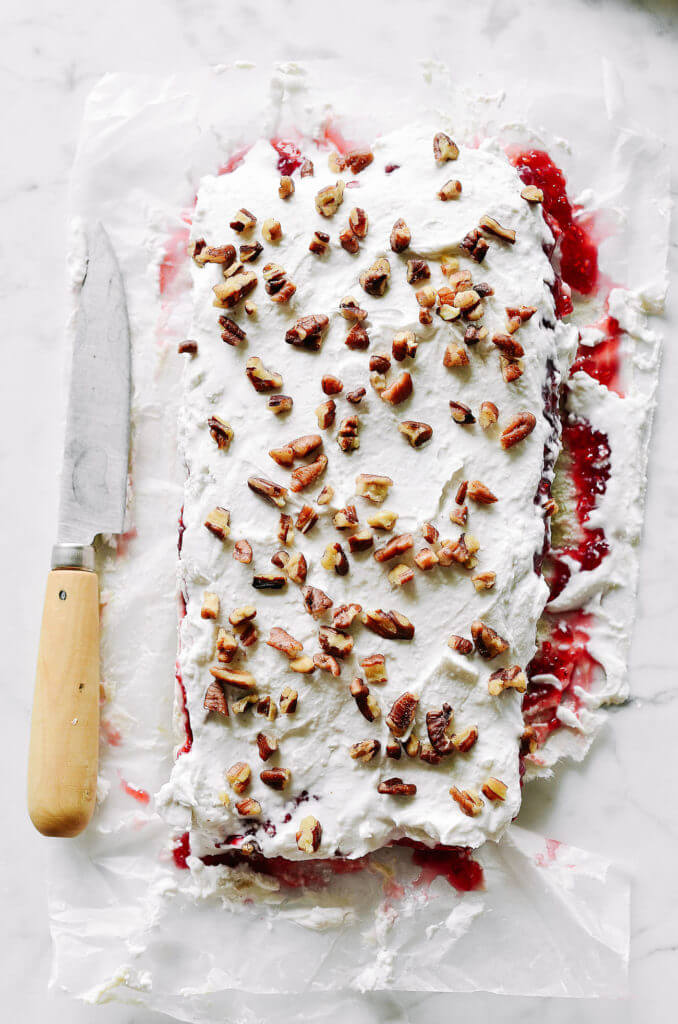 My mom has a large patch of raspberries in her garden. And every summer us kids would go out and and fill our pockets, bowls, or hands with lovely organic garden raspberries. Of course for me, adding those beauties into recipes for the blog was a more than enjoyable pastime 😉 Thanks Mom for inspiring yet another tasty recipe!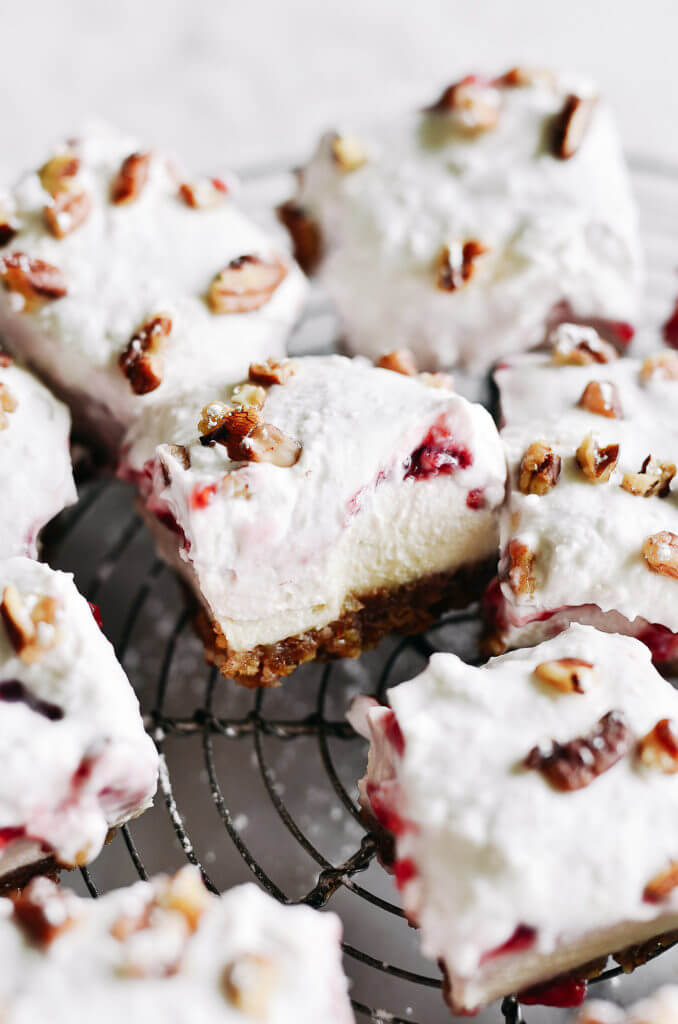 With Mothers Day just around the corner, celebrating your mum with these raspberry cream cheese bars is always a good idea. Also, kids and husbands- no woman would object to cheesecake for breakfast. Especially since these bars are loaded with healthy fats to fuel the brain and contain almost zero sugar!!! Like, I can actually eat them!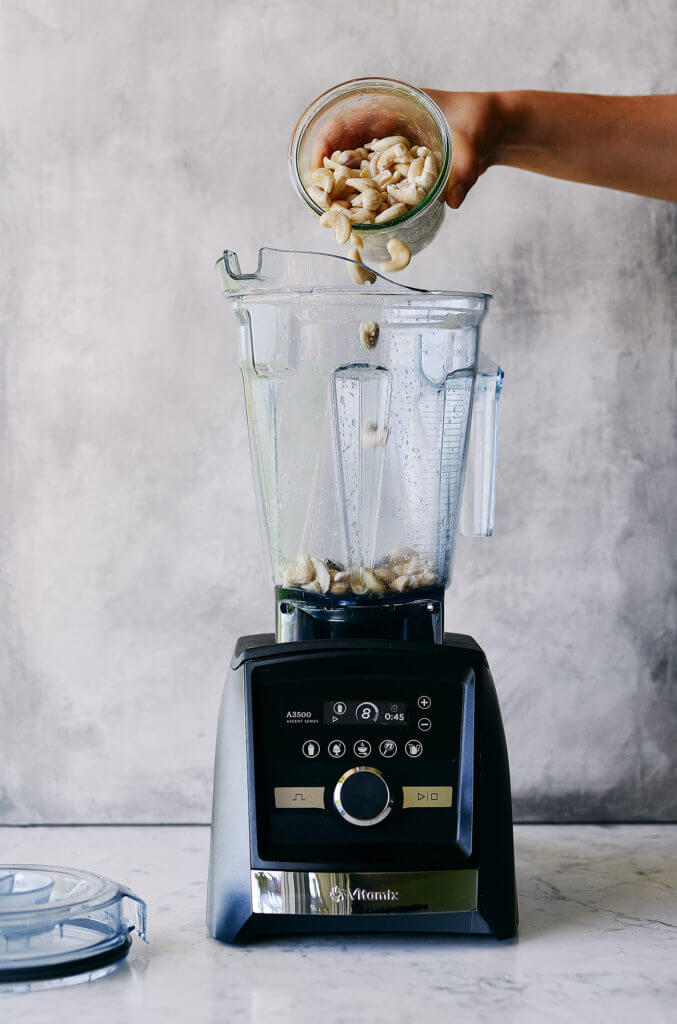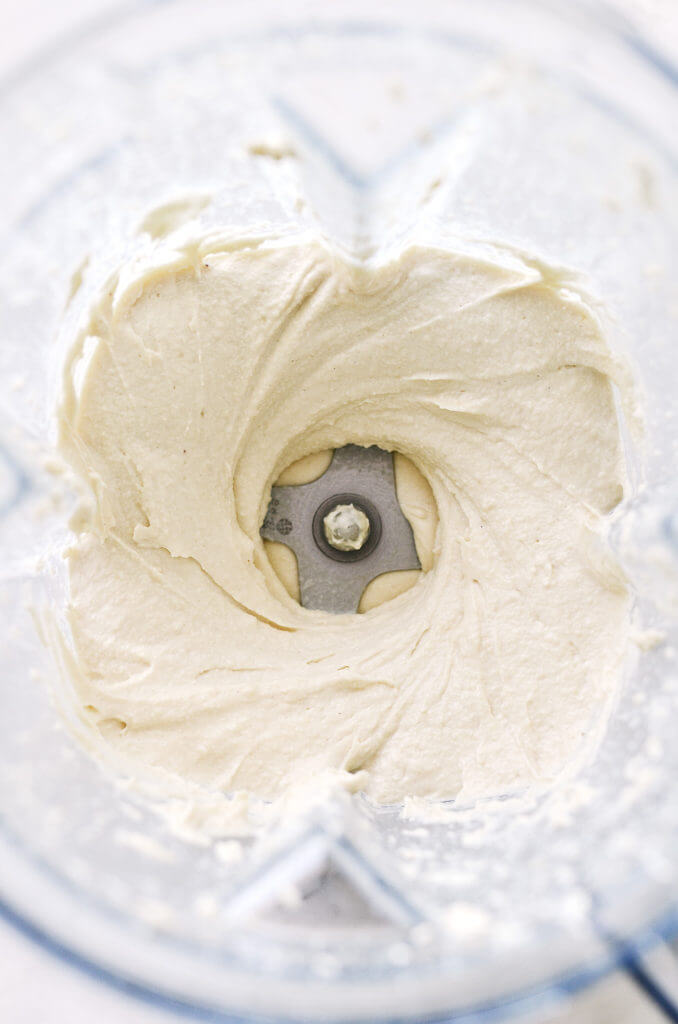 This machine is a POWER HOUSE. Grinding cashews? No prob. This Vitamix blender whipped up those cashews in minutes and turned them into the creamiest rich cream cheese filling. Mmmmm.
*Pro tip: make sure to use the tamper to accelerate the process of blending as well as scraping the cashews down the sides of the blender so that it gets SUPER smooth. 🙂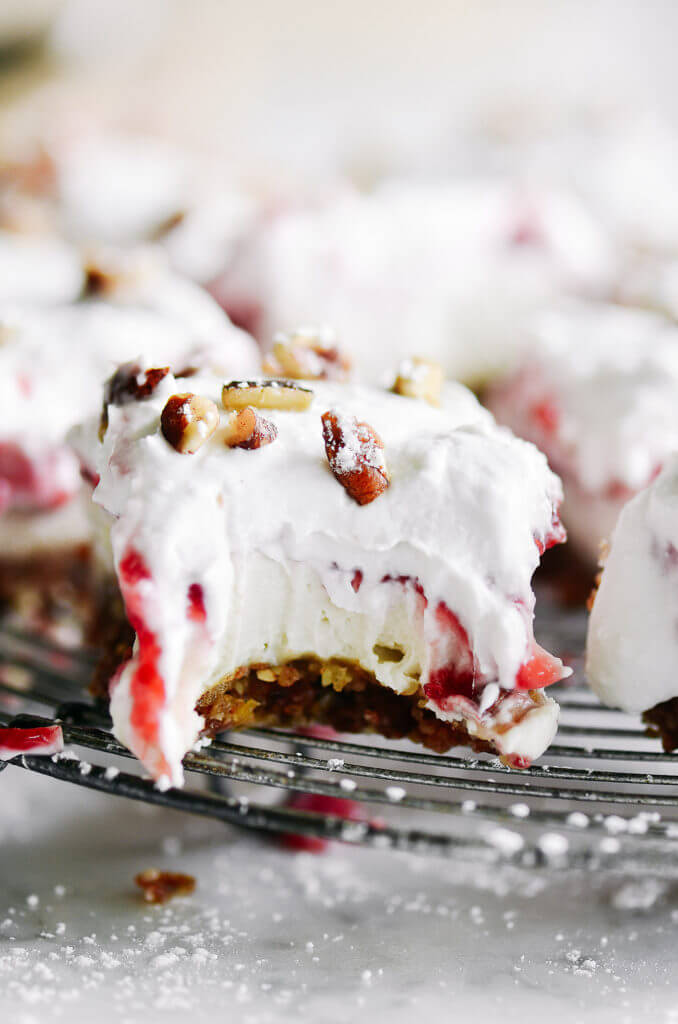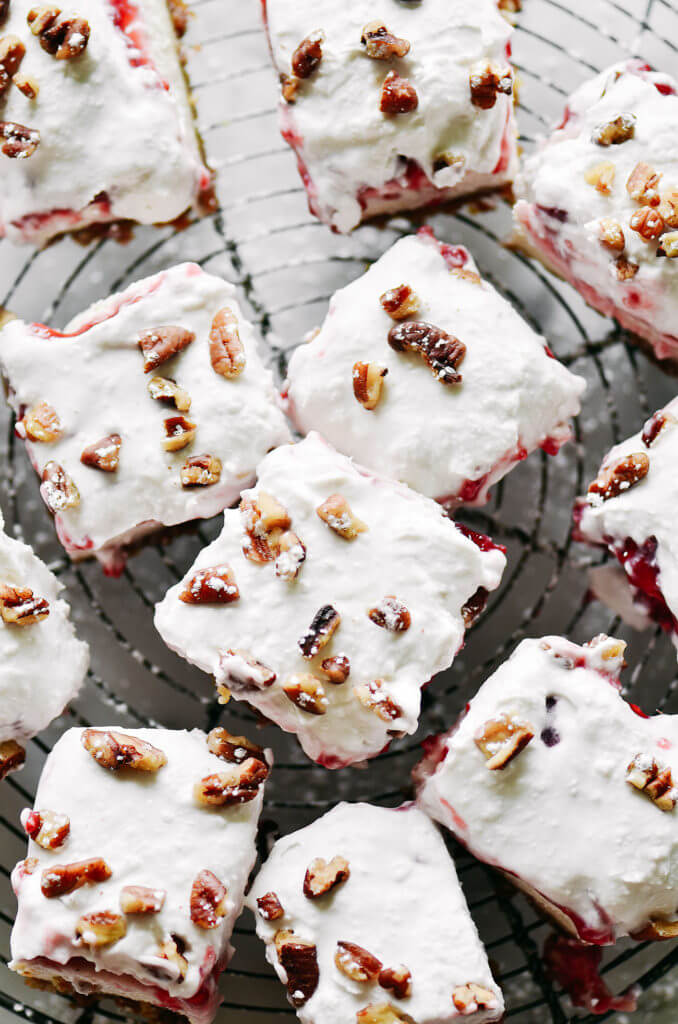 Cream is a must
Layers and layers of gorgeous cream all piled up. Ughhhh. I can't even get enough (no, seriously… I keep trying it and I can't get enough😜).
The layers of these cream cheese bars are so simple and I usually have everything on hand anyway (which doesn't help snacking :). Keeping a carton of cashew cream cheese in the fridge is a must! I literally haven't found one thing it's bad on- sweet or savory. If you're feelin the need for something sweet after dinner it's really easy to throw a batch of these bars together!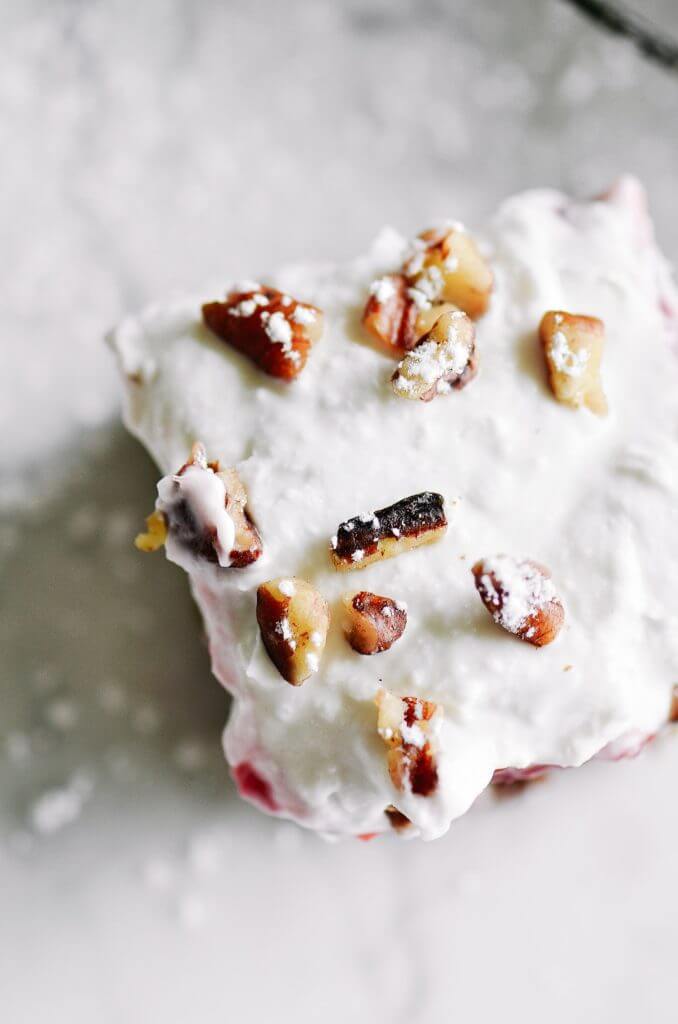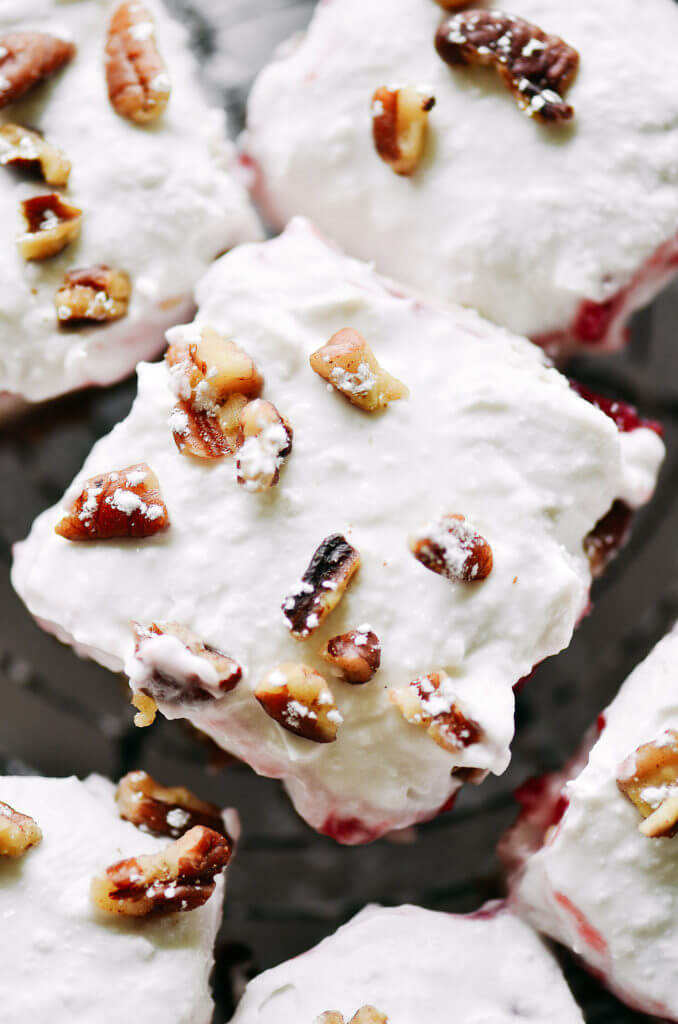 One more fabulous thing you need to know about these bars before you indulge: they have almost zero sugar! There is no sugar in the filling (at all!). And the whipped cream is sweetened lightly with stevia. The only other sugar content is found in the raspberry filling and dates in the crust.
I promise it doesn't taste sugar free either. 😉 I had taste testers who eat everything try these and they said it tasted just like cheesecake! So you don't have to worry about it tasting super healthy (even though they are).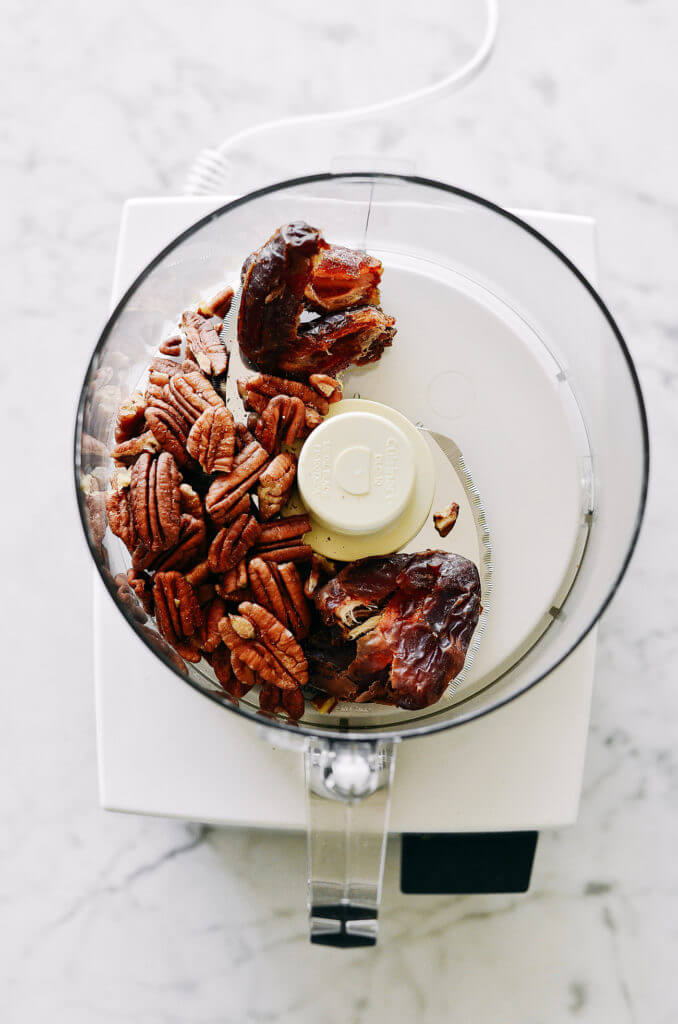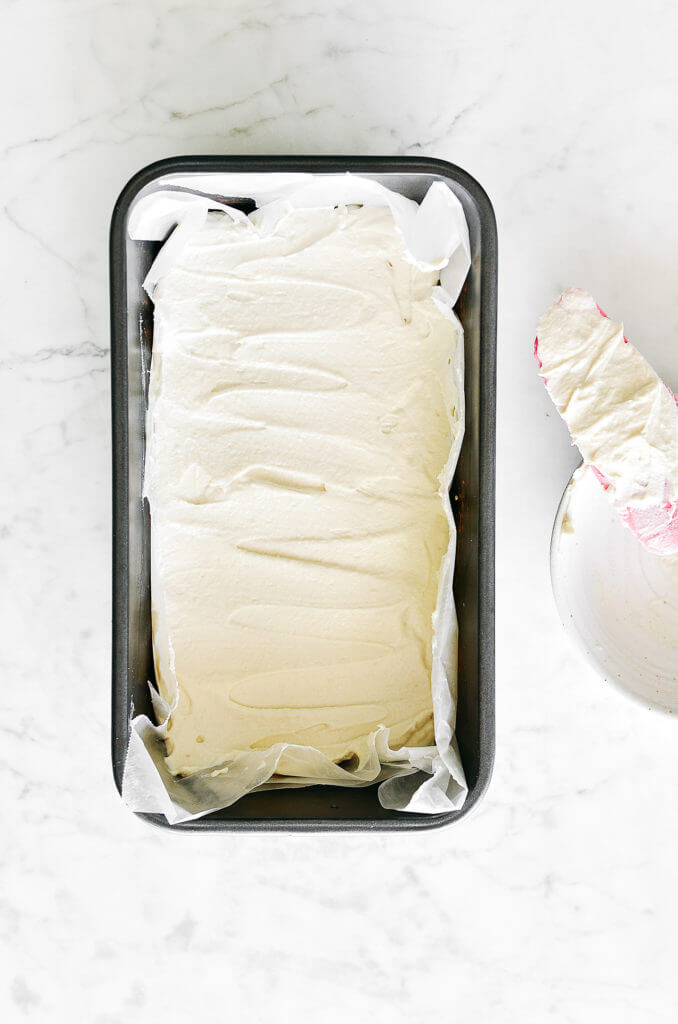 Sooooo, who wants some? Here is the breakdown:
1. Blend together the crust in the food processor.
2. Whip up the cream cheese in the Vitamix blender.
3. Whip that whipped cream till it's fluffy.
4. Assemble layers of crust, cream cheese, raspberry jam, whipped cream, and sprinkle with chopped pecan pieces (and arrowroot flour for powdered sugar effect).
5. Slice and EAT!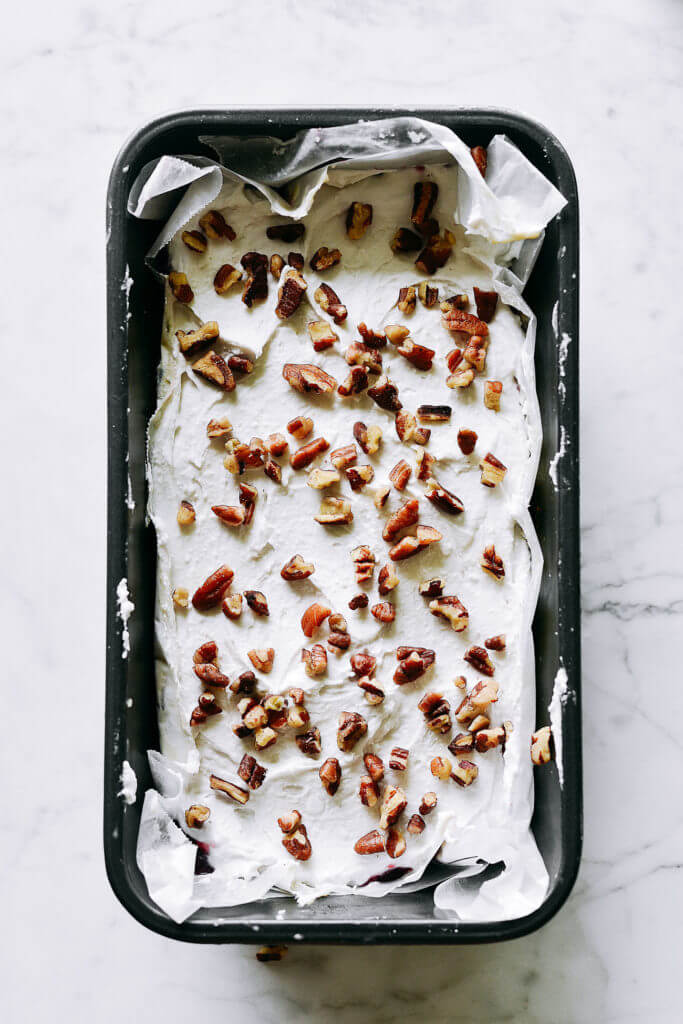 Alright! I think that's everything you need to know! Now, let's EAT.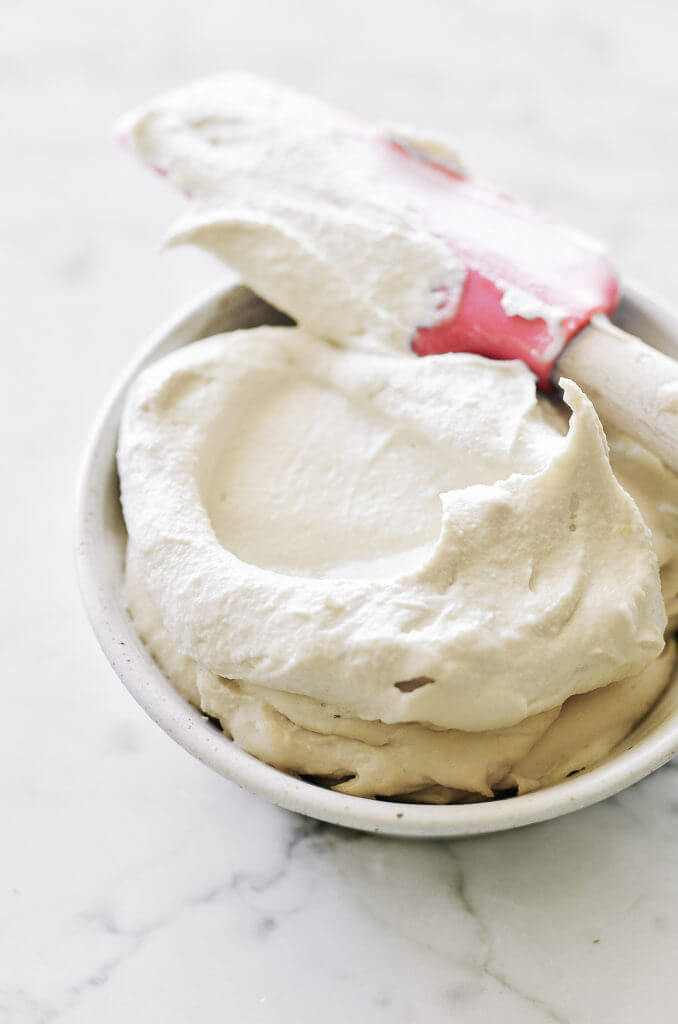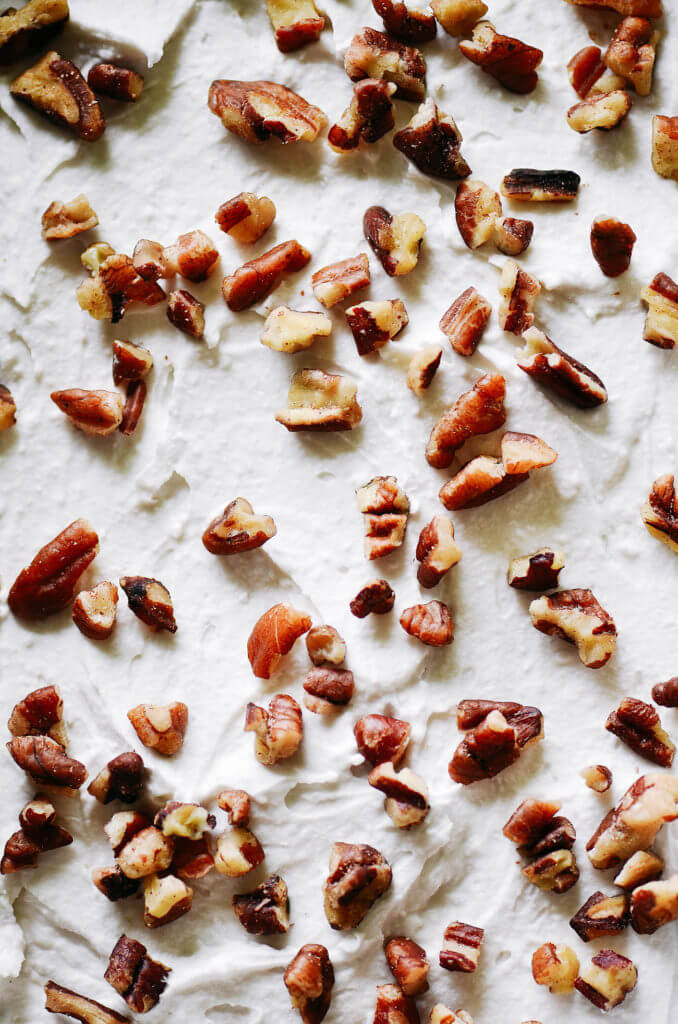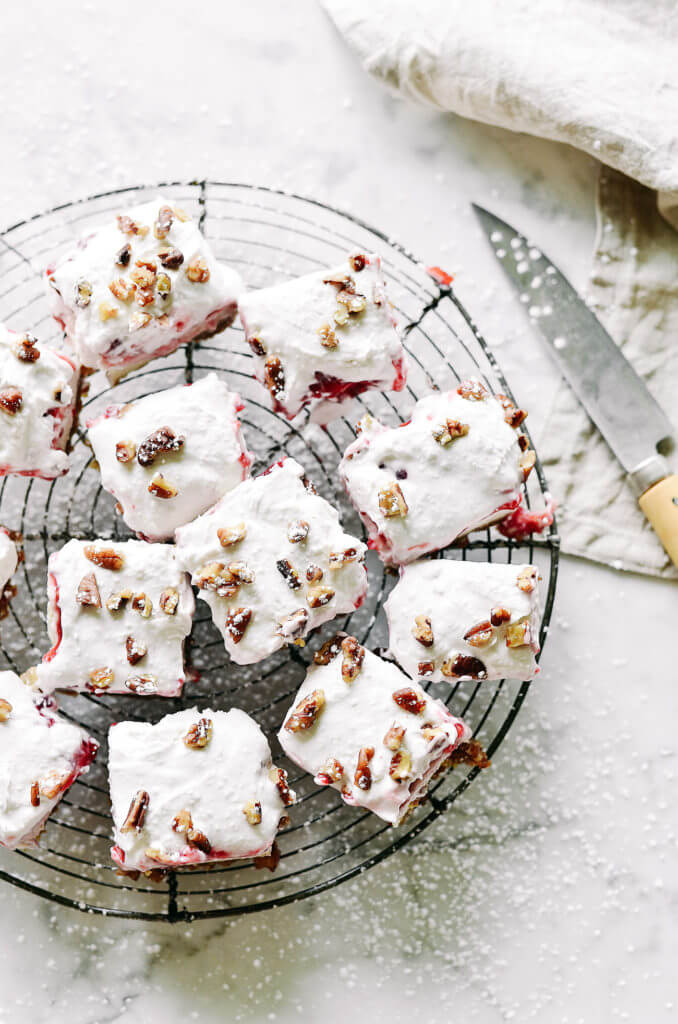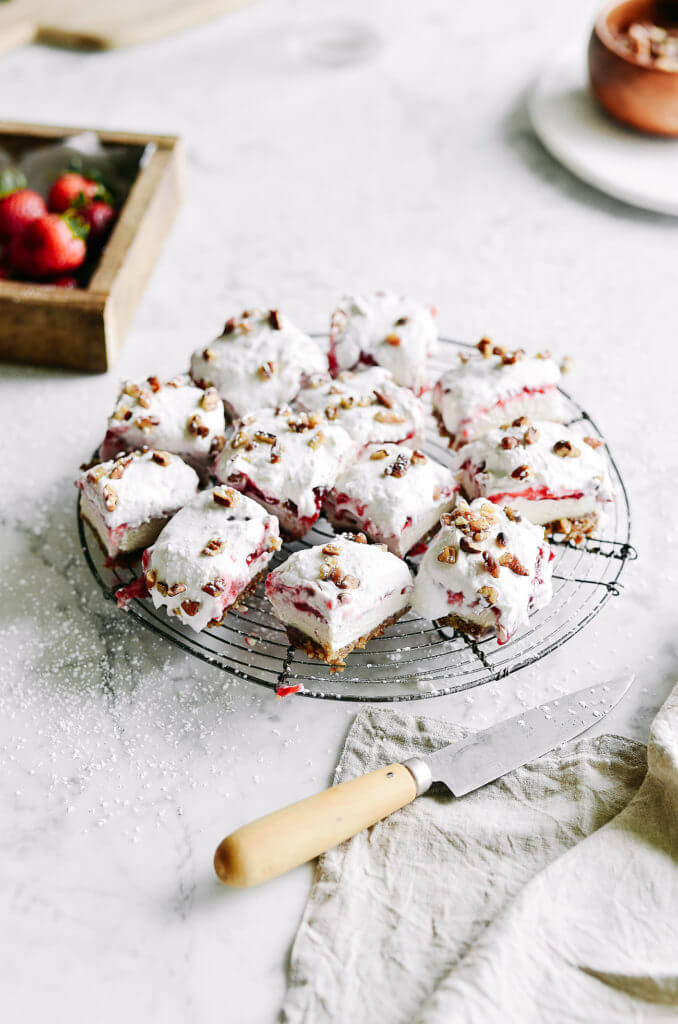 Combine the ingredients for the cashew filling in the blender. Use the tamper tool to move the cashews around in the blender to ensure even and thorough combining. Blend until completely smooth.

In a food processor combine the ingredients for the crust and pulse until the mixture breaks down and forms small granulars that stick together.

Line a 8" by 4" pyrex pan with parchment paper. Then add the crust mixture, spread it out evenly in the pan, and then press down.

Evenly spread the cashew filling over the crust and smooth down.

Add the raspberry preserves or fresh fruit in over the cashew filling.

To make the coconut whipped cream take a can of chilled full fat canned coconut milk (I use Thai Kitchen brand) and scrape the solid cream off the top. Put the coconut cream in a bowl with the vanilla and stevia then ship with an electric mixer until smooth.

Top the bars off with whipped coconut cream, cashew pieces, and arrowroot powder for powdered sugar effect.
Nutrition Facts

Dairy Free Paleo Raspberry Cream Bars

Amount Per Serving

Calories 421

Calories from Fat 306

% Daily Value*

Total Fat 34g 52%

Sodium 12mg 1%

Potassium 49mg 1%

Total Carbohydrates 25g 8%

Protein 9g 18%

* Percent Daily Values are based on a 2000 calorie diet.