---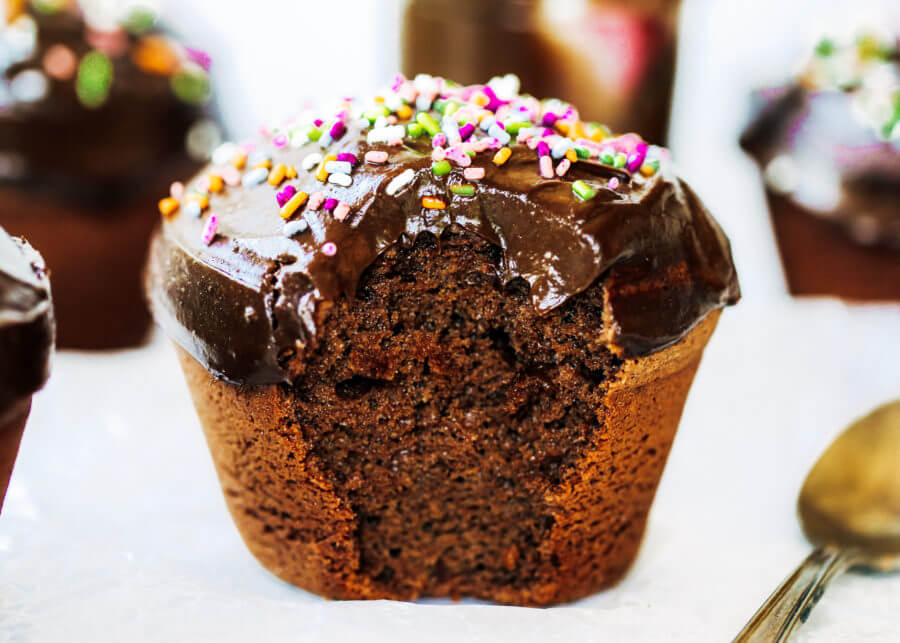 Fluffy paleo chocolate cupcakes made in the blender in 5 minutes! These chocolate cupcakes are made with healthy ingredients, avocado buttercream, and natural sprinkles!

Print Recipe Healthy Paleo Chocolate Cupcakes With Frosting Fluffy paleo chocolate cupcakes made in the blender in 5 minutes! These chocolate cupcakes are made with healthy ingredients, avocado buttercream, and natural sprinkles! Ingredients Info Cook Time 15-25 minutes Prep Time 5 minutes Servings cupcakes, depending on size MetricUS Imperial Course Dessert Votes: 1
Rating: 5
You: Rate this recipe! Recipe Notes

Info Cook Time 15-25 minutes Prep Time 5 minutes Servings cupcakes, depending on size MetricUS Imperial Course Dessert Votes: 1
Rating: 5
You: Rate this recipe! Recipe Notes

Ingredients Instructions
Preheat oven to 350F. Grease a muffin pan with coconut oil. You can bake 4 extra large bakery style cupcakes using a super sized muffin pan or 8 regular cupcakes using a standard muffin pan.
In a high speed blender combine all ingredients until smooth.
Pour batter 3/4 way up the muffin pan and bake on 350F until a clean knife when inserted into the middle of a cupcake comes out clean. Cook for about 15 minutes for regular size and 20-25 minutes for extra large.
Nutrition Facts Healthy Paleo Chocolate Cupcakes With Frosting Amount Per Serving Calories 310 Calories from Fat 162 % Daily Value* Total Fat 18g 28% Saturated Fat 4g 20% Polyunsaturated Fat 0.3g Monounsaturated Fat 1g Cholesterol 93mg 31% Sodium 87mg 4% Potassium 281mg 8% Total Carbohydrates 28g 9% Dietary Fiber 5g 20% Sugars 15g Protein 13g 26% Vitamin A 2% Calcium 8% Iron 15% * Percent Daily Values are based on a 2000 calorie diet.
Read more