---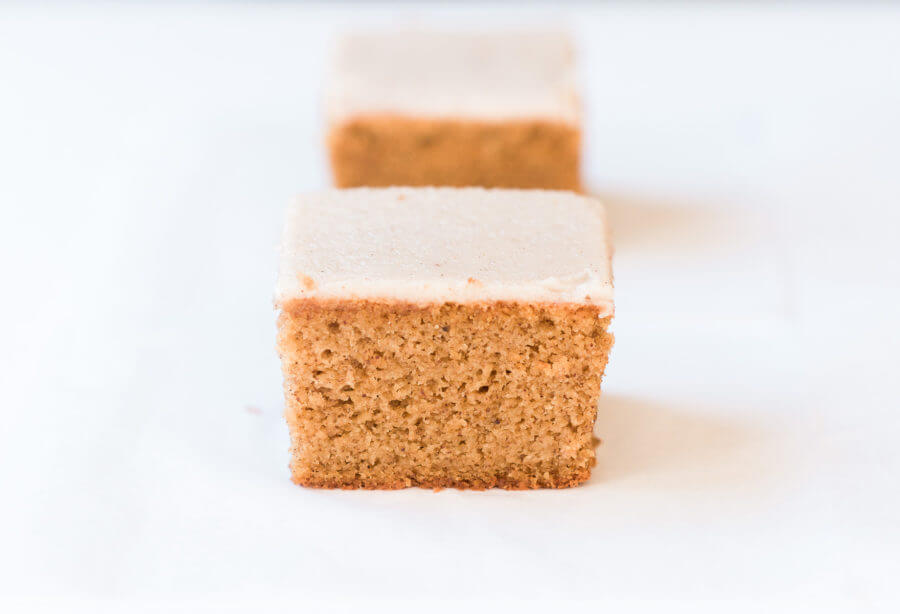 Easy to make Paleo Pumpkin cake with the best dairy free & refined sugar free maple frosting. Best easy to make paleo and gluten free pumpkin cake dessert or snack.

Print Recipe Paleo Pumpkin Cake With Maple Frosting Easy to make Paleo Pumpkin cake with the best dairy free & refined sugar free maple frosting. Best easy to make paleo and gluten free pumpkin cake dessert or snack. Ingredients Cake Batter Dessert Votes: 2
Rating: 2.5
You: Rate this recipe! Recipe Notes

Optional: You can add a dash of nutmeg and cinnamon to the frosting if you want a little extra spice!

Info Cook Time 45 minutes Prep Time 15 minutes Servings pieces MetricUS Imperial Course Dessert Votes: 2
Rating: 2.5
You: Rate this recipe! Recipe Notes

Optional: You can add a dash of nutmeg and cinnamon to the frosting if you want a little extra spice!

Ingredients Cake Batter
Preheat the oven to 350 degrees. Line a 8" by 8" pyrex baking dish with parchment paper.
Combine all of the ingredients for the cake batter in a large mixing bowl until completely smooth. You can also use an electric KitchenAid mixer for this.
Pour the cake batter into the baking dish and bake on 350 degrees for 45 minutes until golden.
Frosting
Before combining the ingredients for the frosting be sure that your maple syrup is at room temp! THIS IS VERY IMPORTANT! If the maple syrup is chilled, it will clump the frosting.
For the frosting, combine all of the ingredients in a blender or food processor for about 1 minute until smooth. Do not over whip- this will cause the frosting to clump.
Gently frost the cake with the whipped maple frosting and then serve!
Nutrition Facts Paleo Pumpkin Cake With Maple Frosting Amount Per Serving Calories 304 Calories from Fat 153 % Daily Value* Total Fat 17g 26% Saturated Fat 1g 5% Polyunsaturated Fat 0.02g Monounsaturated Fat 0.02g Sodium 183mg 8% Potassium 15mg 0% Total Carbohydrates 34g 11% Dietary Fiber 5g 20% Sugars 14g Protein 7g 14% Vitamin A 41% Vitamin C 1% Calcium 18% Iron 12% * Percent Daily Values are based on a 2000 calorie diet.
Read more