5 Minute Paleo Banana Bread
---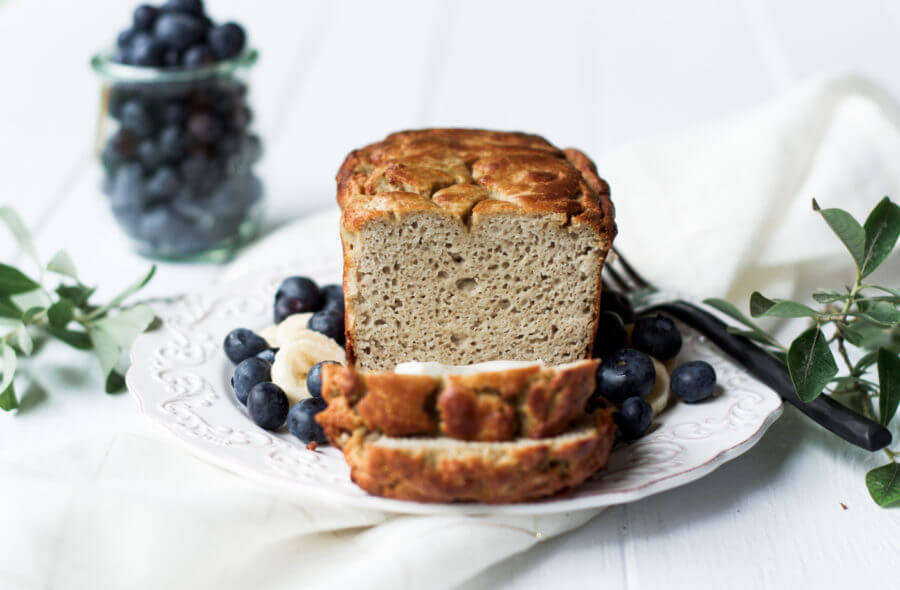 This Grain Free & Paleo Banana Bread is incredibly easy to make and it's made in a blender! Light and airy bread with a delicious crust, this banana bread only takes 5 minutes to whip up and then it's in the oven.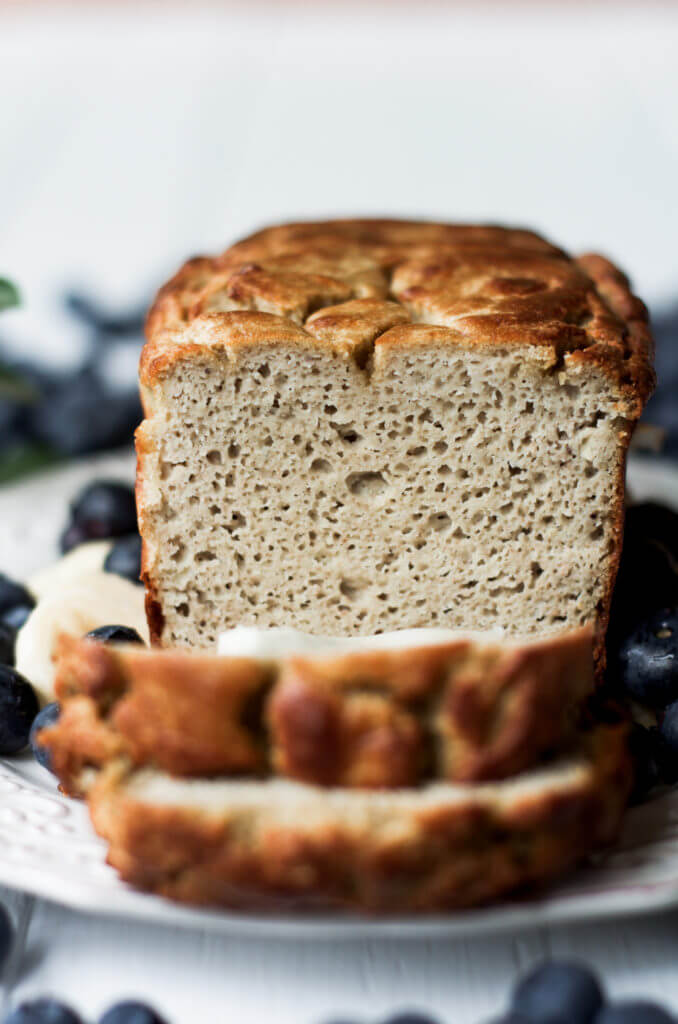 I wasn't originally going to share this recipe with you guys yet, but it is quickly becoming one of my favorites, so I just couldn't wait! This bread is everything I want it to be: soft, light, fluffy, smooth, moist, and full of naturally sweet banana flavor. Mmmmm (licking lips). You guys have to get in on this party in the kitchen!
This banana bread is a five minute blender recipe. One of my kind. Putting seven whole food ingredients into the blender or food processor, whipping it smooth, then letting it cook up in the oven, filling the house with soft banana breezes, is always the best kind of day.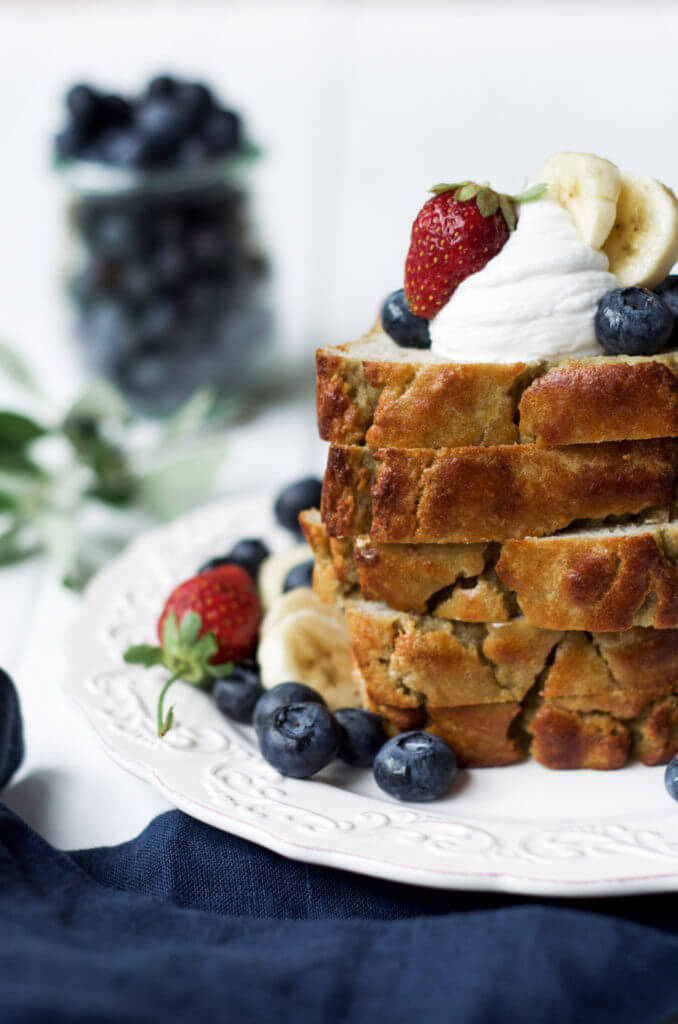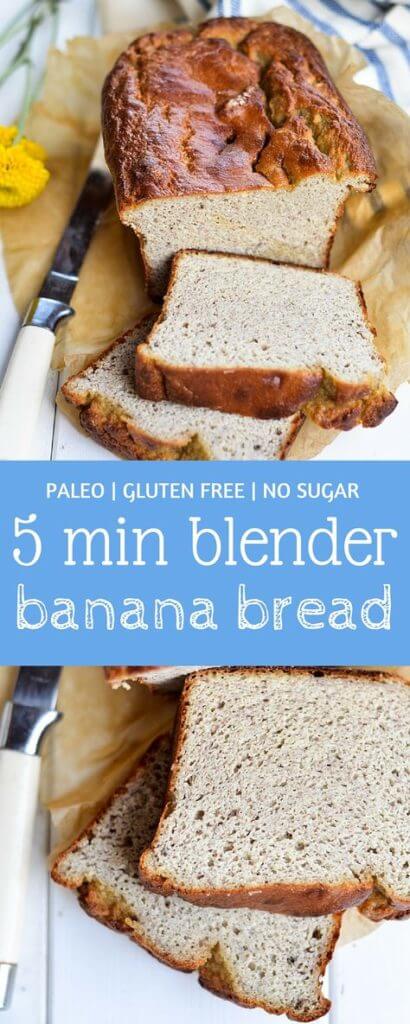 Bananas are a great way to keep paleo baked goods moist, plus the sugars in the banana create a gorgeous moist crust. This recipe has no added sugar, yay again!
I used a bit organic stevia liquid to add a little more sweetness, but this is completely optional and it would be amazing without it too. Having a list of quick and easy paleo bread recipes is a must for satisfying that occasional bread and butter craving, because who doesn't have one? Yes, even veggie munchin rabbits like myself get the craving for a good old slice of bread from time to time.
This recipe sure hits the spot! I store this banana bread sliced and in a zip lock in the freezer for further munching occasions.
Eating the sugars from the banana mixed with lots of almond and egg protein help to balance out your body's blood sugar levels as you are consuming sugar. A big shout out to grain free cooking! Who else loves all that protein and whole foods in your cakes and breads?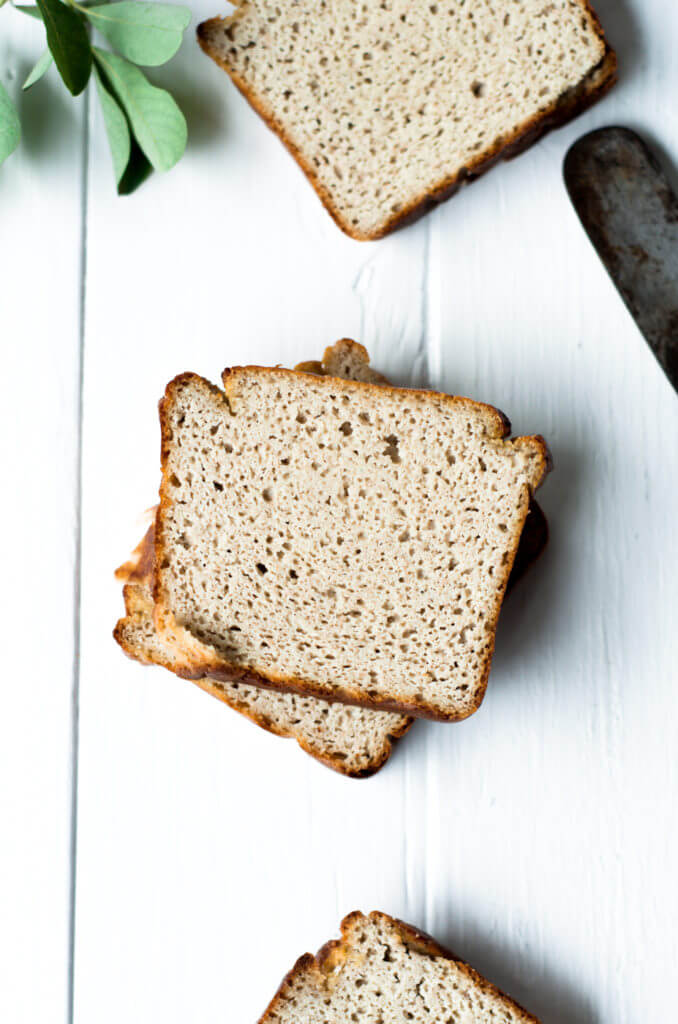 Banana Bread Blender Style
I use my amazing high powered Kitchen Aid Food Processor for this recipe, but I have also made it in my Blendtec Blender. If you don't have either of these, you should get one, because they are amazing and save so much time in the kitchen.
In conclusion, I wanted to share that I have recently released my new ebook, 5 Easy Paleo Breads. If you like this banana bread and want more grain free breads that taste real, be sure to check it out! And the great part is- the ebook is on sale 50% off for a few more days! In this ebook, I will show you how to make five of my top paleo breads; including, nut free and yeast free Paleo Bagel Bread, an epic loaf of Rustic Artisan Bread, and a few more that I think you're going to like. (See all descriptions here).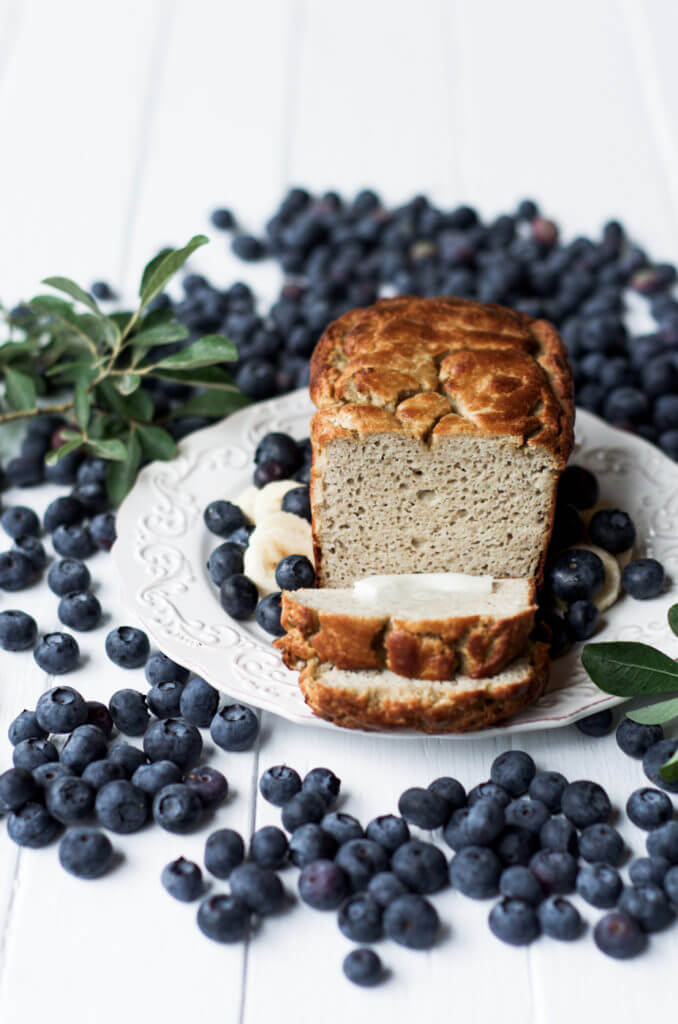 Be sure to cook this loaf in a 3 1/2" by 5" bread pan. If you cook it in a larger loaf pan it will turn out flat because it will spread farther in the pan.
| | |
| --- | --- |
| Be sure to cook this loaf in a 3 1/2" by 5" bread pan. If you cook it in a larger loaf pan it will turn out flat because it will spread farther in the pan. | |
Preheat the oven to 375 degrees and line a small baking pan (3 1/2" by 5") with parchment paper.

Combine all of the ingredients in a high powered blender or food processor (this combines all of the ingredients into the smoothest texture and makes a big difference in the consistency and texture, so it is highly suggested to use a blender or food processor in combining).

Once the batter is smooth, pour it into the loaf pan and cook on 375 degrees Fahrenheit for 1 hour until golden brown on top.
Nutrition Facts

5 Minute Paleo Banana Bread

Amount Per Serving

Calories 186

Calories from Fat 153

% Daily Value*

Total Fat 17g 26%

Sodium 127mg 5%

Potassium 0.01mg 0%

Total Carbohydrates 6g 2%

Protein 6g 12%

* Percent Daily Values are based on a 2000 calorie diet.