Paleo Breakfast Bread Pudding
---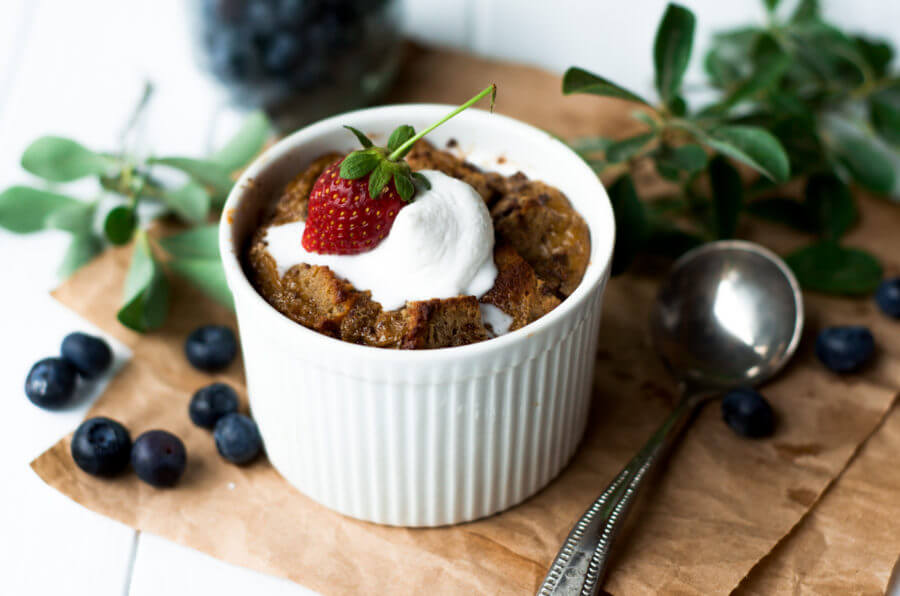 This decadent paleo bread pudding is made with a 5 minute paleo banana bread recipe. Moist, light, and and easy to make breakfast or sweet treat.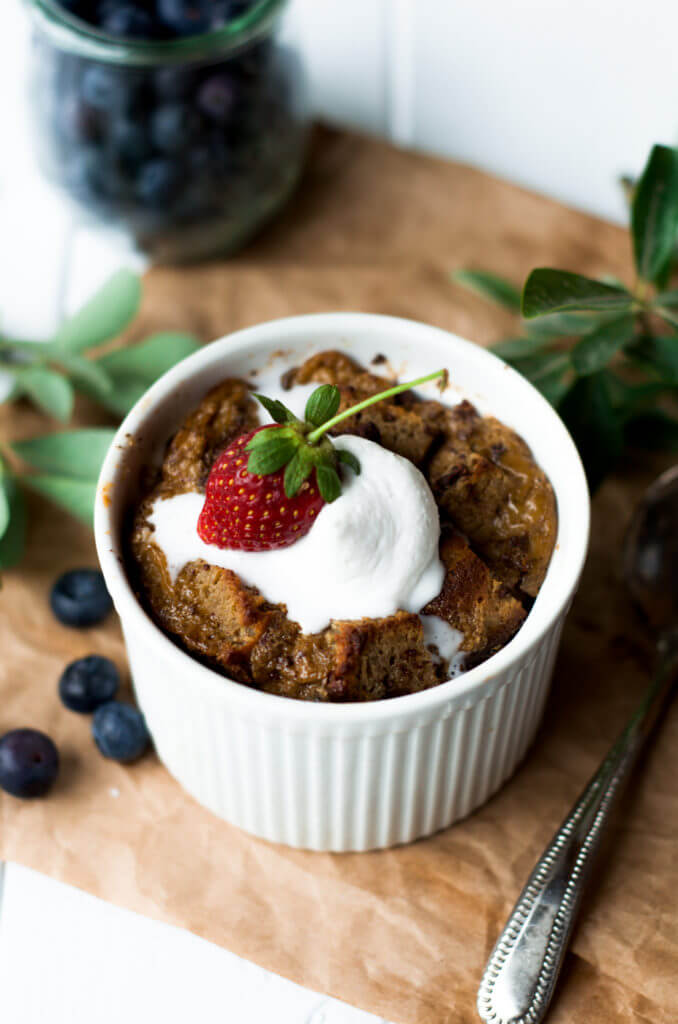 I did the unthinkable last night… I stayed up until two a.m. with my sister taking silly online quizzes about which 90's leading lady we would be. What crazy color hair would best fit each of us. And which Full House Character was destined to be our soul mate.
I know, it's terrible… But awfully fun at two a.m! I did learn a thing or two though. After taking the quiz on which Full House Character I was most likely to fall in love with, it was determined that Steve is the guy for me. Ha ha, gotta love Steve! The results declared that I was a great fit for a fellow foodie and that he would be someone who would love to try all my baked goods. How did they know?!! I love Steverino!
Anyone else Full House fans? I have been a lifelong fan of the Tanners and I guess I am destined to be with the biggest foodie in the show. After staying up and giggling way too much, I concluded the only logical thing to do next would be to make bread pudding. Why let the party end?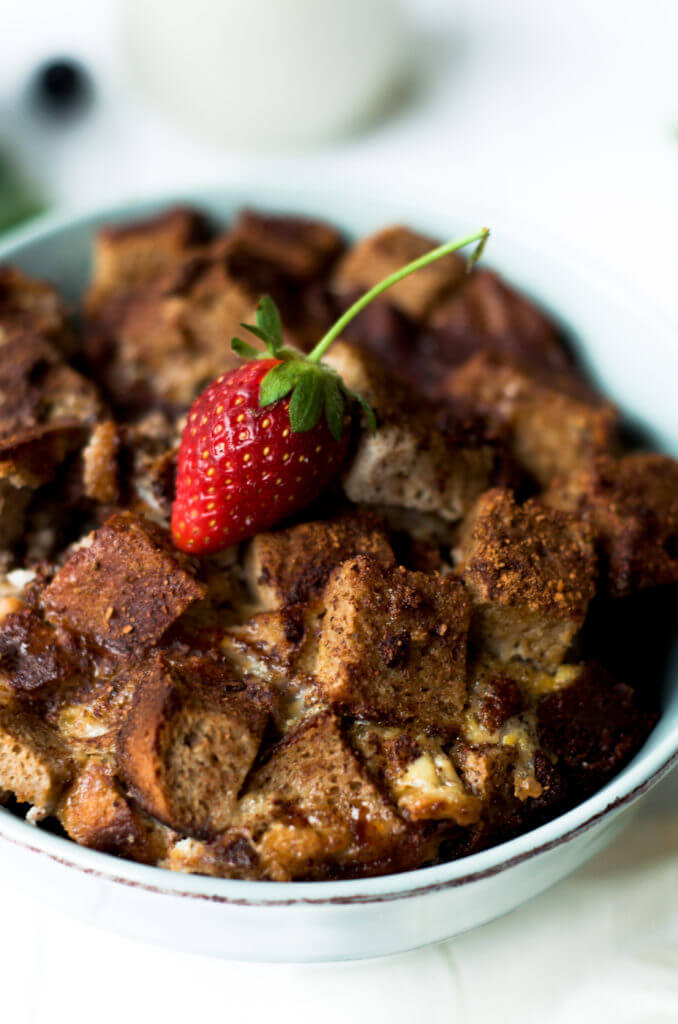 I have eaten bread pudding twice in my life. The first time was a magical experience and I instantly fell involve. Ironically, it was really close to the time when I completely gave up gluten and grains and went full time paleo. I figured I wouldn't be eating bread pudding again for a very long time. Little did I know what kind of crazy grain free things I would be baking… Every bite of this soft and decadent pudding covered in sweetness and whipped cream only made me want more.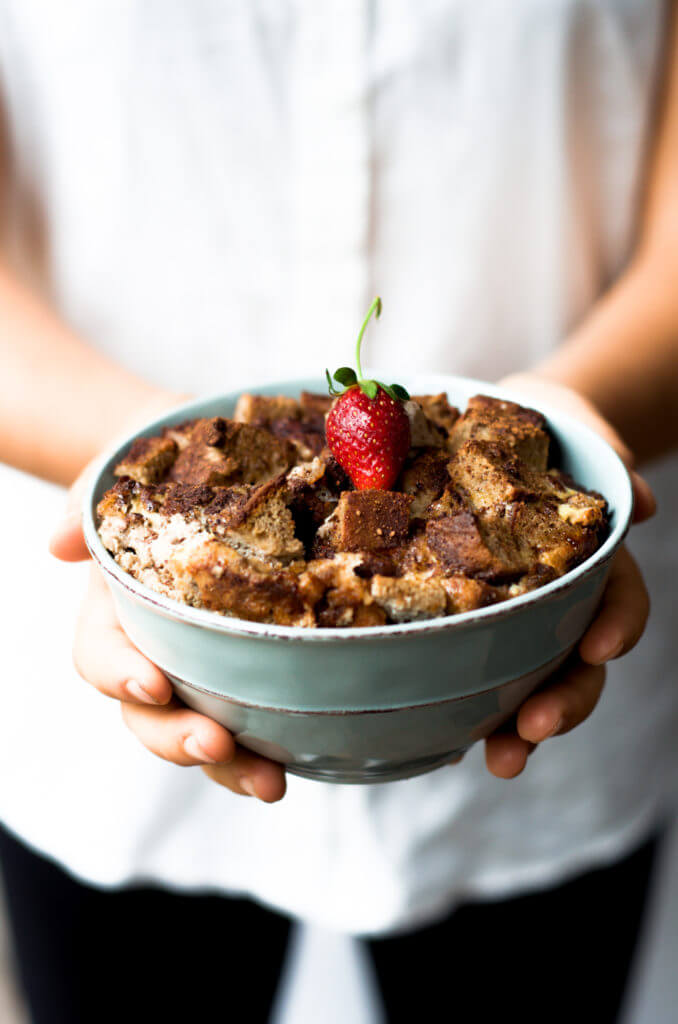 Pudding Naturally Sweetened
My Mom always talks about bread pudding and I have to say, it's been on my mind too. I knew I had to do something about it when I made a loaf my of my 5 Minute Paleo Banana Bread the other day. The natural sweetness from the bananas is a fantastic way to keep this dish real and full of whole foods. Yes, you can feel good about dipping your spoon into this goodness.
I topped my bread pudding with fresh made coconut whipped cream (learn how to make it here), but hey… I'm not saying a scoop of vanilla ice-cream is off limits or anything. How amazing would that be! Go for it, make some bread pudding, top it with vanilla ice-cream, and take way too many funky quizzes. Life is too short to not have fun.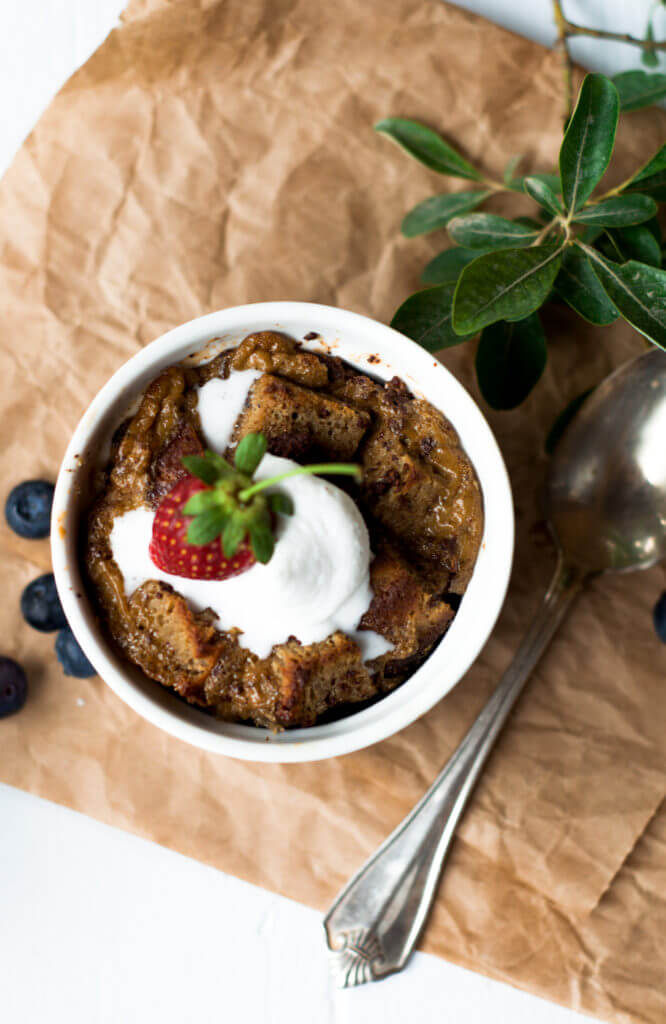 Prep Time

10

minutes (if the banana bread is pre-made)
Prep Time

10

minutes (if the banana bread is pre-made)
Pre heat the oven to 375 degrees Fahrenheit and grease a 8 inch pyrex baking dish with the 1 1/2 tablespoons coconut oil (from ingredient group 2).

Dust the pyrex baking dish with 2 tablespoons coconut sugar (from ingredient group 2).

Cut the loaf of banana bread into 1 inch cubes and put in the pyrex baking dish.

Beat the eggs until smooth and combine with the rest of the ingredients from ingredient group 1 (minus the bread).

Pour the liquid mixture over the bread cubes and bake on 375 degrees for 40 minutes.

Serve with whipped cream, fresh fruit, and maple syrup or honey.
Nutrition Facts

Paleo Breakfast Bread Pudding

Amount Per Serving

Calories 107

Calories from Fat 54

% Daily Value*

Total Fat 6g 9%

Sodium 155mg 6%

Potassium 51mg 1%

Total Carbohydrates 14g 5%

Protein 0.3g 1%

* Percent Daily Values are based on a 2000 calorie diet.