Paleo Gluten Free Plum Cake
---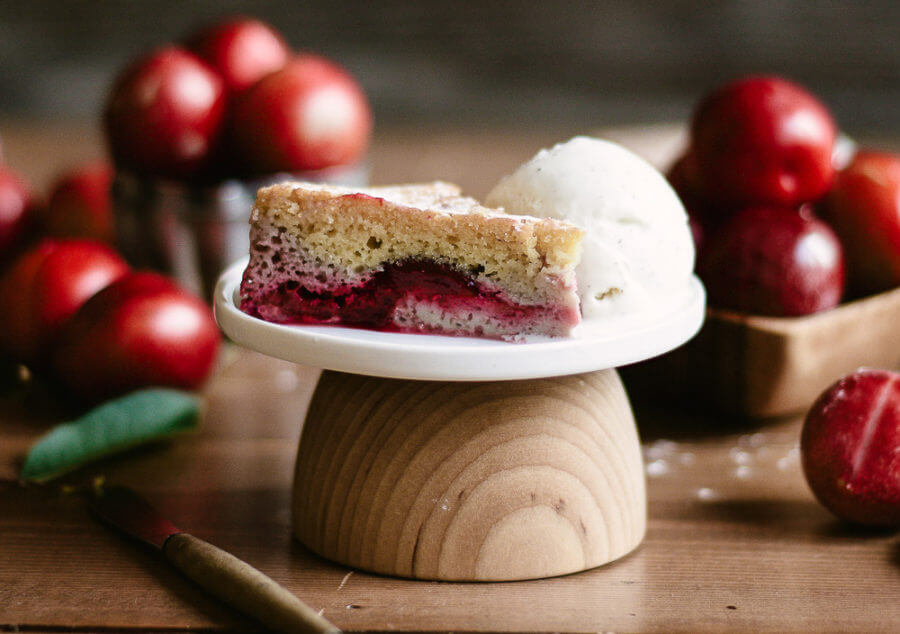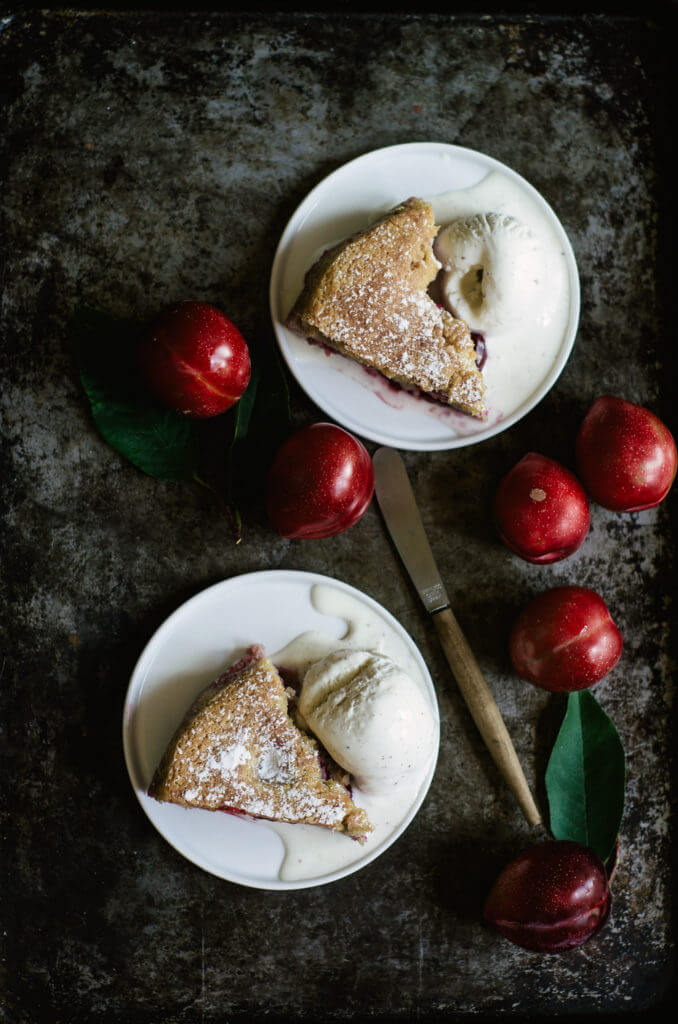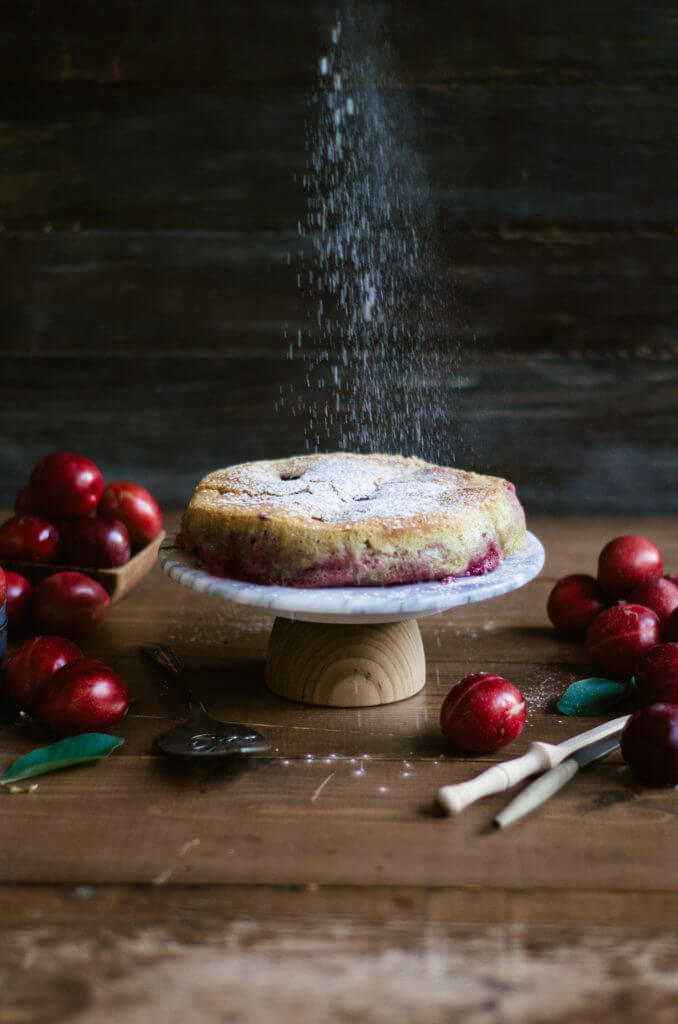 We had a party this week. I've gotta say, I'm not the best at birthdays. But I do love to make cake! My sister celebrated her birthday this week. And plum cake was the celebration of choice. Plus, who doesn't love autumn vibes, rich earthy fruit, and seasonal cakes?!
This heavenly plum cake is paleo and gluten free! And this earthy seasonal cake is perfect for fall. In addition, this delicious treat is made without refined sugar! This cake has a delicious soft, moist cake layer and is topped with fresh plums!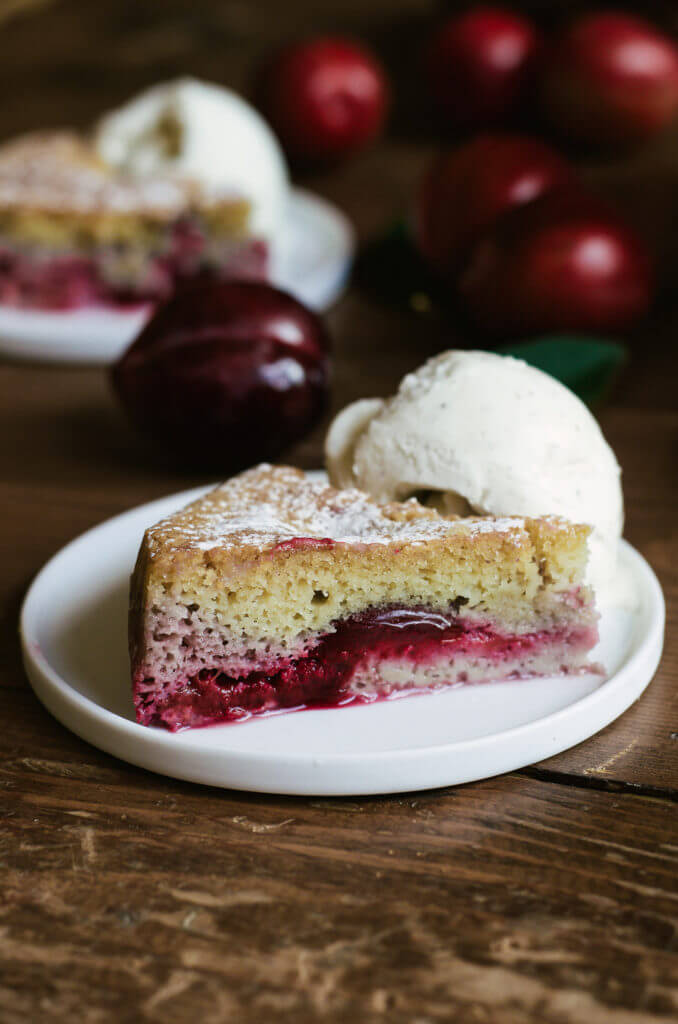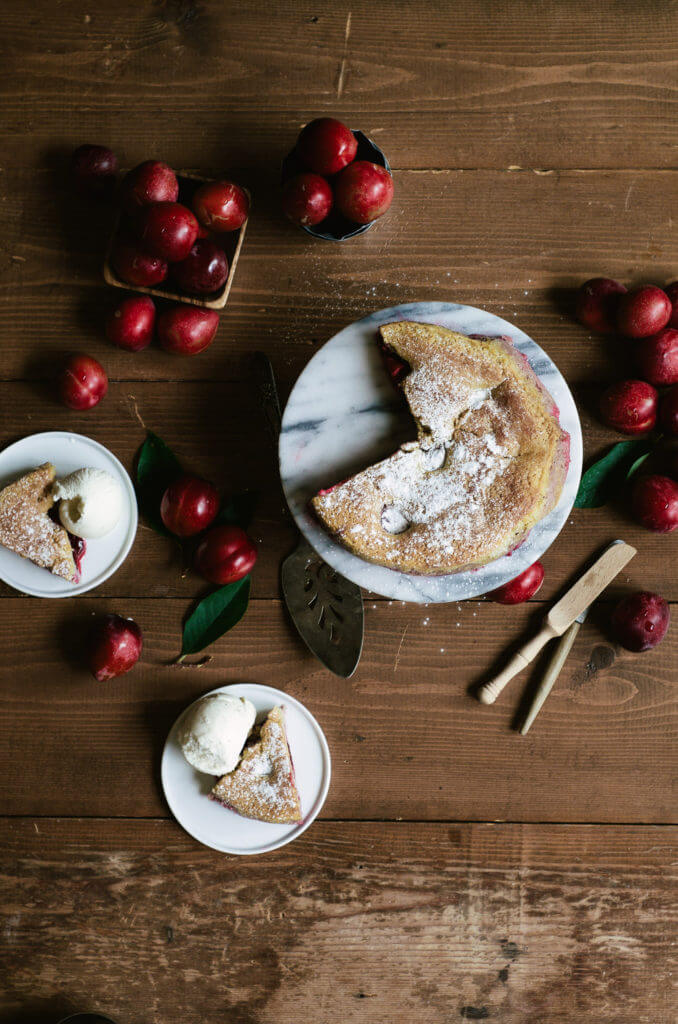 plum cake. soul fruits. what's next?!
As my friends and I sat around the kitchen table this week, we discussed a very serious subject… Our soul fruits. Okay, maybe not so serious and kinda anti-climatic, but definitely interesting! One would be surprised how much a fruit can resemble one's personality:)
All joking aside. What's your soul fruit? Don't know what to do that question? It's okay, I'll go first!
It was decided that my soul fruit was the plum. How does one determine their soul fruit? Well, by looking at all aspects of ones personalty, character, and essence and then translating that into a fruit. Thats how! I guess I'm earthy, deep, organic, and just fit to be a plum. I'm thinking that's about right. Ha ha:)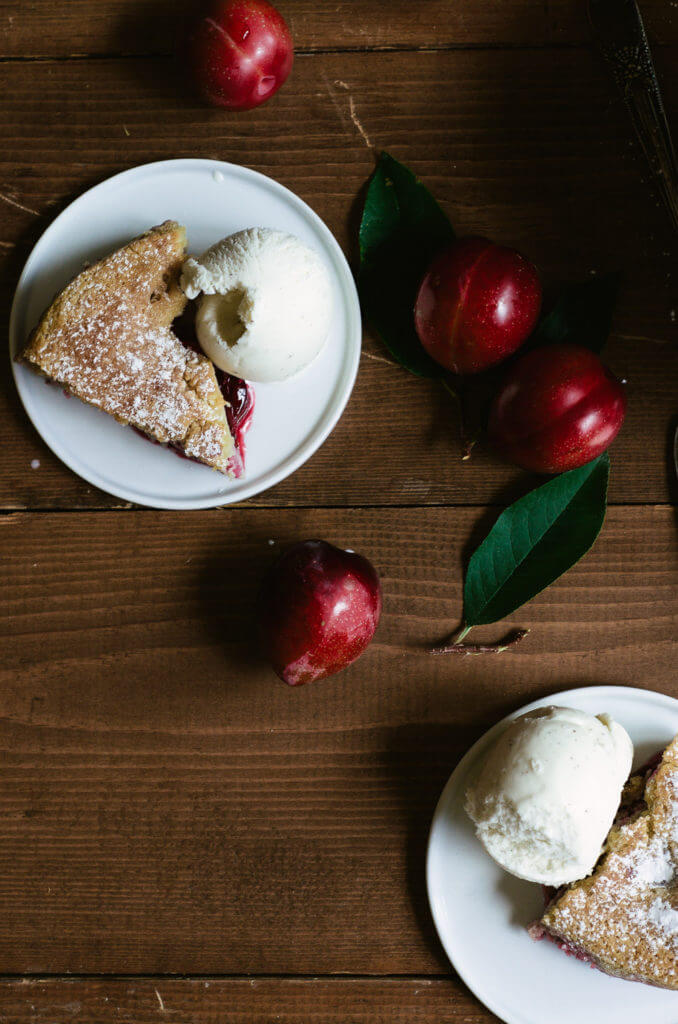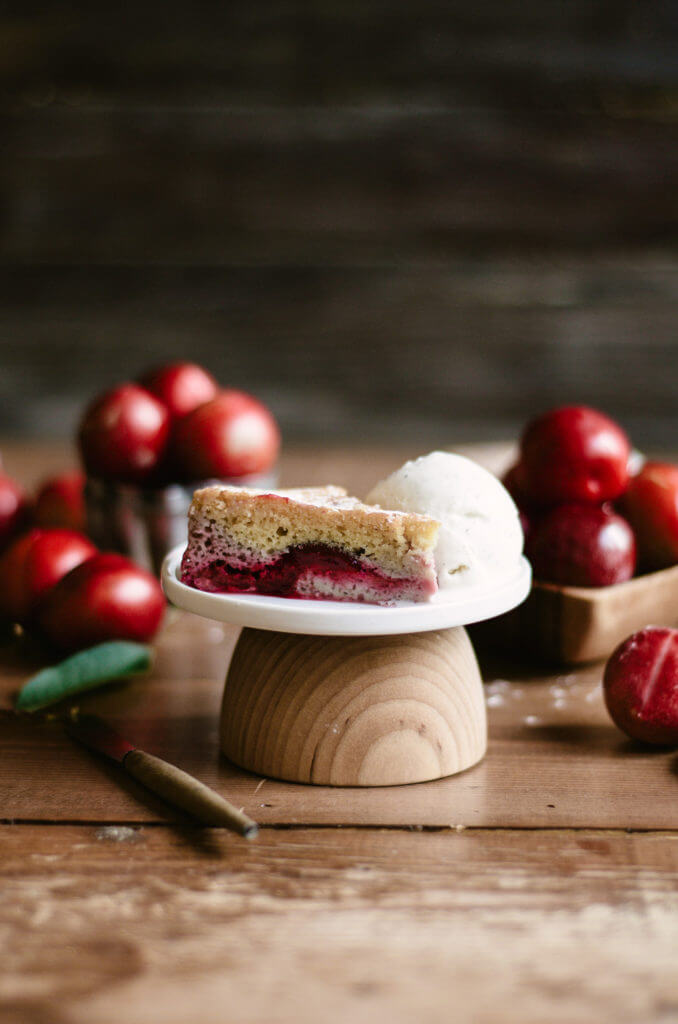 And what better time to discover that my soul fruit is the plum than today! When I made this beautiful plum cake!? Normally, I don't eat things with sugar- natural or not. But I indulged and tasted a bit of this cake. I mean, it was for a celebration right??? How could I not! The chef had to make sure it was edible before serving it to the guests.
I'm glad I did! Because I didn't want to share any of it after I tasted it! It was sooo good!! Like heaven. I'm pretty sure those were my exact words. In any case, it was gone immediately and left a happy bunch of cake eaters in its wake. Served along side a scoop of vanilla ice-cream. It's like, YUM!…!!!!!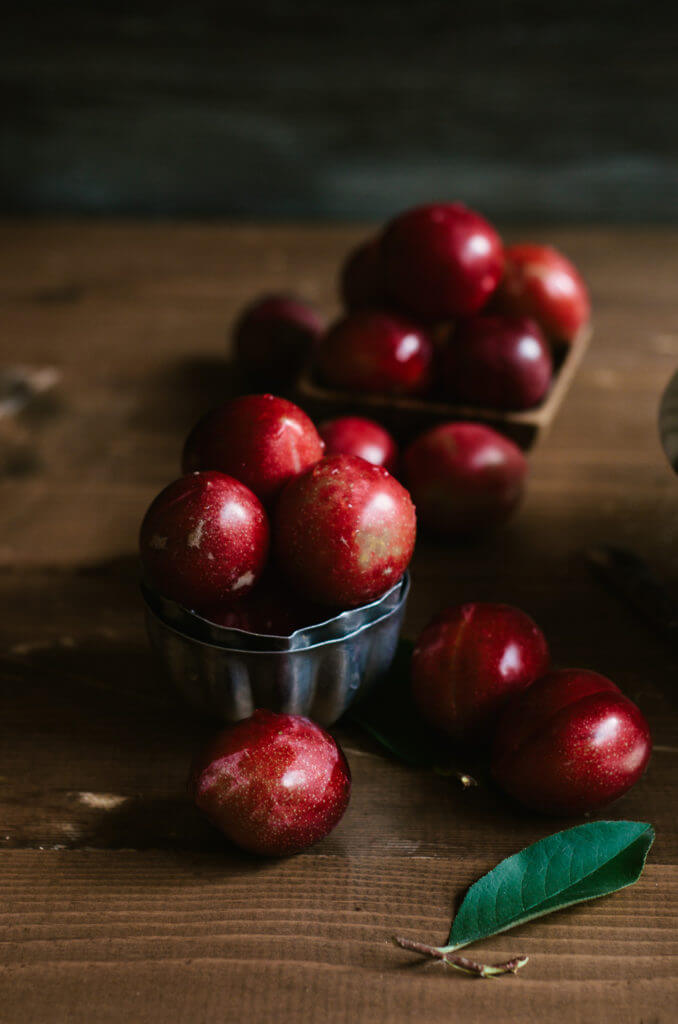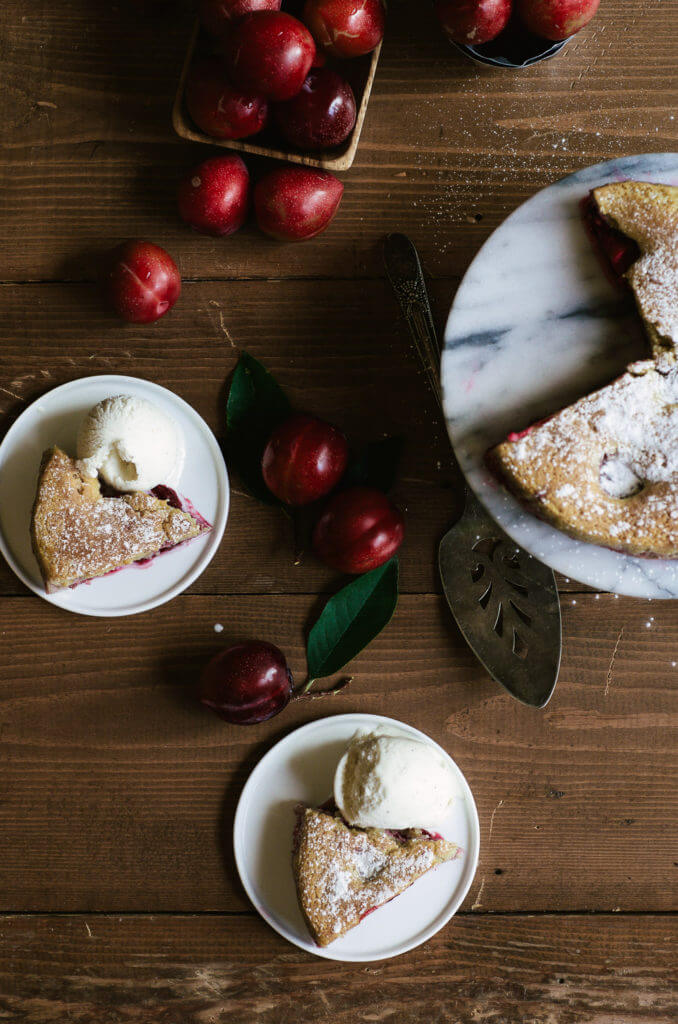 best grain free baking cookbook!
Searching for more delicious and elegant paleo desserts? Check out my favorite cookbook!!
This amazing paleo cookbook is filled with exquisite elegance and rustic beauty of traditional patisserie baking. But, all of these desserts are grain free and paleo! This book is filled with stunning cakes, pastries, cookies, and almost anything sweet you would ever crave! It is mind blowing how elegant and timeless the look and taste of all these desserts is! I love this cookbook as a grain free baking resource. It's always on the shelf. And it never disappoints! In addition, the images in the book are truly wonder, inspiring, and captivating! It's a must read to go along side a slice of paleo plum cake:)
Optional: Serve with vanilla ice-cream.
| | |
| --- | --- |
| Optional: Serve with vanilla ice-cream. | |
Preheat the oven to 350 degrees. Line a 7" spring form cake pan with parchment paper.

Combine all of the ingredients for the cake batter in a medium size mixing bowl or use a KitchenAid. Whip the batter until smooth or evenly combined.

Cut the desired about of plums into halves. Keep in mind: the more plums added to the cake, the more liquid there will be. If you add more then 5 plums, the cake will be a lot more moist.

Grease the parchment paper lined cake pan with 1 teaspoon coconut oil. Then lay the plum halves into the bottom of the cake pan.

Drizzle the plums with 1 tablespoon maple syrup and a sprinkle of sea salt.

Pour the cake batter over the plums and bake the cake on 350 degrees for 65 minutes or until golden brown.
Nutrition Facts

Paleo Plum Cake

Amount Per Serving

Calories 489

Calories from Fat 306

% Daily Value*

Total Fat 34g 52%

Cholesterol 140mg 47%

Sodium 302mg 13%

Potassium 44mg 1%

Total Carbohydrates 36g 12%

Protein 17g 34%

* Percent Daily Values are based on a 2000 calorie diet.