---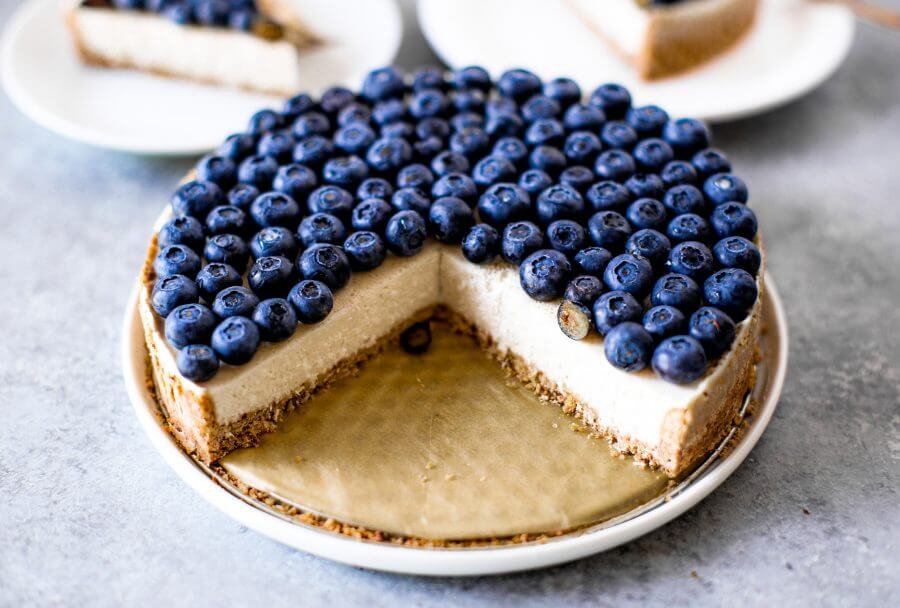 Blueberry creamy pie made with dairy-free coconut cream filling and a homemade paleo coconut flour crust. Fresh and easy summer dessert topped with plenty of fresh blueberries! An easy paleo blueberry cream pie recipe.

Print Recipe Blueberry Cream Pie Blueberry creamy pie made with dairy-free coconut cream filling and homemade paleo coconut flour crust. Fresh and easy summer dessert topped with plenty of fresh blueberries! An easy paleo blueberry cream pie recipe. Ingredients Cust Dessert Votes: 11
Rating: 3.73
You: Rate this recipe! Info Cook Time 15 minutes Prep Time 15 minutes Servings servings MetricUS Imperial Course Dessert Votes: 11
Rating: 3.73
You: Rate this recipe! Ingredients Cust
Preheat oven to 350F. Line the bottom of a 8" pie or tart pan with parchment paper.
In a food processor, combine ingredients for crust until it pulses together and becomes a graham cracker crust consistency.
With your fingers or the bottom of a measuring cup, press crust into the bottom and halfway up the sides of pie pan.
Bake crust on 350F for about 15 minutes until golden, then cool before adding filling.
In a saucepan whisk together all ingredients (except coconut shreds) for filling. Heat on stove until simmers and becomes smooth. Use an immersion blender or transfer to a regular blender to puree until completely smooth of any gelatin clumps. Then stir in coconut flakes.
Pour filling over crust and chill in freezer for about 30-60 minutes or until reaches desired consistency.
Once pie is chilled, top with fresh blueberries and serve. Optional: drizzle lightly with honey or top with ice-cream.
Nutrition Facts Blueberry Cream Pie Amount Per Serving Calories 290 Calories from Fat 117 % Daily Value* Total Fat 13g 20% Saturated Fat 11g 55% Polyunsaturated Fat 0.01g Monounsaturated Fat 0.4g Sodium 164mg 7% Potassium 171mg 5% Total Carbohydrates 40g 13% Dietary Fiber 4g 16% Sugars 20g Protein 5g 10% Vitamin A 1% Vitamin C 4% Calcium 2% Iron 3% * Percent Daily Values are based on a 2000 calorie diet.
Read more