Paleo Cashew Butter Blueberry Muffins With Lemon Frosting
---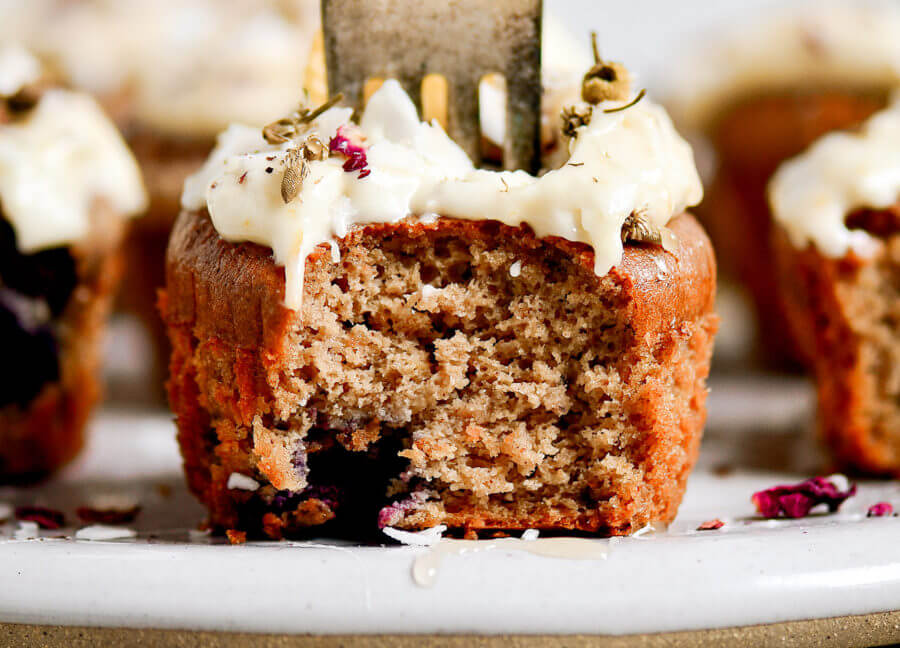 The lightest, most fluffy paleo blueberry muffins! Made with cashew butter and topped with a luscious vegan whipped lemon frosting. Naturally flourless, gluten free, dairy free, and dang delicious!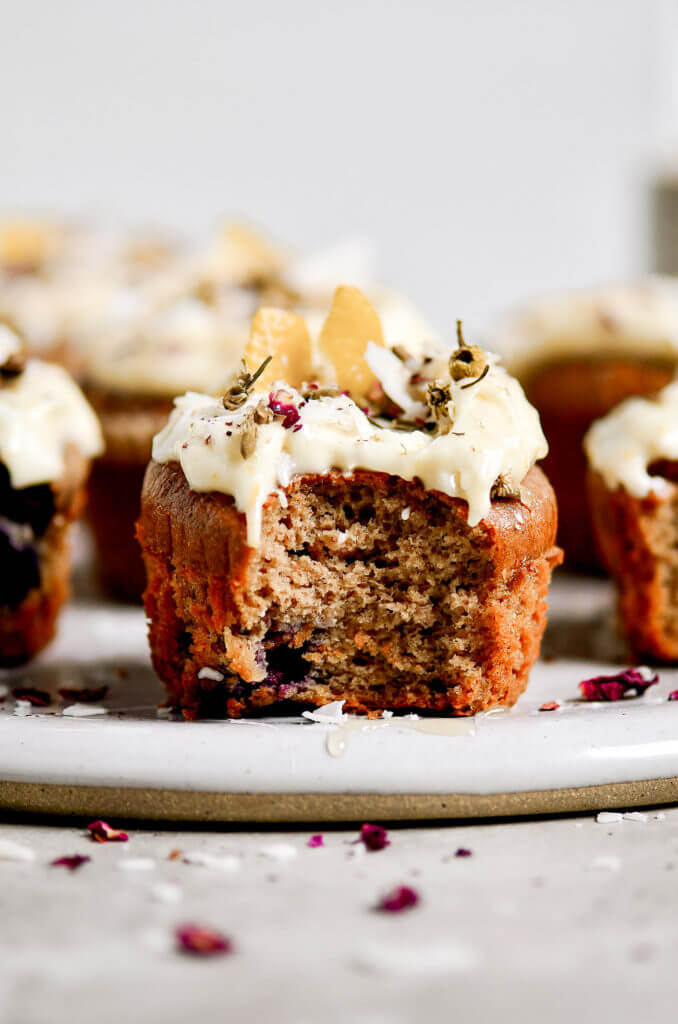 These couldn't get any more yummy… I have a list a mile long in my kitchen of things I want to make and my brain simply cannot keep up with all the food dreaming! But, my first step in tackling that epic list of yumminess was some cashew butter muffins. I knew I wanted them to be paleo, plus light, fluffy, and good enough to want to reach for one more… or two ;).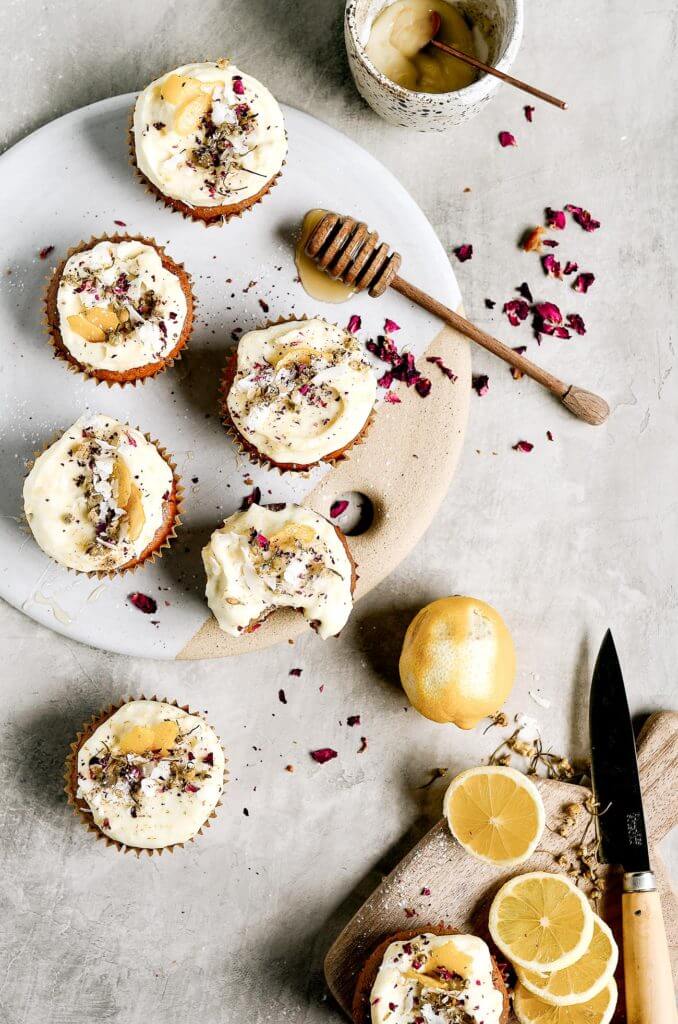 cashew muffins on the to do list
Thankfully, these beauties check everything on my wish list! With summer in the air and happy vibes being the center of attention, it was only fitting to makes these blueberry muffins topped with the appropriate amount of whipped lemon frosting!
And that frosting. Gosh! I love it!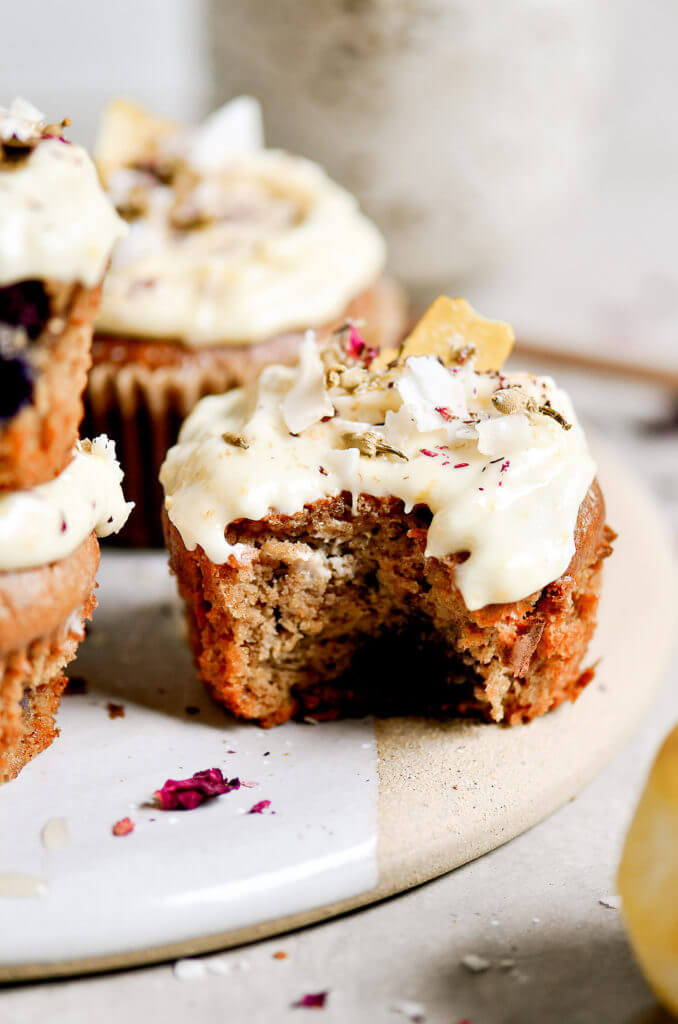 A few of my favorite things about these muffins:
~Loads of fresh grated lemon zest.
~Fluffy and light texture = a great excuse to turn this muffin excursion into a cupcake party!
~Plus, all the pretty toppings that were a spur of the moment decision and turned these guys into little birds nests, as I like to call them. Cuteness!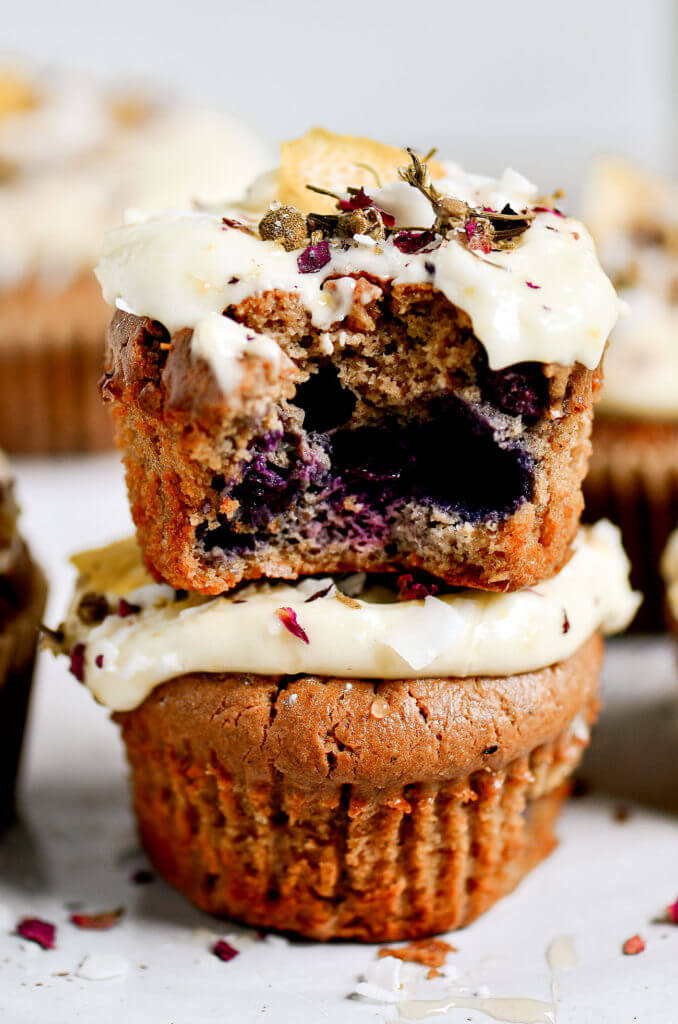 Initially, I wanted to create a muffin. But then I got inspired and decided to top them with frosting. So, naturally I wanted LOADS of frosting!! But… I decided to settle for somewhere in the middle. This light and buttery dairy free and totally vegan frosting is the perfect happy pair for these muffins turned cupcakes (they are pretty much double agents).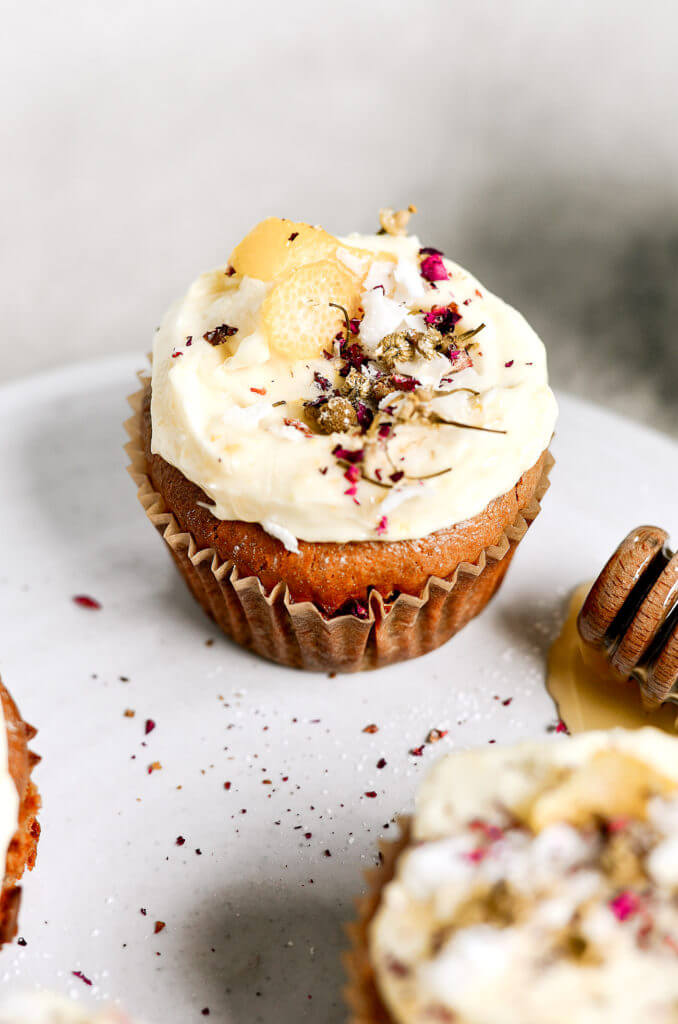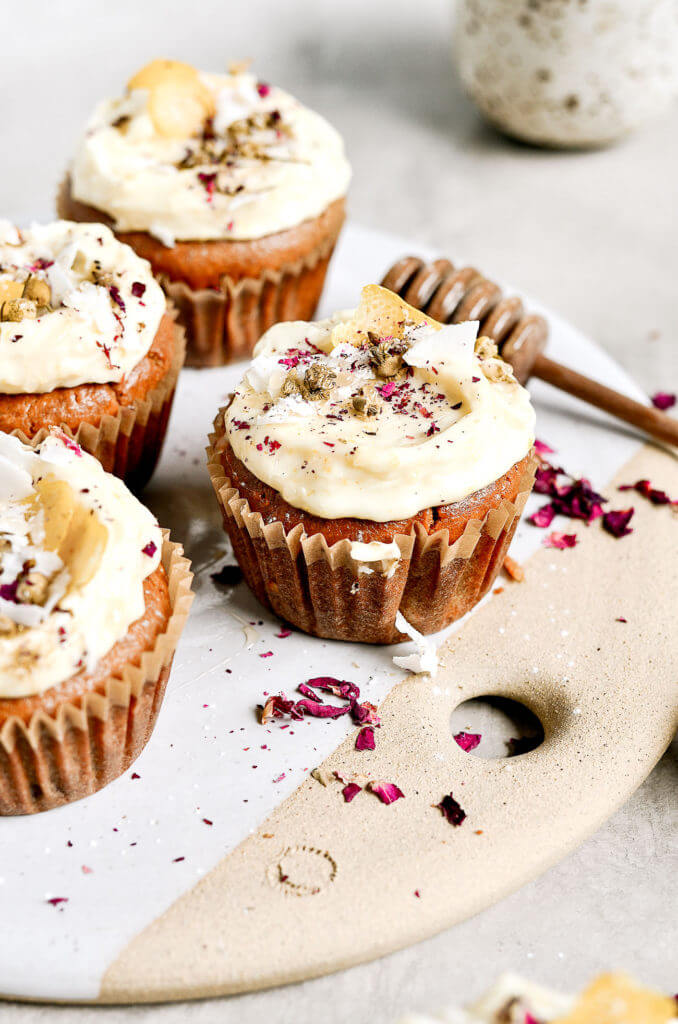 easy as pie!
Looking at the pictures, if you feel like it seems a bit overwhelming, let me tell you straight up: these are like these easiest muffins I have ever made. Hands down!
Everything whips together beautifully in my food processor and then I just add them into a muffin tray and let them bake away! While the muffins are baking, I whip together the frosting, which only takes four ingredients.
Easy as pie! And if you wish to top them off with anything pretty, I just decorated mine with all natural floral hints of crushed dried rose petals, dried camomile flowers, coconut flakes, lemon peel, and sea salt flakes.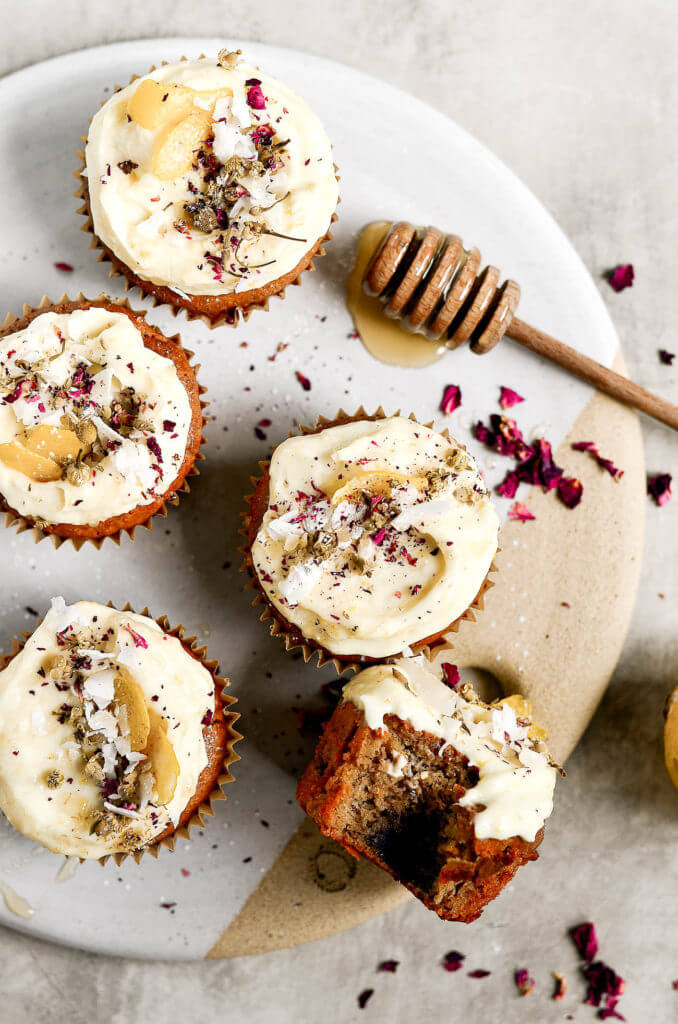 Happy summer! Let's celebrate with some healthy cupcakes… For breakfast, 'cause you know they are that healthy. 🙂
More like this:
Healthy Gluten free Banana Cake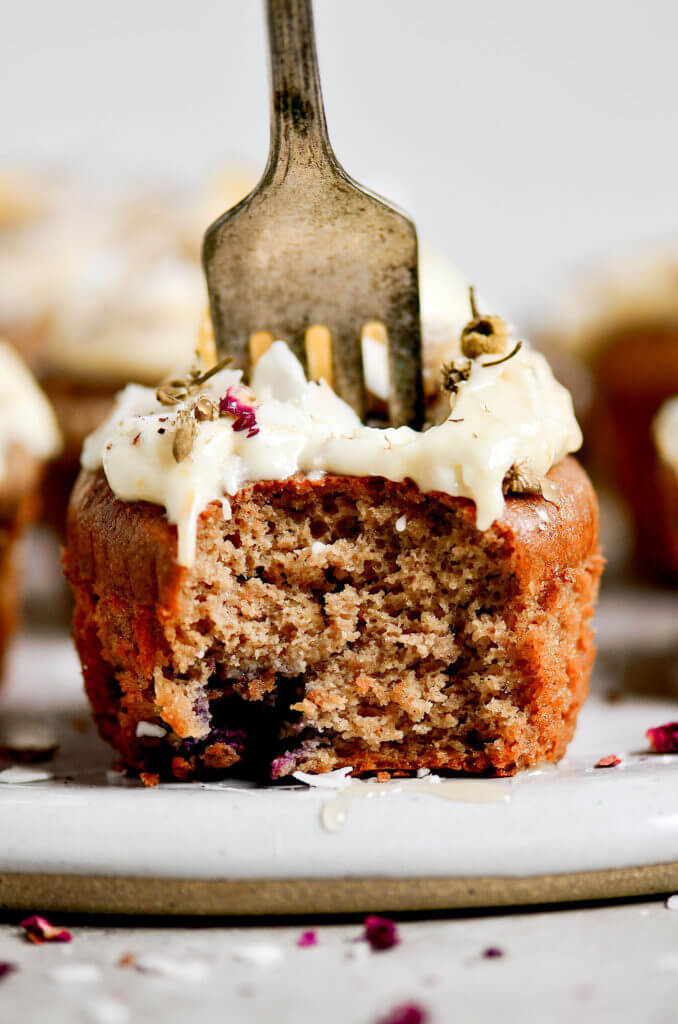 Preheat oven to 350F. Line 9 muffin tins with paper liners.

In a food processor combine the ingredients (minus the blueberries) until the batter is smooth.

transfer the batter into a mixing bowl and stir in the blueberries by hand.

Fill the muffin tin until the batter reaches almost the top of the tin.

Cook on 350F for 40 minutes until golden brown.

In a food processor blend the ingredients for the frosting until whipped completely smooth.

Once the cupcakes have cooked, let them cool in the freezer for about 10 minutes. Then frost and top with any decorations of choice. I decorated mine with crushed dried rose petals, dried camomile flowers, coconut flakes, lemon peel, and sea salt flakes.
Nutrition Facts

Paleo Cashew Butter Blueberry Muffins With Lemon Frosting

Amount Per Serving

Calories 249

Calories from Fat 135

% Daily Value*

Total Fat 15g 23%

Cholesterol 41mg 14%

Sodium 204mg 9%

Potassium 20mg 1%

Total Carbohydrates 23g 8%

Protein 8g 16%

* Percent Daily Values are based on a 2000 calorie diet.