No Dye Grain Free Chia Funfetti Cake
---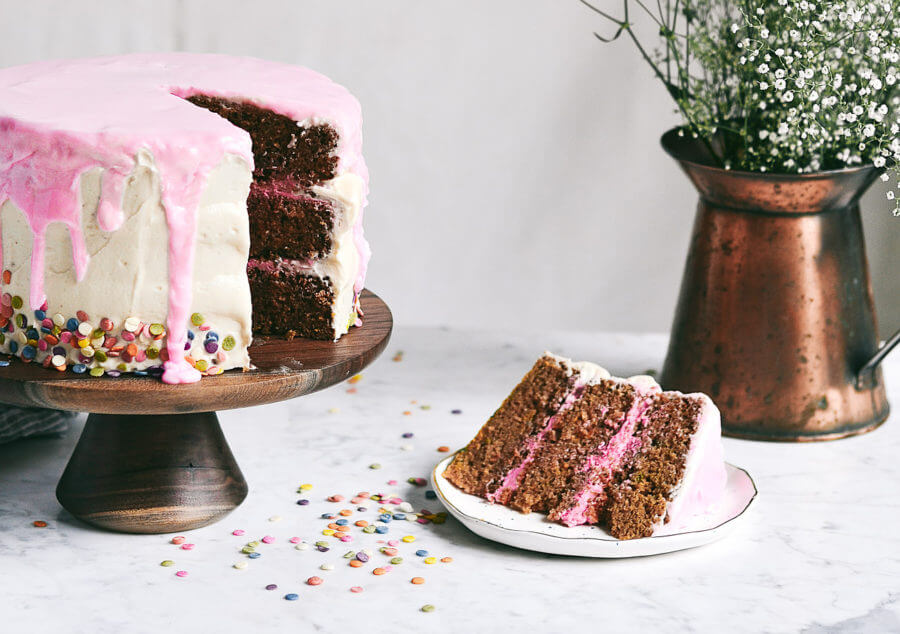 This grain free funfetti cake is filled with natural root vegetable colored sprinkles. To top it off, it's covered in a creamy and smooth coconut oil frosting and pink glaze. Naturally gluten free, dairy free, and dye free.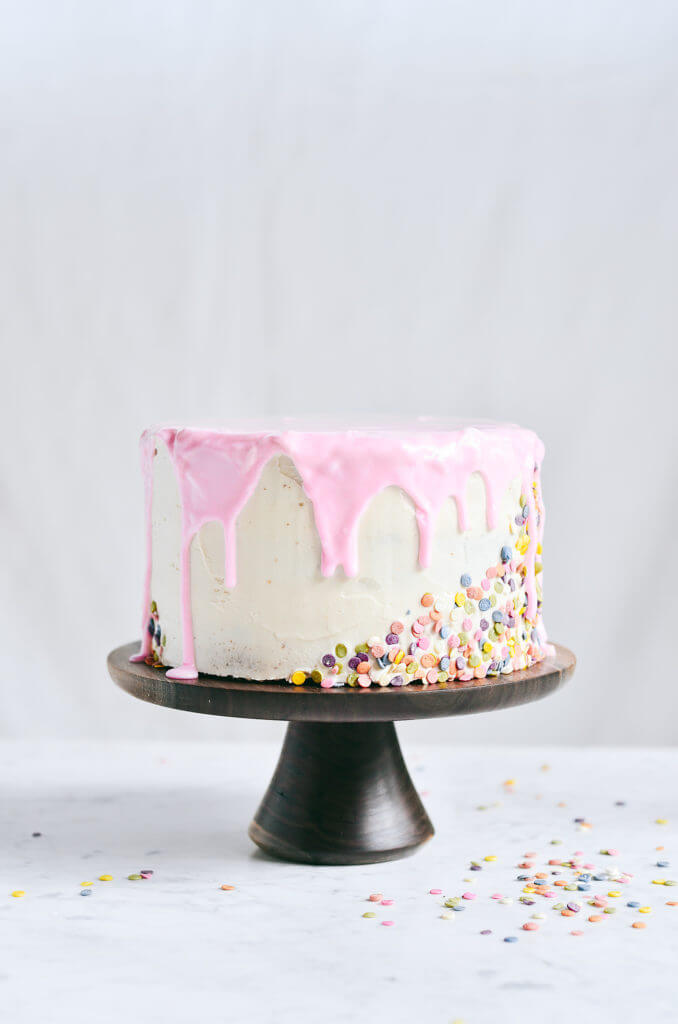 So, first off, I want to say a big thank you to the awesome people at Simple Mills for making todays funfetti cake possible! If you haven't heard of Simple Mills, then todays is going to be a good day 🙂
When I say I love this brand, it's no understatement! You have probably heard about me munching of boxes of their glorious paleo crackers (sun dried tomato and basil is my favorite!!!), fluffy pancakes, or yummy paleo baked goods, mmmmm…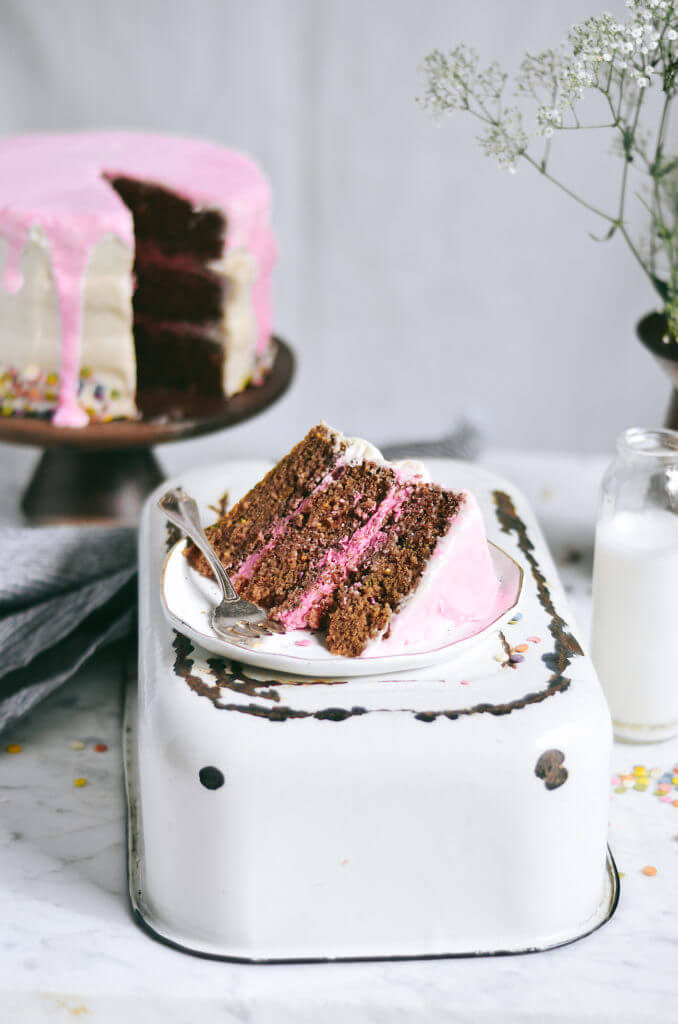 I am so passionate about making healthy foods readily available! There are not many companies that make paleo eating easy and convenient (and actually taste down right delicious!). But these guys do it right! And are committed to a high standard for quality, which I love!
P.S. I am not trying to be salesy; I just know that If someone I knew had a pulse on what brands were worth spreading the word about, I would want them to give me the goods!! So, this is my unbiased opinion about this wonderful brand! (P.P.S. Get your hands on some of those paleo crackers- they will change your life!).
Todays cake recipe is made from Simple Mills paleo vanilla cake mix. It only has six natural ingredients!! Win!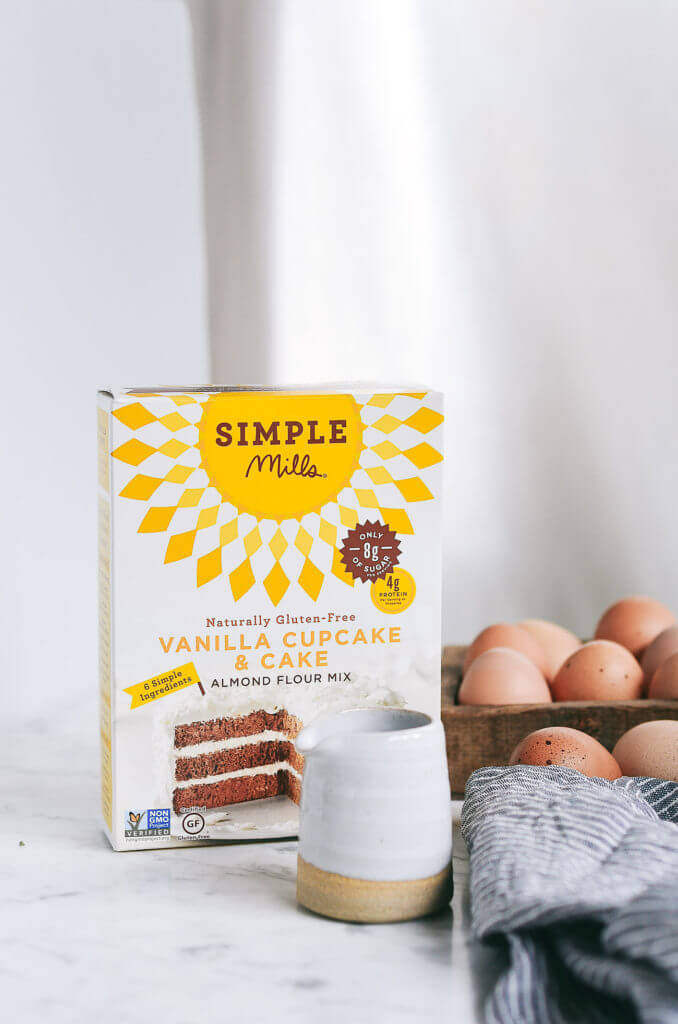 get ready for some funfetti!
Ready for some carnival sprinkle fun and fluffy gluten free funfetti cake covered in smooth dairy free vanilla frosting? Since March is a birthday month, Easter month, and the month of bringing in spring…
What better way to usher in the pretty flowery blooms, light rain storms, and glorious sunshine than with a bright cheerful cake sprinkled with pockets of color and pink glaze?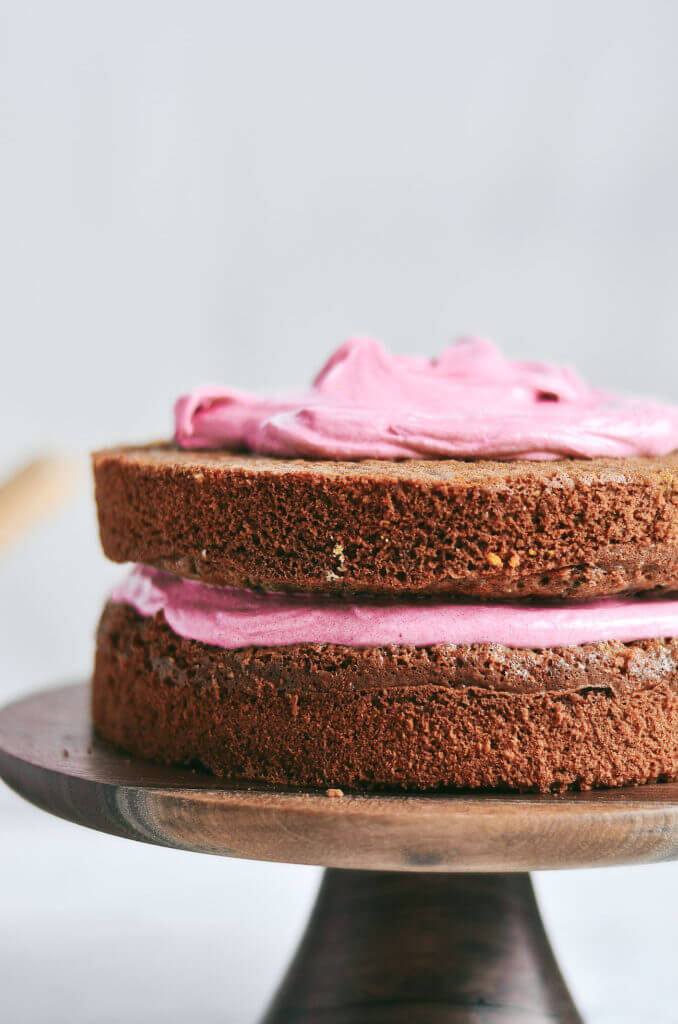 Did you know that March 23rd is national chia day?? Surprised? Well, mark your calendars, because this means that once a year you get another excuse to make this chia funfetti cake!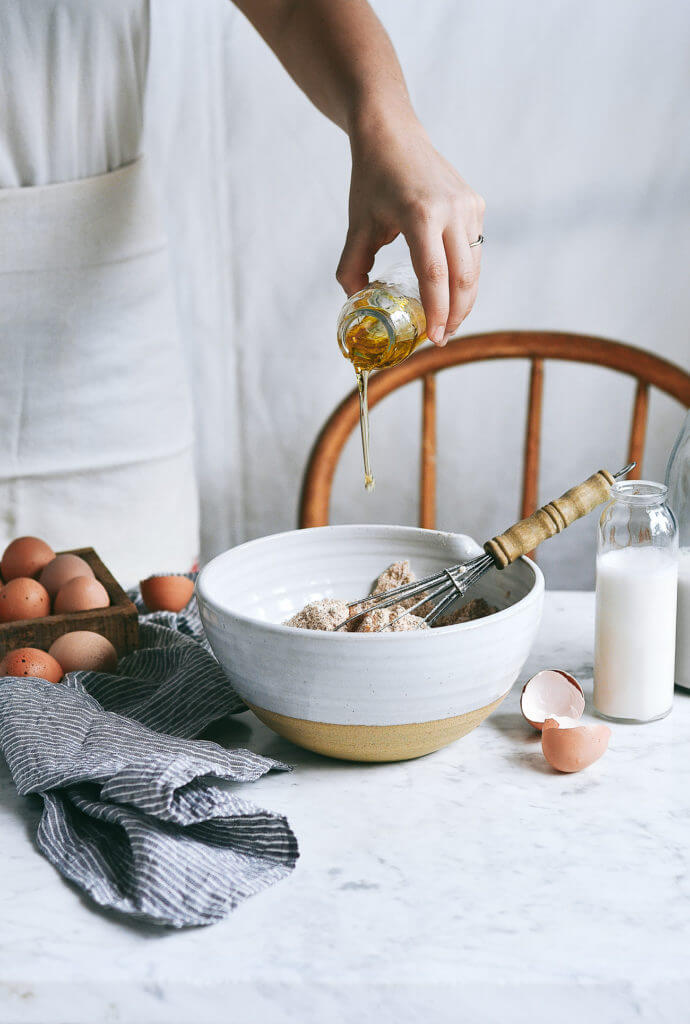 Since we have reason to celebrate these darling chia seeds, I wanted to find a way to incorporate them into this recipe. Adding white chia seeds in alongside the sprinkles seemed like the perfect fit. Does that make this cake healthier?? I think so. 🙂
These bitty little precious seeds hold a surprisingly strong amount of nutrients; such as, calcium, manganese, magnesium, and phosphorus. Don't be fooled! They may be healthy, but they are also extremely delicious and easy to add to smoothies, puddings, and cakes! Here's to national chia day!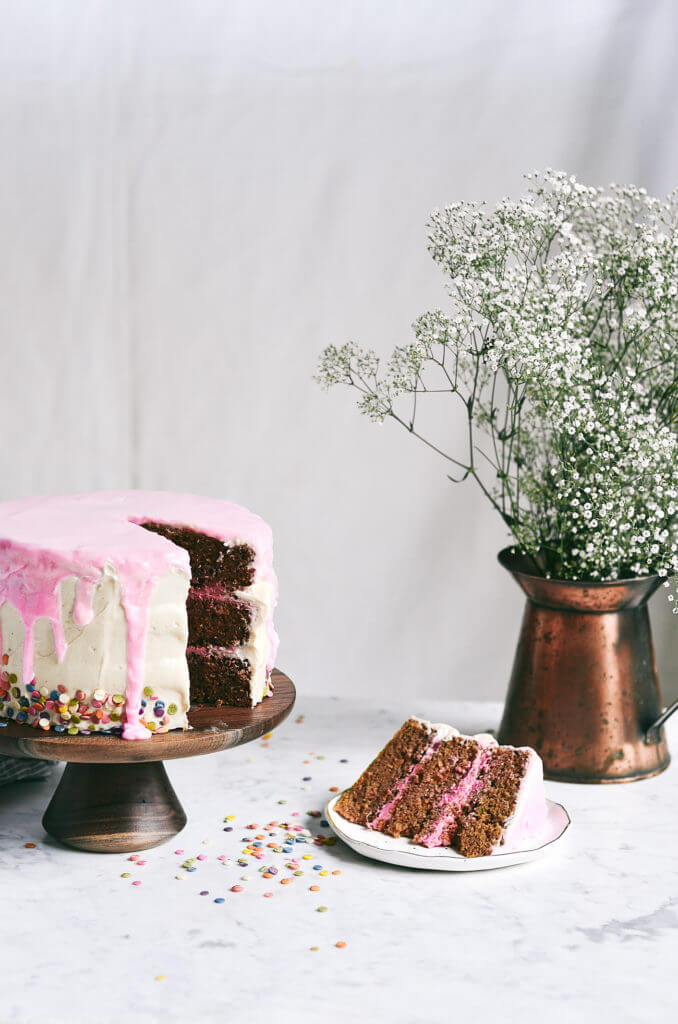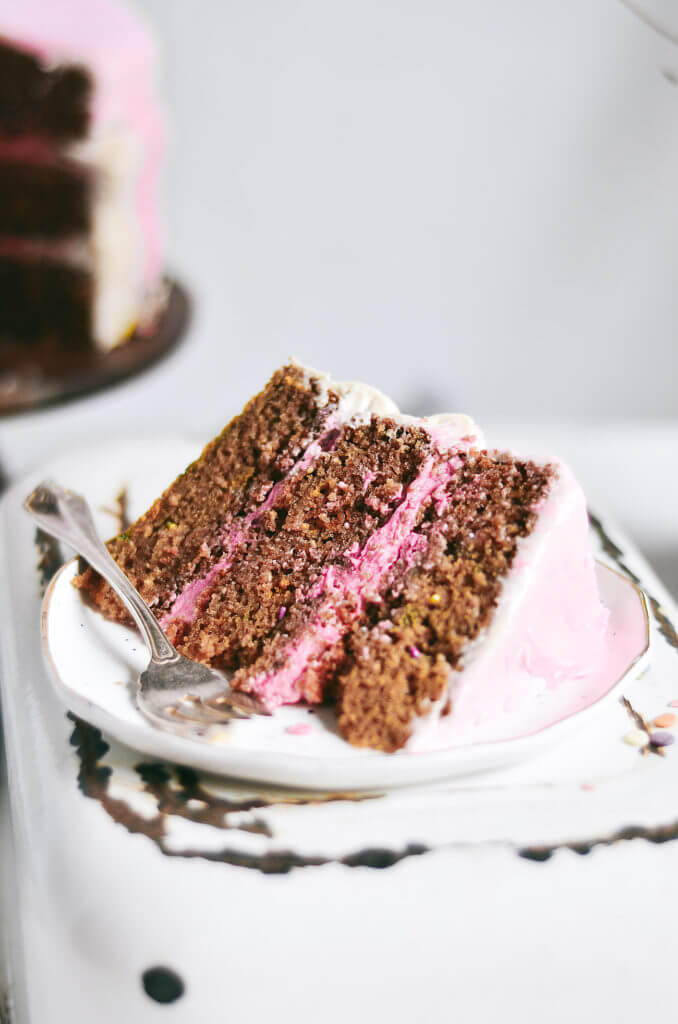 frosting heaven
Who loves a good dairy free frosting? This girl!! And you too, I'm guessing. 😉 Frosting cakes is like soul therapy (something kinda like molding butter when I was a kid). This deliciously creamy vanilla frosting from Simple Mills is definitely the cherry on top of this cake! And it has coconut oil in it- making it extra healthy… So, basically it's healthy enough to eat out of the can with a spoon, right?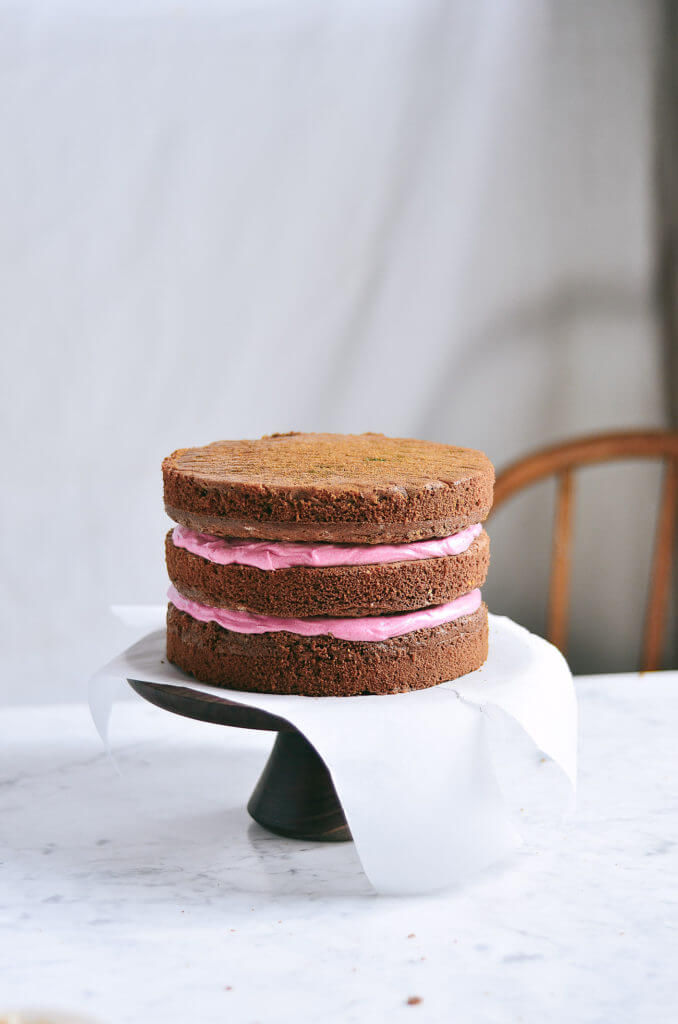 This funfetti cake can be so versatile! Perfect for baby showers (gender reveal parties!!), birthday parties, Easter celebrations, and weekend afternoons. Enjoy!
P.S. I want to see all your pretty frosting skills and decorations! Tag your cakes with #paleoglutenfreeeats so I can look at all your pretty creations!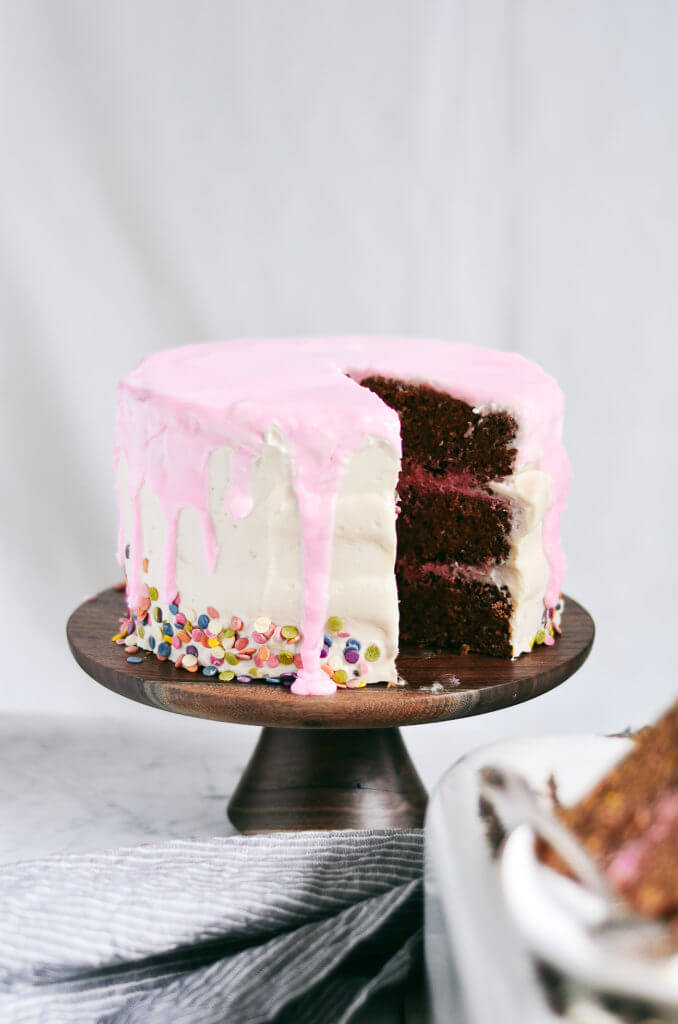 Preheat oven to 350F. Grease three 8" spring form cake pans with oil and line the bottoms with a round of parchment paper.

Make the cake mixes as directed on box. Then mix in the sprinkles and chia seeds and stir. Evenly divide the batter between the three cake pans.

Bake the cakes on 350F for about 35 minutes. To test if the cake is done, insert a butter knife into the middle of the cake. If it comes out clean the cake is finished cooking, but if there is still raw batter on the knife, it needs to keep cooking.

Once the cakes have finished cooking, set them on a wire cooling wrack and cool in the freezer.

In a small mixing bowl combine 1 1/2 cans vanilla frosting and 3-4 packets of natural food coloring until it reaches desired color tone (you can add more or less packets or coloring if you wish). Whip the frosting until it is well combined.

Spread a layer of pink frosting in between the first and second layer of cakes.

Enclose the cake by frosting the entire outside of the cake with white frosting.

Blend all the ingredients for the glaze. Then pour over the top of the cake (let it drip down the sides).
| | |
| --- | --- |
| There is no Nutrition Label for this recipe yet. | |