cooked sweet potato
Category
---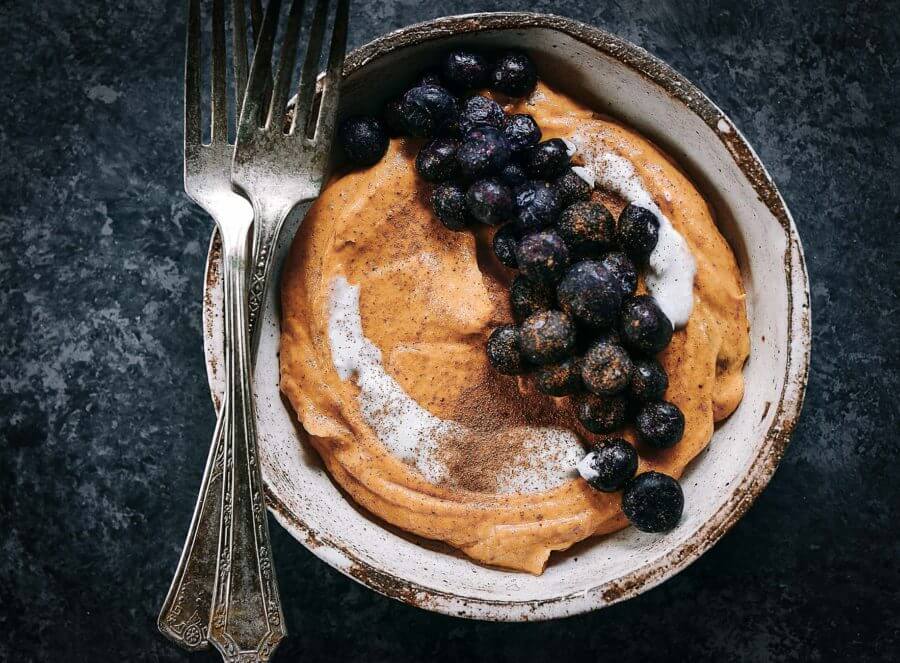 Easy whole30 and paleo breakfast! Only takes 3 ingredients and a few minutes to make. Loaded with healthy fats and protein! Naturally sweetened with sweet potato. Creamy and addictively smooth.

Print Recipe Paleo Sweet Potato Breakfast Bowl Easy whole30 and paleo breakfast! Only takes 3 ingredients and a few minutes to make. Loaded with healthy fats and protein! Naturally sweetened with sweet potato. Creamy and addictively smooth. Ingredients sweet potato bowl Main Dish Votes: 119
Rating: 3.74
You: Rate this recipe! Info Prep Time 5 minutes Servings bowl MetricUS Imperial Course Main Dish Votes: 119
Rating: 3.74
You: Rate this recipe! Ingredients sweet potato bowl
If you don't already have a cooked sweet potato you can easily make one by cutting a sweet potato, drizzling it with olive oil, and cooking for 35 minutes on 400F.
In a food processor or blender combine all the ingredients for the sweet potato bowl and blend until smooth.
Top with blueberries, coconut milk, and cinnamon.
Nutrition Facts Paleo Sweet Potato Breakfast Bowl Amount Per Serving Calories 410 Calories from Fat 225 % Daily Value* Total Fat 25g 38% Saturated Fat 2g 10% Polyunsaturated Fat 0.1g Sodium 63mg 3% Potassium 368mg 11% Total Carbohydrates 35g 12% Dietary Fiber 9g 36% Sugars 10g Protein 12g 24% Vitamin A 476% Vitamin C 32% Calcium 21% Iron 15% * Percent Daily Values are based on a 2000 calorie diet.
Read more