---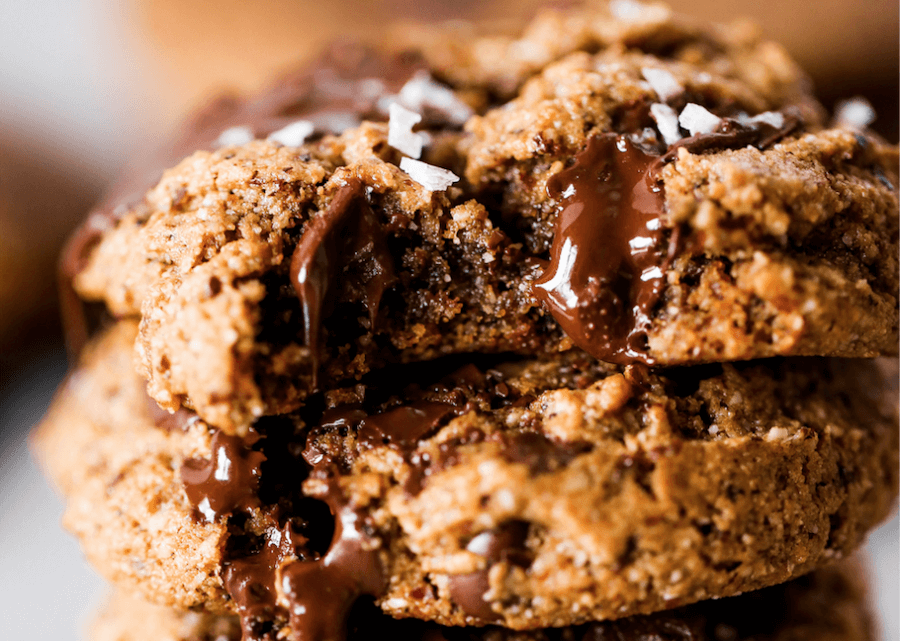 Paleo chocolate chip cookies made with hazelnut flour. Thick and soft cookies with gooey chocolate in the center. An easy paleo cookie recipe for dessert time! You can even make ahead and freeze for later.

Print Recipe Paleo Chocolate Chip Cookies Paleo chocolate chip cookies made with hazelnut flour. Thick and soft cookies with gooey chocolate in the center. An easy paleo cookie recipe for dessert time! You can even make ahead and freeze for later. Ingredients Info Cook Time 10 minutes Prep Time 8 minutes Servings cookies MetricUS Imperial Course Dessert Votes: 14
Rating: 3.79
You: Rate this recipe! Info Cook Time 10 minutes Prep Time 8 minutes Servings cookies MetricUS Imperial Course Dessert Votes: 14
Rating: 3.79
You: Rate this recipe! Ingredients Instructions
Preheat oven to 350F. Line a baking tray with parchment paper.
In a mixing bowl combine butter (or coconut oil), coconut sugar, tahini, egg, and vanilla until smooth. Then add rest of ingredients (except chocolate chips) and whisk until combined. Stir in chocolate chips and use a medium size ice-cream scoop to form about 18 cookies (approximately 2 baking trays). Bake on 350F for 10-12 minutes, then cool before serving.
Nutrition Facts Paleo Chocolate Chip Cookies Amount Per Serving Calories 170 Calories from Fat 117 % Daily Value* Total Fat 13g 20% Saturated Fat 4g 20% Polyunsaturated Fat 0.2g Monounsaturated Fat 2g Cholesterol 21mg 7% Sodium 20mg 1% Potassium 4mg 0% Total Carbohydrates 13g 4% Dietary Fiber 2g 8% Sugars 9g Protein 3g 6% Vitamin A 3% Vitamin C 1% Calcium 3% Iron 5% * Percent Daily Values are based on a 2000 calorie diet.
Read more