---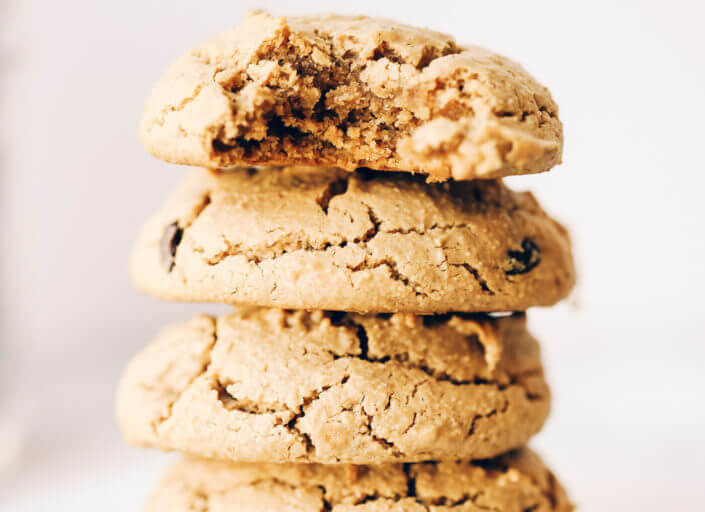 According to wheat eaters these "do not taste healthy"- in a good way. The light, fluffiness of these cookies mixed with that soft, thick, and chewy cookie texture we all know and love is AMazing! Sweetened with 1/4 c maple syrup (paleo, grain free, refined sugar free).

Print Recipe Cashew Chocolate Chip Cookies According to wheat eaters these "do not taste healthy"- in a good way. The light, fluffiness of these cookies mixed with that soft, thick, and chewy cookie texture we all know and love is AMazing! Sweetened with 1/4 c maple syrup (paleo, grain free, refined sugar free). Ingredients Info Cook Time 12 minutes Prep Time 5 minutes Servings cookies MetricUS Imperial Course Dessert Votes: 1
Rating: 5
You: Rate this recipe! Info Cook Time 12 minutes Prep Time 5 minutes Servings cookies MetricUS Imperial Course Dessert Votes: 1
Rating: 5
You: Rate this recipe! Ingredients Instructions
Preheat oven to 350F. Line a baking sheet with parchment paper.
In a food processor combine all ingredients for the cookies and blend until smooth. If you want to stir in chocolate chips, now would be the time.
Use a small ice-cream scoop and place 9 cookie dough balls on the baking tray and bake on 350F for about 12 minutes until golden. Let the cookies set for 2-3 minutes before eating (so they firm up a bit!).
Nutrition Facts Cashew Chocolate Chip Cookies Amount Per Serving Calories 253 Calories from Fat 171 % Daily Value* Total Fat 19g 29% Saturated Fat NaNg 0% Trans Fat NaNg Polyunsaturated Fat 0.001g Monounsaturated Fat 0.00003g Cholesterol NaNmg 0% Sodium 97mg 4% Potassium 0.2mg 0% Total Carbohydrates 16g 5% Dietary Fiber 3g 12% Sugars NaNg Protein 8g 16% Vitamin C NaN% Calcium 7% Iron 11% * Percent Daily Values are based on a 2000 calorie diet.
Read more