fresh grated ginger
Category
---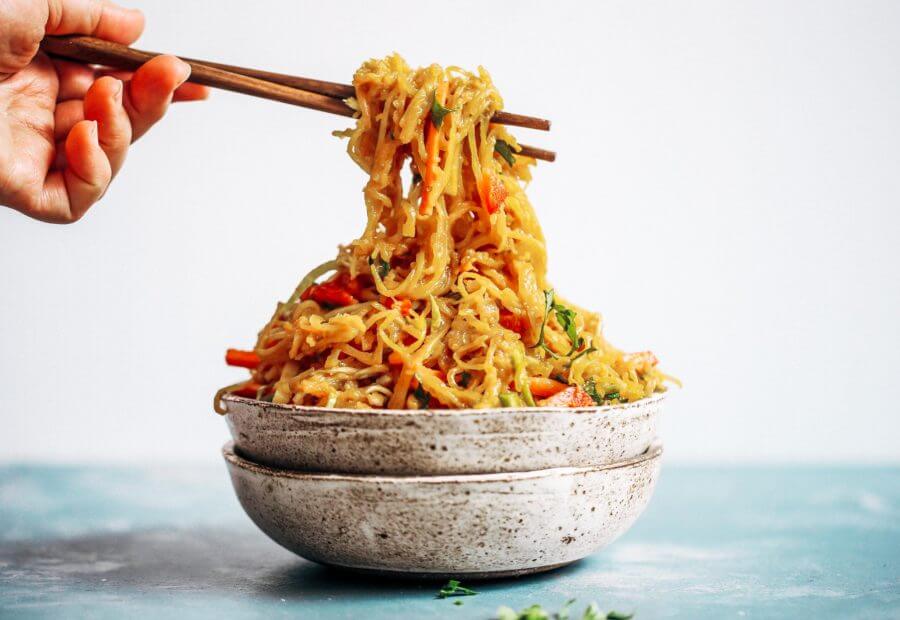 Best whole30 asian garlic noodles you will ever have! These spicy paleo noodles can be served hot or cold- my favorite way is chilled. The flavor is unreal and made me eat two bowls. 🙂

Print Recipe Best Asian Garlic Paleo Whole30 Noodles Best whole30 asian garlic noodles you will ever have! These spicy paleo noodles can be served hot or cold- my favorite way is chilled. The flavor is unreal and made me eat two bowls. 🙂 Ingredients Noodles Main Dish Votes: 551
Rating: 3.35
You: Rate this recipe! Recipe Notes

How to bake spaghetti squash: cut spaghetti squash in half lengthwise, use a large spoon to scrape the seeds from the center, lay face up on a baking tray, and brush lightly with olive oil. Bake on 450F for 25 minutes (cook longer for softer noodles).

Info Prep Time 10 minutes Servings servings MetricUS Imperial Course Main Dish Votes: 551
Rating: 3.35
You: Rate this recipe! Recipe Notes

How to bake spaghetti squash: cut spaghetti squash in half lengthwise, use a large spoon to scrape the seeds from the center, lay face up on a baking tray, and brush lightly with olive oil. Bake on 450F for 25 minutes (cook longer for softer noodles).

Ingredients Noodles
Puree ingredients for sauce in a blender.
In a large bowl incorporate ingredients for noodles, pour sauce in, and mix together. Serve recipe hot or cold. Personally, I like it best served as is- chilled. If you want to heat the noodles, just mix everything together in a skillet and heat until warm.
Nutrition Facts Best Asian Garlic Paleo Whole30 Noodles Amount Per Serving Calories 389 Calories from Fat 135 % Daily Value* Total Fat 15g 23% Saturated Fat 4g 20% Polyunsaturated Fat 3g Monounsaturated Fat 5g Cholesterol 2mg 1% Sodium 1554mg 65% Potassium 609mg 17% Total Carbohydrates 62g 21% Dietary Fiber 15g 60% Sugars 30g Protein 6g 12% Vitamin A 80% Vitamin C 101% Calcium 7% Iron 12% * Percent Daily Values are based on a 2000 calorie diet.
Read more