---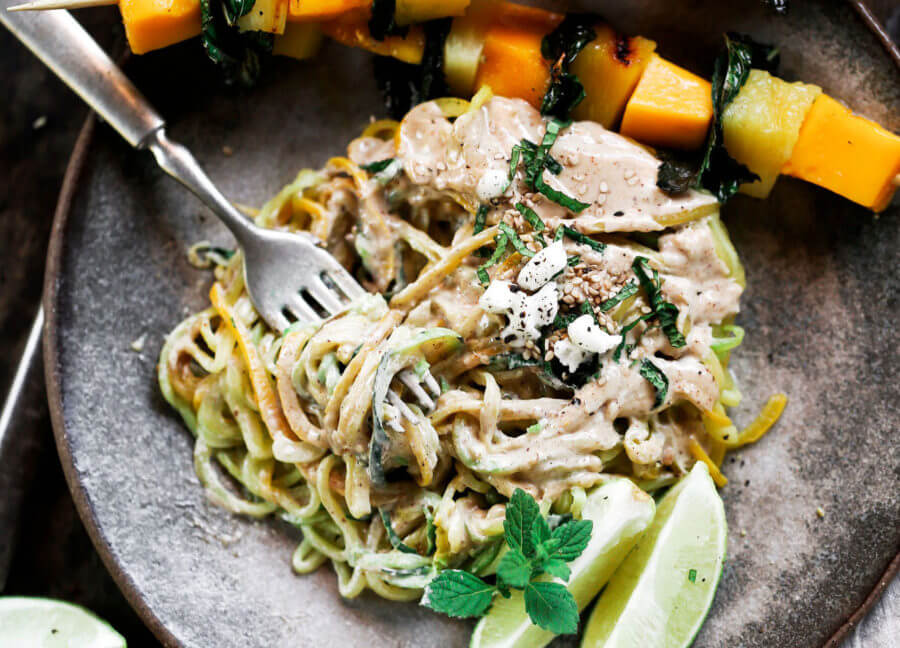 Low carb whole30 sesame ginger zucchini noodles with grilled pineapple, mango, and mint! Fresh, healthy, and low calorie dinner recipe loaded with healthy fats and my new favorite creamy sesame ginger sauce.

Print Recipe Sesame Ginger Zucchini Noodles Low carb whole30 sesame ginger zucchini noodles with grilled pineapple, mango, and mint! Fresh, healthy, and low calorie dinner recipe loaded with healthy fats and my new favorite creamy sesame ginger sauce. Ingredients Zucchini Noodles Main Dish Votes: 2
Rating: 5
You: Rate this recipe! Recipe Notes

If you want to make this recipe whole30 friendly, sub the maple syrup for this homemade date syrup. Yum!

Info Cook Time 6-8 minutes Prep Time 10 minutes Servings servings MetricUS Imperial Course Main Dish Votes: 2
Rating: 5
You: Rate this recipe! Recipe Notes

If you want to make this recipe whole30 friendly, sub the maple syrup for this homemade date syrup. Yum!

Ingredients Zucchini Noodles
In a large fry pan saute the zucchini noodles with 1 tablespoon sesame oil. Cook for 6-8 minutes until soft (but not mushy).
In a blender puree the ingredients for the sesame ginger dressing until completely smooth.
Once the noodles are cooked, pour the sauce over them and top with sesame seeds and chopped mint leaves (or cilantro).
For the fruit skewers, layer on wood skewers, alternating between pineapple cubes, mango cubes, and fresh mint leaves. If you like, brush the skewers with coconut oil and throw them on the grill for a few minutes!
Nutrition Facts Sesame Ginger Zucchini Noodles Amount Per Serving Calories 267 Calories from Fat 153 % Daily Value* Total Fat 17g 26% Saturated Fat 2g 10% Polyunsaturated Fat 0.3g Monounsaturated Fat 2g Sodium 60mg 3% Potassium 1058mg 30% Total Carbohydrates 25g 8% Dietary Fiber 7g 28% Sugars 14g Protein 9g 18% Vitamin A 17% Vitamin C 112% Calcium 13% Iron 17% * Percent Daily Values are based on a 2000 calorie diet.
Read more