Sesame Ginger Zucchini Noodles
---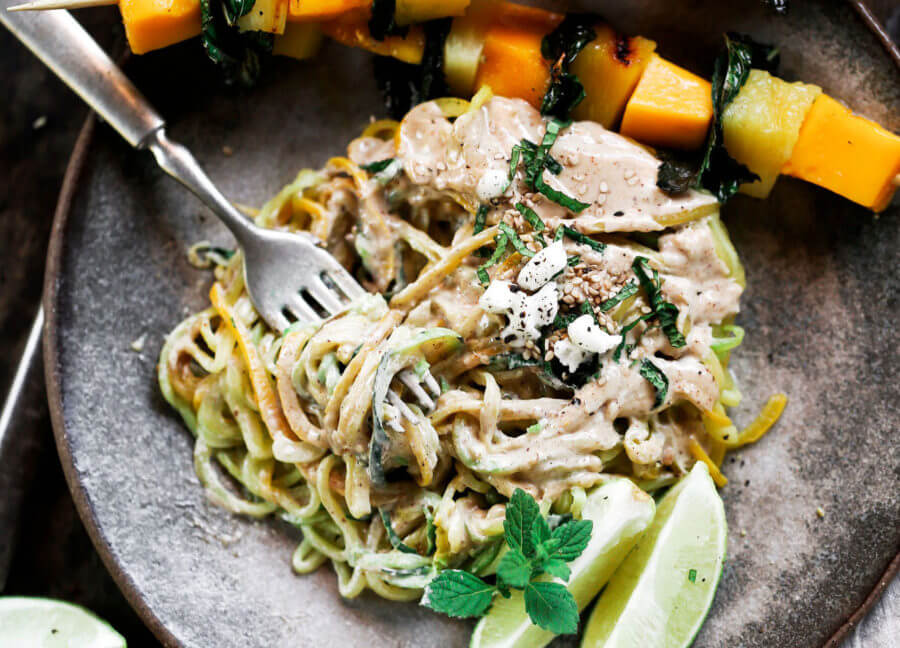 Low carb whole30 sesame ginger zucchini noodles with grilled pineapple, mango, and mint! Fresh, healthy, and low calorie dinner recipe loaded with healthy fats and my new favorite creamy sesame ginger sauce.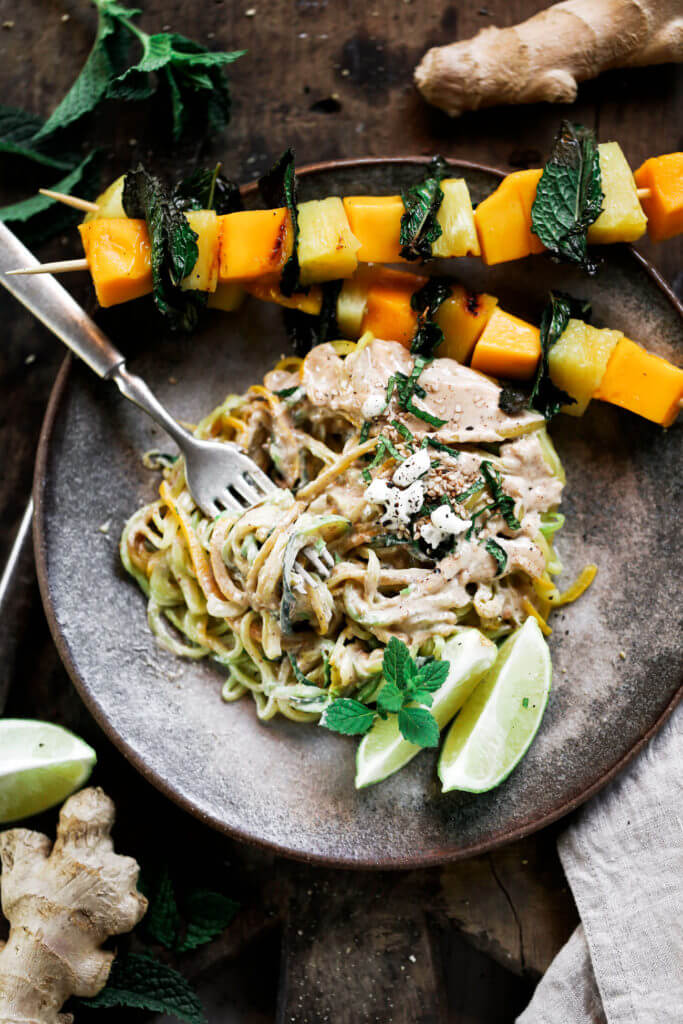 This is post surf/SUP dinner. And it's lit! So many good flavor vibes going down on this plate right now. I don't know what it is about summer that makes me fall even more in love with mangos and ginger. But it seems I have been trying to sneak them into every dish lately. 🙂 YUM! That grilled skewer of pineapple, mint, and mango was more for fun then anything, really. But they happen to be the perfect combo for this plate of delicious sesame ginger zucchini noodles.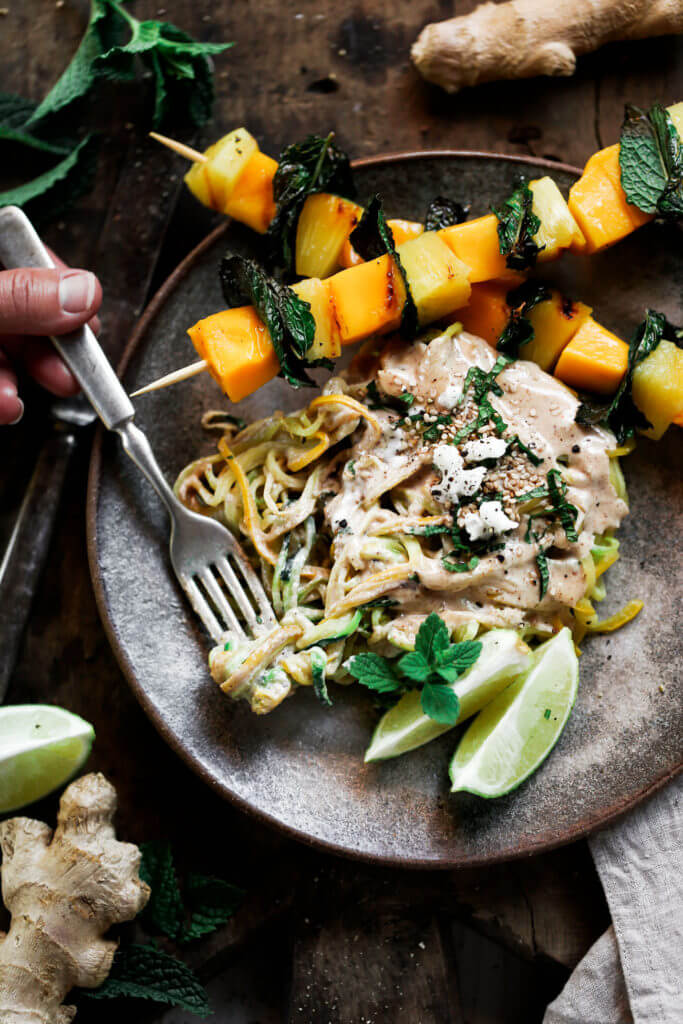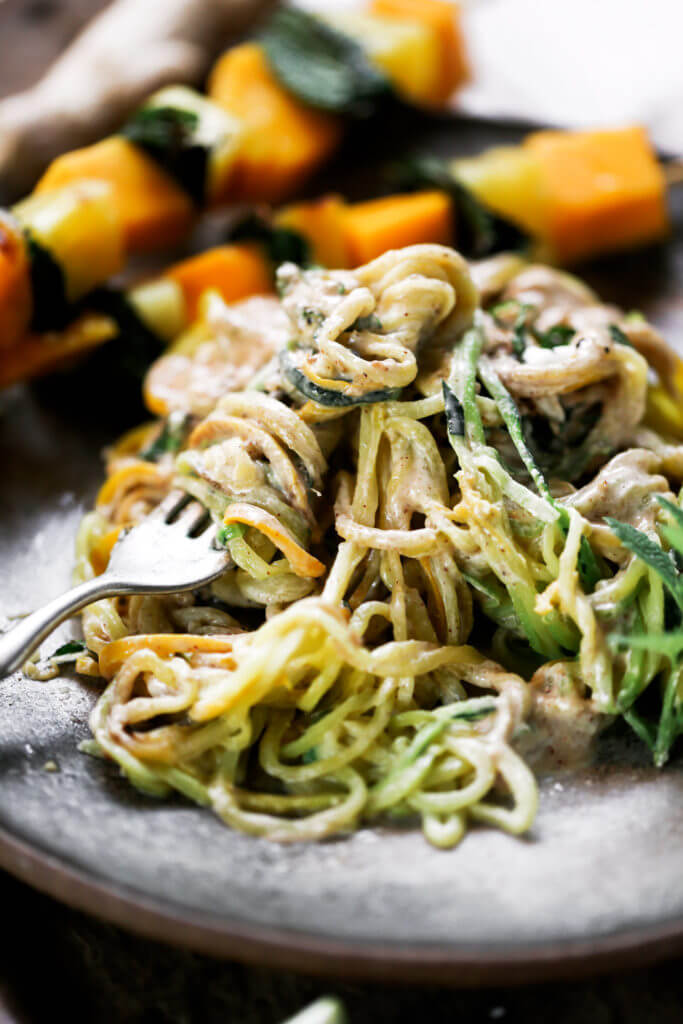 basically sesame ginger candy
You guys. You guys! This sesame ginger dressing may have been the very best invention of my week! I am eating this stuff like it's my job. And dipping my finger into it like it's candy ginger. But, oh! The flavor of this creamy sesame dressing. It's like a silky smooth nutty tahini ginger candy dressing! Now who doesn't love that?
Two simple steps to making this bomb sauce. One, add everything into your blender. And two, purée the ingredients until it's completely blended down into liquid gold. Then eat… okay, maybe some of you want to actually put it ON something!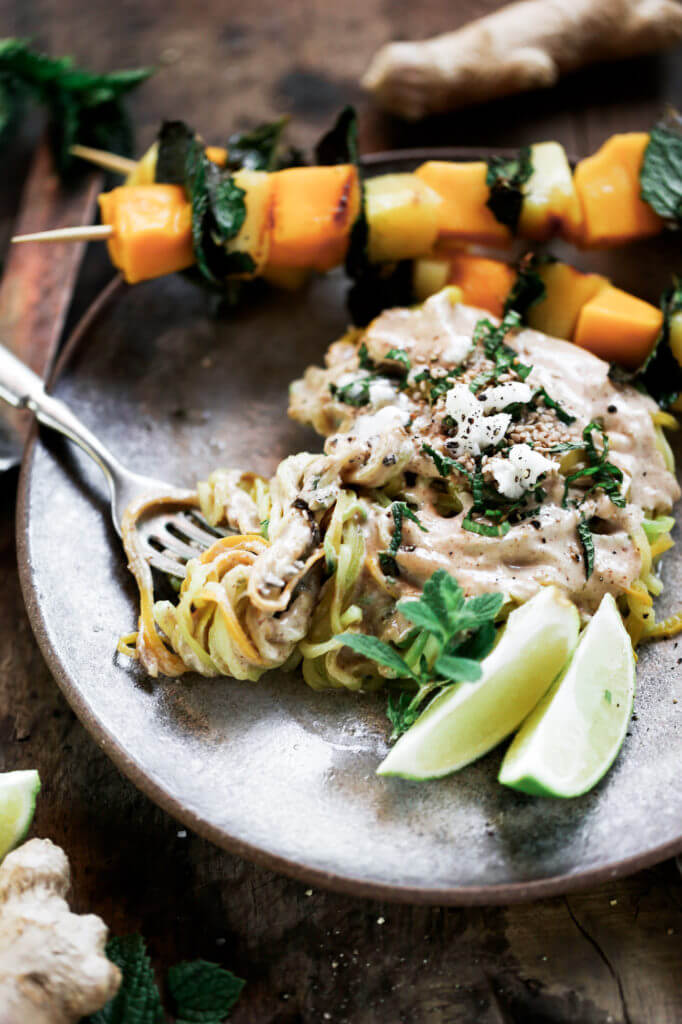 So, we have these noodles. Zucchini noodles are such a beautiful low carb sub for grain pasta! And I will let you in on a little (BIG) tip! Make up a gazillion zucchini squash into noodles using this spiralizer then freeze in individual quart size zip locks. Storing zoodles this way is perfect for single serving noodles anytime. They hold together great! No worries of them being destroyed, and this way zucchini won't go bad in your crisper (I was having this problem.). Annnd you will always have "pasta" on hand for family dinner. Wow.
More like this: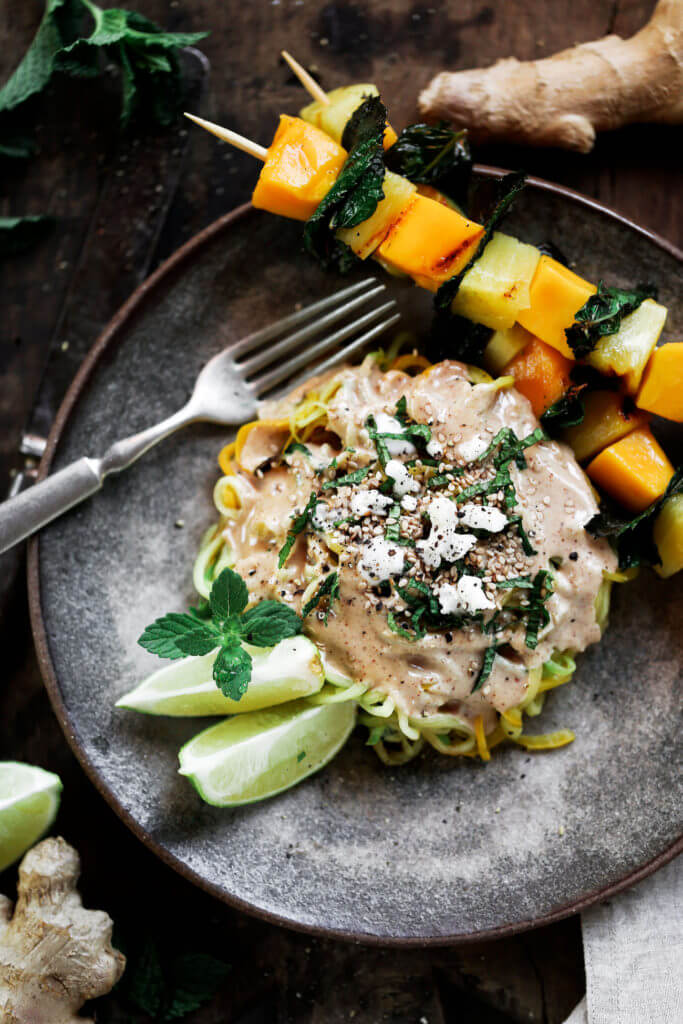 In a large fry pan saute the zucchini noodles with 1 tablespoon sesame oil. Cook for 6-8 minutes until soft (but not mushy).

In a blender puree the ingredients for the sesame ginger dressing until completely smooth.

Once the noodles are cooked, pour the sauce over them and top with sesame seeds and chopped mint leaves (or cilantro).

For the fruit skewers, layer on wood skewers, alternating between pineapple cubes, mango cubes, and fresh mint leaves. If you like, brush the skewers with coconut oil and throw them on the grill for a few minutes!
Nutrition Facts

Sesame Ginger Zucchini Noodles

Amount Per Serving

Calories 267

Calories from Fat 153

% Daily Value*

Total Fat 17g 26%

Sodium 60mg 3%

Potassium 1058mg 30%

Total Carbohydrates 25g 8%

Protein 9g 18%

* Percent Daily Values are based on a 2000 calorie diet.