---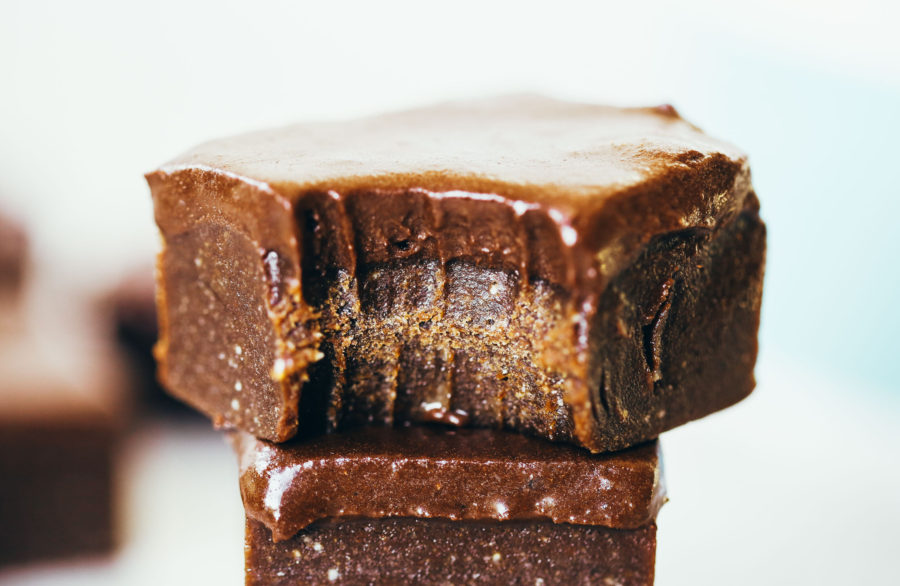 No-bake brownies- made in 5 minutes in a food processor. Soft, chewy, healthy, chocolate brownies made with real raw ingredients! Gluten free, paleo, vegan, and raw.

Print Recipe No Bake Paleo Brownies No-bake brownies- made in 5 minutes in a food processor. Soft, chewy, healthy, chocolate brownies made with real raw ingredients! Gluten free, paleo, vegan, and raw. Ingredients Brownies Dessert Votes: 2
Rating: 5
You: Rate this recipe! Info Prep Time 5 minutes Servings brownies MetricUS Imperial Course Dessert Votes: 2
Rating: 5
You: Rate this recipe! Ingredients Brownies
In a food processor blend all ingredients for the brownies until the cashews have been blended and color/texture is evenly smooth. Press dough into the bottom of a 6" by 3" baking pan lined with parchment paper (I use a small cake pan- you can also use a bread loaf).
Then blend ingredients for the frosting in the food processor and spread on brownies. Chill in freezer or serve right away!
Nutrition Facts No Bake Paleo Brownies Amount Per Serving Calories 397 Calories from Fat 144 % Daily Value* Total Fat 16g 25% Saturated Fat 8g 40% Polyunsaturated Fat 2g Monounsaturated Fat 6g Sodium 84mg 4% Potassium 486mg 14% Total Carbohydrates 54g 18% Dietary Fiber 8g 32% Sugars 40g Protein 12g 24% Calcium 5% Iron 11% * Percent Daily Values are based on a 2000 calorie diet.
Read more