No Bake Caramel Coconut Oil Fudge
---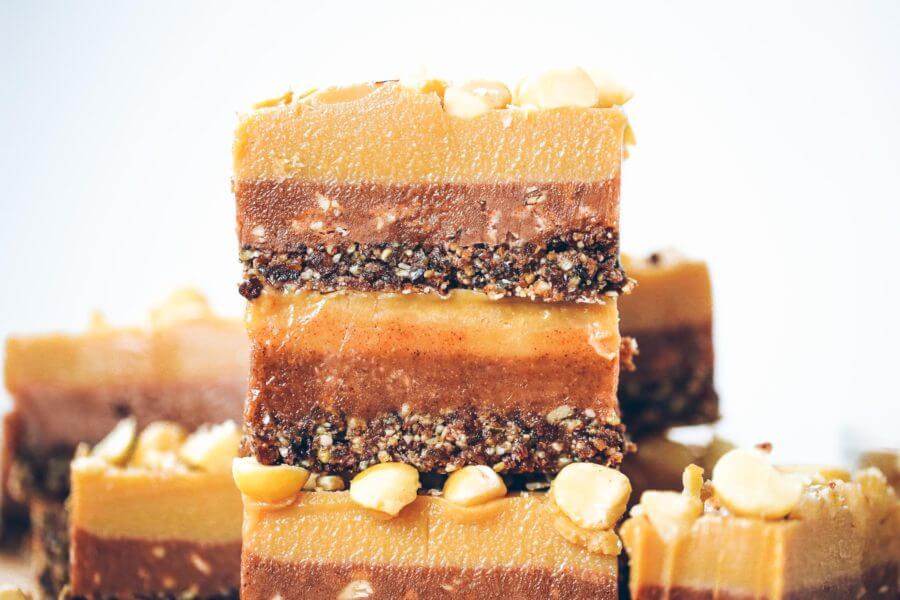 Three layers of caramel fudge- refined sugar free, raw, and paleo. Tastes like Christmas candy- the kind you want to eat all year round!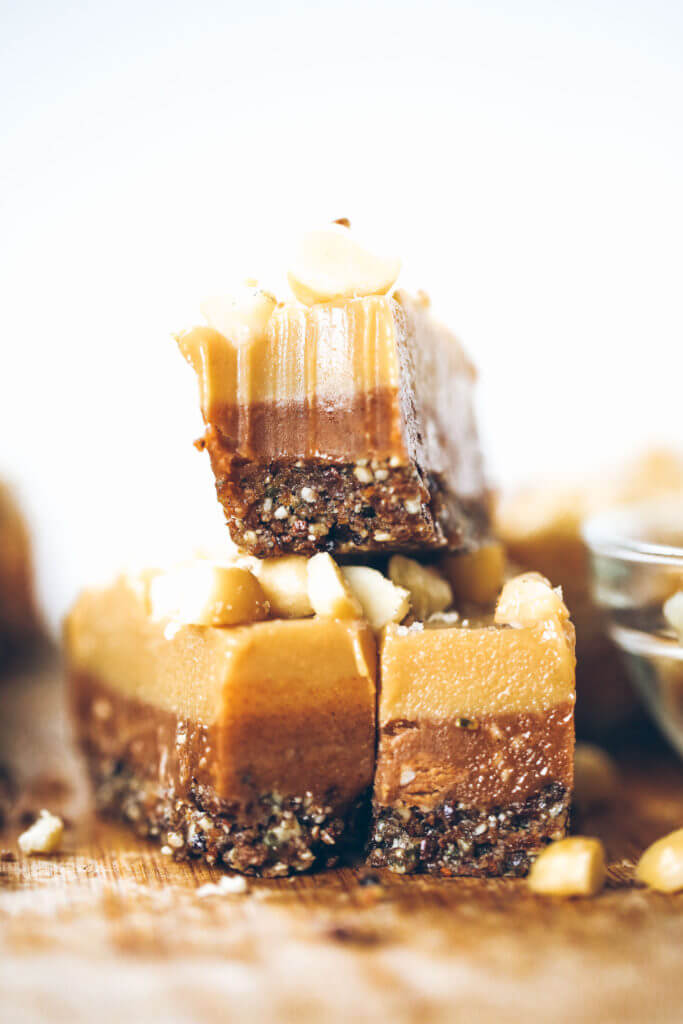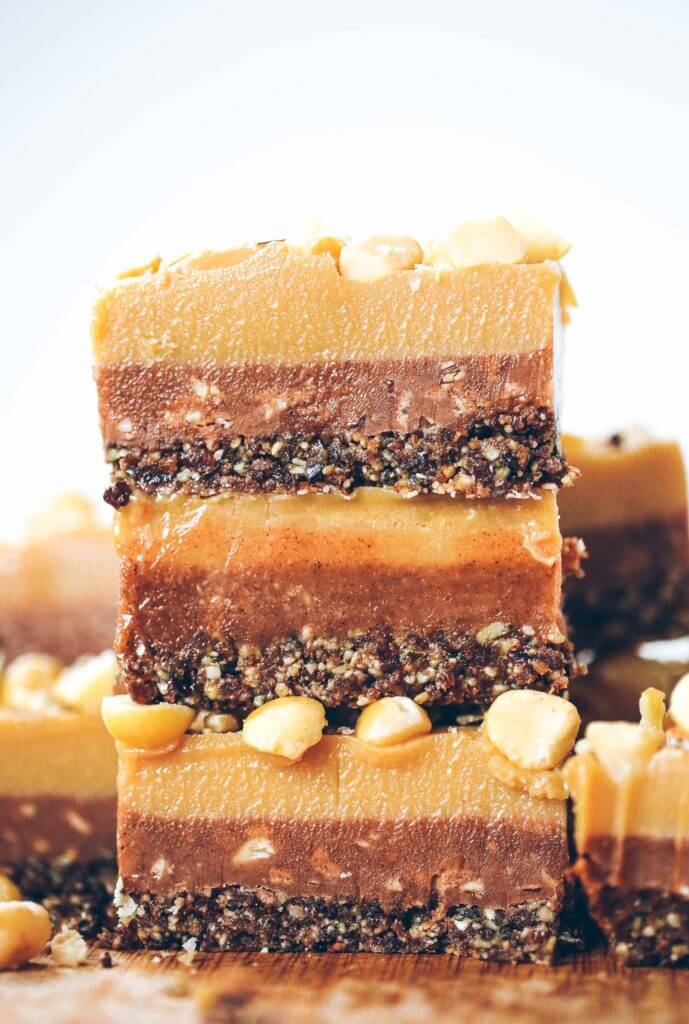 Get ready for three layers of melt in your mouth caramelly fudge! This healthy no bake paleo candy tastes like Christmas candy!!! And is made with real food ingredients and free of refined sugar, so you could say it's good for you right? Well, at least it's good for the soul; seriously yummy!
tahini + almond butter fudge heaven
I have been wanting to make some tahini fudge all month! But then I also wanted almond butter fudge, so I decided to triple decker this thing and make a three story tower of fudge with bird seed base (I love "bird seed!").
Now, if you are not into all the healthier things like cocoa nibs and pumpkin seeds, you can easily swap those out for more dates and pecans, which results in a still healthy base, but without the "weird stuff", as my brother calls it. I don't know what he is talking about though, because I LOVE the chocolatey flavor and crunch that cacao nibs give this candy.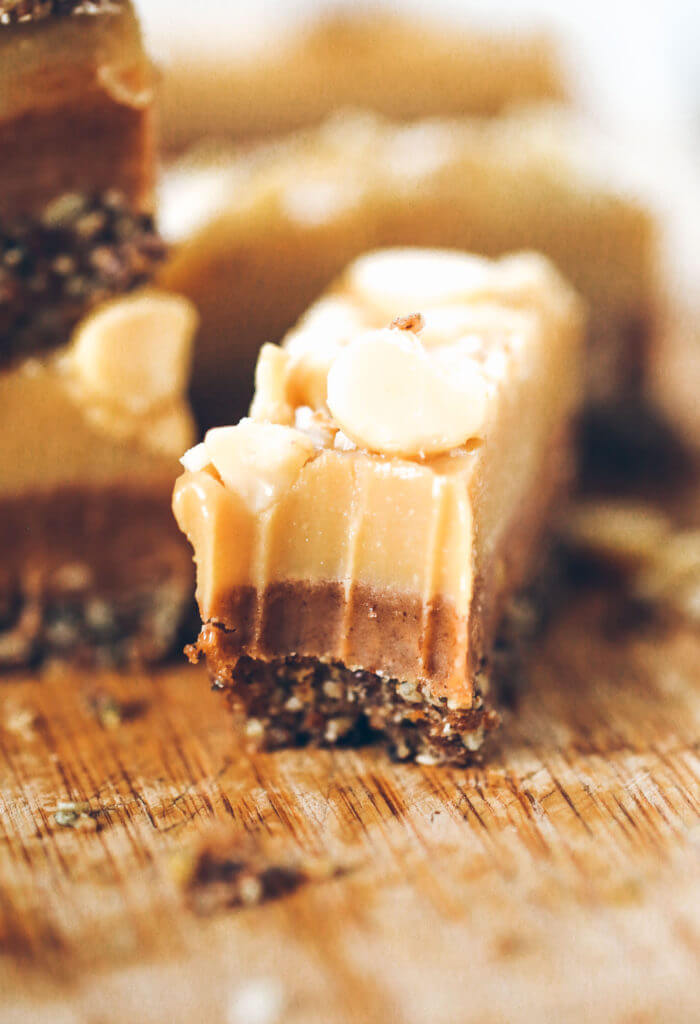 The Christmas mood is seriously at a high around here- pretty snow blanketing all the pines, waking up to steaming tea, book reading, and Christmas cooking decorating (with some fails, eeek!).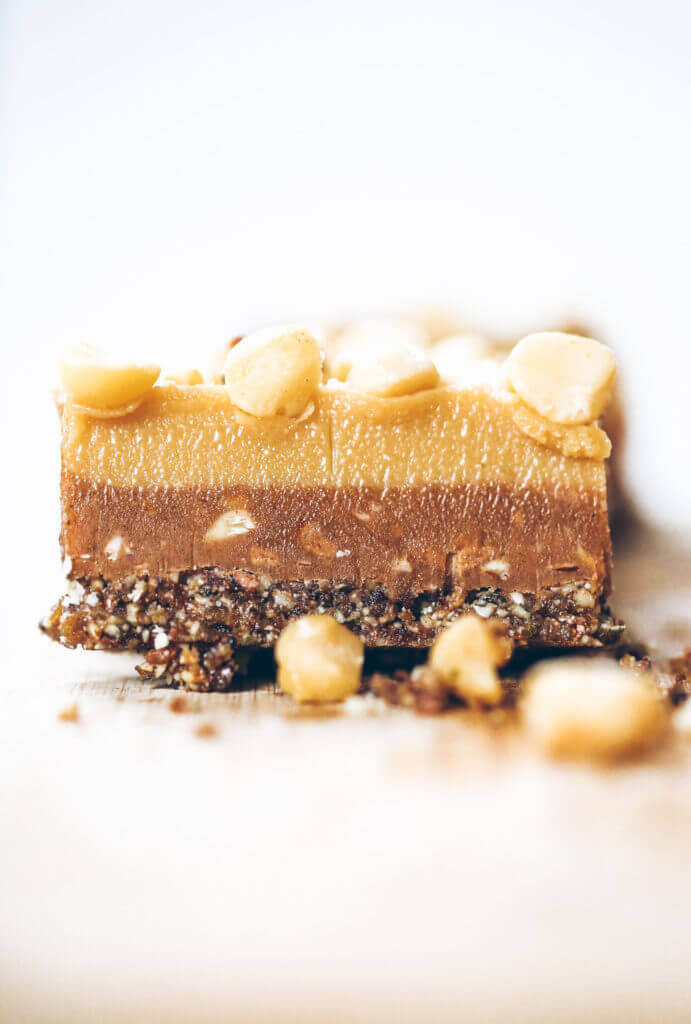 I don't think I really have a favorite Christmas cookie, but I would surely take one of these bars any day! You can cut these into bite size bars (they are definitely decadent enough for that!!!). Or you can serve them candy bar style, which if super fun, but really filling!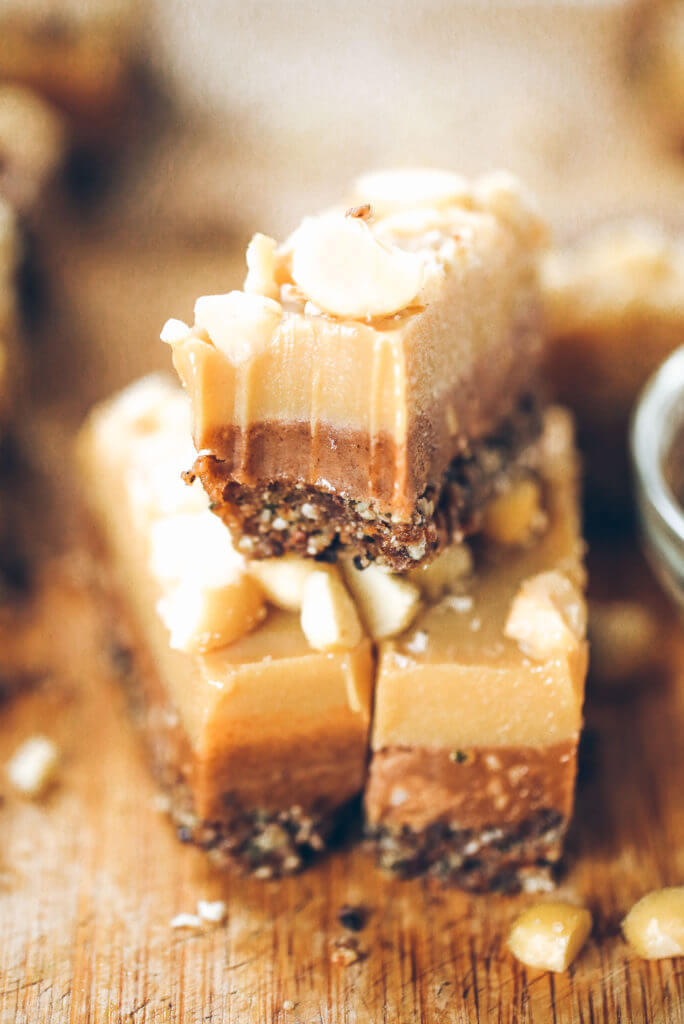 Each layer of this candy melts away in your mouth and is SO flavorful! Lots of sweet and salty going down in these today. I moved the leftovers of these to my outside freezer so they wouldn't be tempting me all week, haha! They were everything and more that I wished they could be. I hope you love them to! Enjoy!
More like this:
Healthy Homemade Paleo Twix Bars
Dairy Free Raspberry Cream Bars
*Baking tip! This is the 6″ pan I used in this recipe. Works great! I just line the bottom with parchment paper and oiled the side with coconut oil. Comes out nice and easaaay.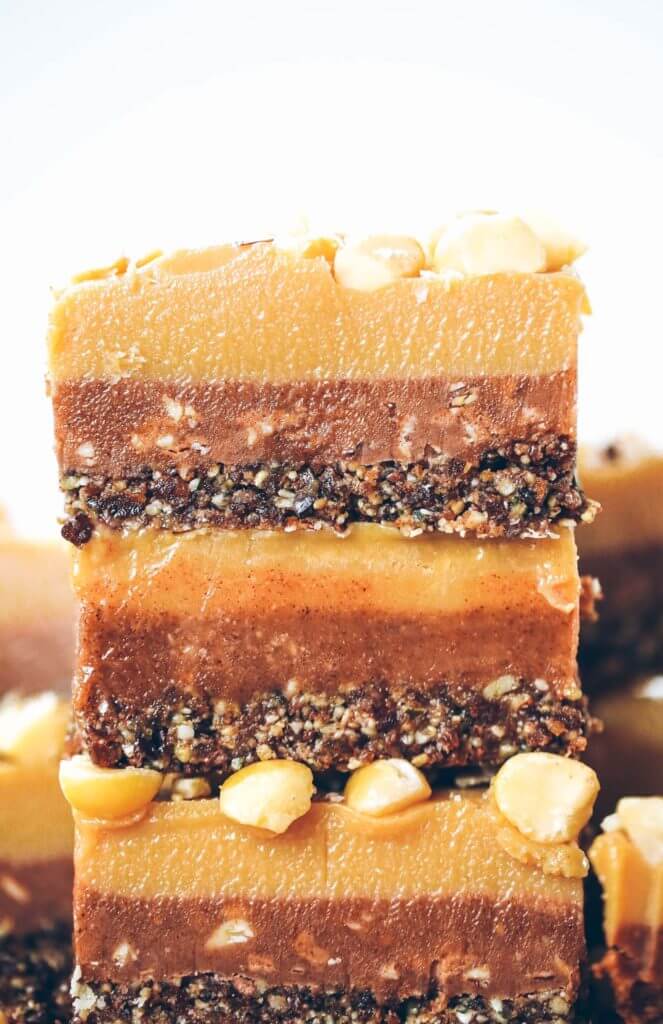 Line a 6" square cake pan with parchment paper and grease the side with coconut oil (see pan I use- stated at the bottom of the blog text).

In a food processor blend all ingredients for the base together until the texture is coarse, but sticks together with you press it between your fingers. Press the base layer into the bottom of 6" square cake pan.

Blend ingredients for filling 1 in a clean food processor until it reaches a smooth liquid consistency (or melt together in a small sauce pan). Pour over the base and chill in freezer until it hardens.

Blend filling 2 ingredients together in a food processor until it reaches a smooth liquid consistency (or melt together in a small sauce pan). Pour over the second layer and top with macadamia nuts (optional, but yummy!). Chill in freezer until it hardens. Then cut into 24 bite size portions or 12 bars. Store in freezer.
Nutrition Facts

No Bake Caramel Coconut Oil Fudge

Amount Per Serving

Calories 265

Calories from Fat 207

% Daily Value*

Total Fat 23g 35%

Sodium 15mg 1%

Potassium 26mg 1%

Total Carbohydrates 13g 4%

Protein 5g 10%

* Percent Daily Values are based on a 2000 calorie diet.