---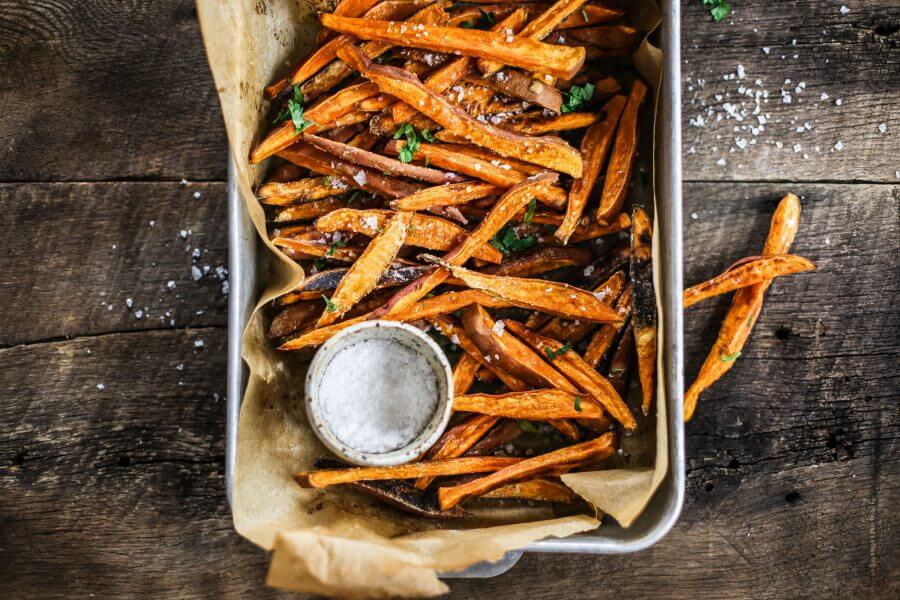 How to make crispy sweet potato fries in 30 minutes! Paleo and whole30 sweet potato fries are a healthy side dish or snack. Make these easy sweet potato fries to serve along a salad or soup. Delicious! Crispy! Easy!

Print Recipe Sweet Potato Fries How to make crispy sweet potato fries in 30 minutes! Paleo and whole30 sweet potato fries are a healthy side dish or snack. Make these easy sweet potato fries to serve along a salad or soup. Delicious! Crispy! Easy! Ingredients Info Cook Time 30 minutes Prep Time 8 minutes Servings servings MetricUS Imperial Course Side Dish Votes: 10
Rating: 4.2
You: Rate this recipe! Info Cook Time 30 minutes Prep Time 8 minutes Servings servings MetricUS Imperial Course Side Dish Votes: 10
Rating: 4.2
You: Rate this recipe! Ingredients Instructions
Preheat oven to 425F. Line two baking trays with parchment paper.
Slice sweet potatoes into 1/4" thick strips lengthwise and divide between the two baking trays.
Drizzle 1 tablespoon olive oil over each set of sweet potatoes and toss until evenly coated.
Toss 1 tablespoon tapioca flour with each set of sweet potatoes until evenly coated, then bake on 425F for about 25 minutes until golden, then turn them and cook for another 5-10 minutes or until crispy on the edges. Sprinkle with sea salt- to taste.
Nutrition Facts Sweet Potato Fries Amount Per Serving Calories 186 Calories from Fat 45 % Daily Value* Total Fat 5g 8% Saturated Fat 1g 5% Polyunsaturated Fat 1g Monounsaturated Fat 3g Sodium 402mg 17% Potassium 509mg 15% Total Carbohydrates 35g 12% Dietary Fiber 5g 20% Sugars 6g Protein 2g 4% Vitamin A 429% Vitamin C 6% Calcium 5% Iron 5% * Percent Daily Values are based on a 2000 calorie diet.
Read more