---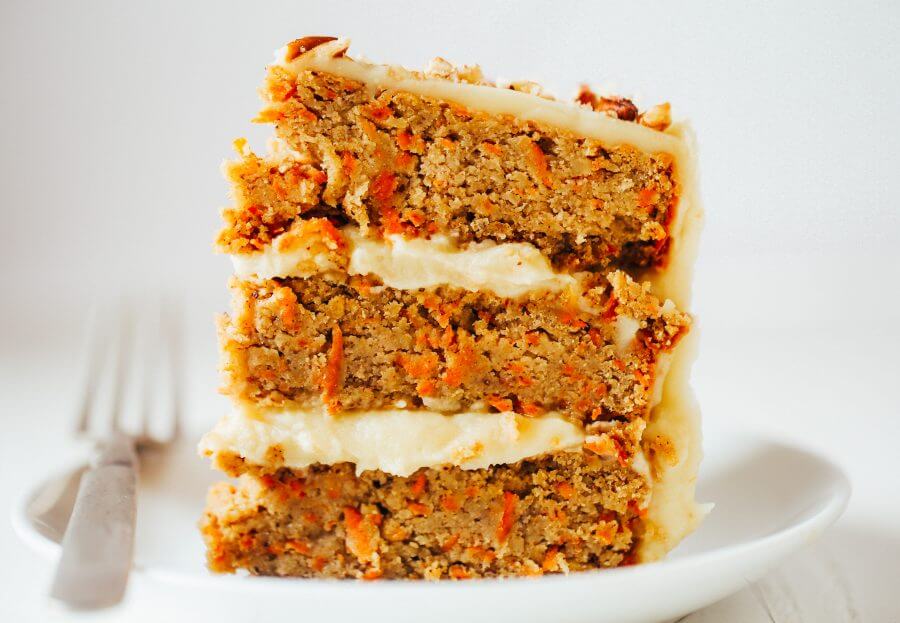 Paleo carrot cake made with sweet potatoes. Topped with creamy lemon frosting made from white sweet potatoes. A healthy carrot cake recipe that is gluten free and dairy free. Moist and flavorful carrot cake perfect for spring!

Print Recipe Sweet Potato Carrot Cake Paleo carrot cake made with sweet potatoes. Topped with creamy lemon frosting made from white sweet potatoes. A healthy carrot cake recipe that is gluten free and dairy free. Moist and flavorful carrot cake perfect for spring! Ingredients Cake Dessert Votes: 19
Rating: 3.26
You: Rate this recipe! Info Cook Time 60 minutes Prep Time 20 minutes Servings slices MetricUS Imperial Course Dessert Votes: 19
Rating: 3.26
You: Rate this recipe! Ingredients Cake
I tweaked the recipe and this is the UPDATED RECIPE: Preheat oven to 350F. Line the bottom of three seven inch cake pans with parchment paper and grease the sides with coconut oil.
Mince sweet potatoes for cake in a food processor, until they reach fine rice consistency- this will be the flour base for the recipe. In a bowl or stand mixer combine all ingredients for cake batter, except the grated carrots until smooth. Then stir in grated carrots (and optional raisins).
Divide cake batter between three seven inch cake pans and bake on 350F for about 60 minutes until golden on top. Tip: You will know the cake is finished baking when a toothpick when inserted into the center of the cake comes out clean. Allow cakes to cool before frosting.
For the frosting: Peel and slice sweet potatoes into rounds and steam in a large saucepan with about 2-3 inches water on high for 5-10 minutes until soft. Then drain hot water.
Add steamed sweet potatoes and all other ingredients for frosting in a food processor or high speed blender and puree for about five minutes until completely smooth.
Chill frosting in freezer in a large metal bowl for about 15+ minutes or until it reaches buttercream frosting consistency and is cooled down. Stir frosting then put through a mesh strainer- to remove any flecks of lemon zest, so it's perfectly smooth.
Assemble and frost cake, top with chopped pecans (optional) then serve. There will probably be leftover frosting. Store leftovers in fridge or freezer.
Nutrition Facts Sweet Potato Carrot Cake Amount Per Serving Calories 517 Calories from Fat 243 % Daily Value* Total Fat 27g 42% Saturated Fat 20g 100% Polyunsaturated Fat 1g Monounsaturated Fat 4g Cholesterol 91mg 30% Sodium 502mg 21% Potassium 255mg 7% Total Carbohydrates 68g 23% Dietary Fiber 7g 28% Sugars 43g Protein 5g 10% Vitamin A 197% Vitamin C 4% Calcium 6% Iron 10% * Percent Daily Values are based on a 2000 calorie diet.
Read more