---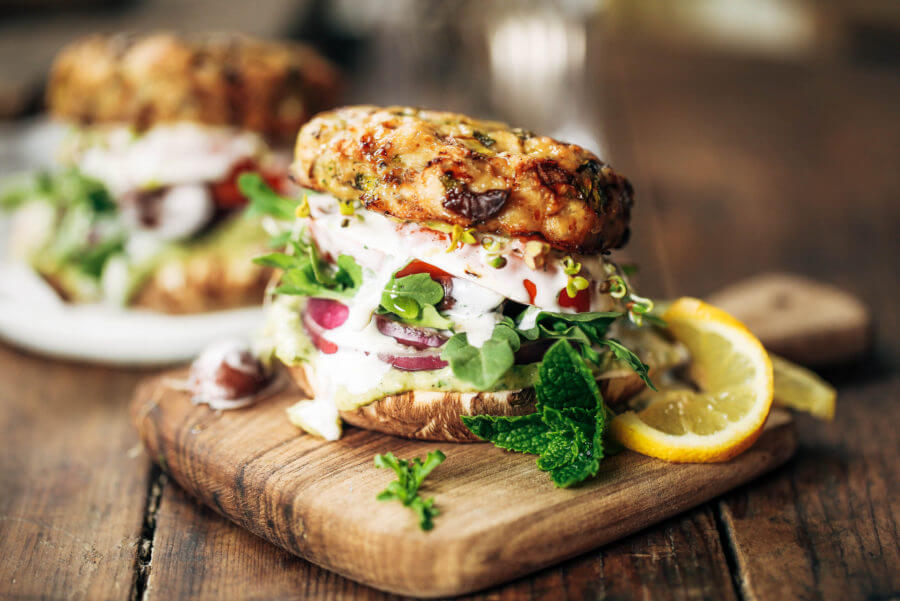 Best bun-less burger recipe! Easy whole30 greek turkey burgers with mint avocado sauce. Served with a slice of apple and portobello for a bun! A healthy paleo meal the whole family will enjoy!

Print Recipe Whole30 Greek Turkey Burgers With Mint Avocado Sauce Best bun-less burger recipe! Easy whole30 greek turkey burgers with mint avocado sauce. Served with a slice of apple and portobello for a bun! A healthy paleo meal the whole family will enjoy! Ingredients Burger Main Dish Votes: 2
Rating: 4.5
You: Rate this recipe! Info Cook Time 60 minutes Prep Time 5 minutes Servings bugers MetricUS Imperial Course Main Dish Votes: 2
Rating: 4.5
You: Rate this recipe! Ingredients Burger
Preheat oven to 375F. Line a baking tray with parchment paper.
In a bowl combine ingredients for turkey burgers. Divide into four even balls. Drizzle a baking tray (lined with parchment paper) lightly with olive oil. Press balls down onto the pan into burger patties. Bake on 375F for 60 minutes until golden on outsides.
Blend ingredients for white sauce in a food processor or blender until combined. Do the same with the avocado mint sauce. Serve burger with sauces and any of the following: arugula, olives, tomato, and sprouts. I used portobello mushrooms and apple slices as my bun- it's a must!
Nutrition Facts Whole30 Greek Turkey Burgers With Mint Avocado Sauce Amount Per Serving Calories 310 Calories from Fat 162 % Daily Value* Total Fat 18g 28% Saturated Fat 4g 20% Polyunsaturated Fat 4g Monounsaturated Fat 6g Cholesterol 113mg 38% Sodium 622mg 26% Potassium 480mg 14% Total Carbohydrates 6g 2% Dietary Fiber 3g 12% Sugars 1g Protein 32g 64% Vitamin A 31% Vitamin C 50% Calcium 9% Iron 29% * Percent Daily Values are based on a 2000 calorie diet.
Read more