basil olive oil pesto
Category
---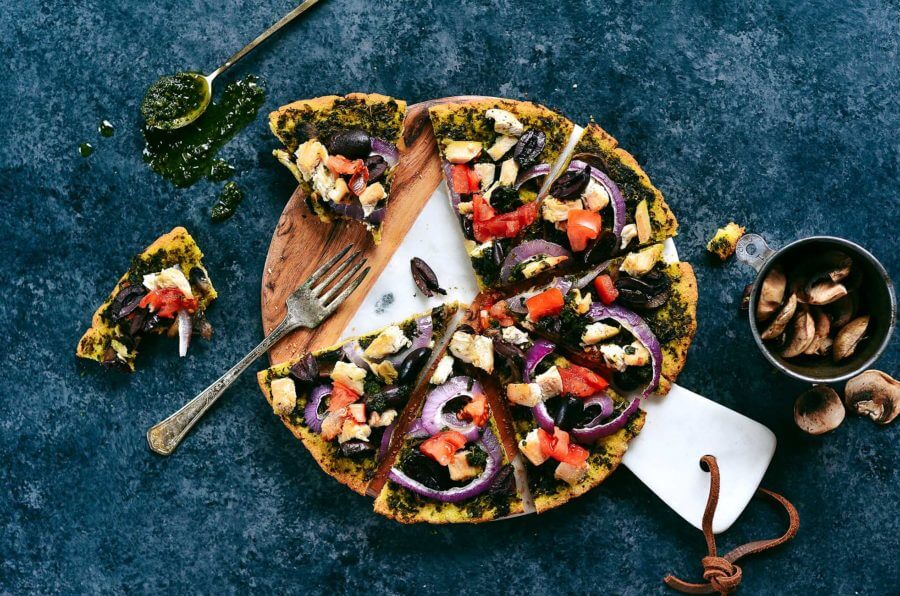 Quick and easy paleo pizza with delicious Mediterranean toppings! Healthy low carb garlic herb crust topped with chicken breast, dairy free basil pesto, kalamata olives, mushrooms, and red onion. Mmmmm:) 100% gluten free and lip smacking good!

Print Recipe Thin Crust Chicken Pesto Paleo Pizza Quick and easy paleo pizza with delicious Mediterranean toppings! Healthy low carb garlic herb crust topped with chicken breast, dairy free basil pesto, kalamata olives, mushrooms, and red onion. Mmmmm:) 100% gluten free and lip smacking good! Ingredients crust Main Dish Votes: 0
Rating: 0
You: Rate this recipe! Info Cook Time 20 minutes Prep Time 10-15 minutes Servings slices MetricUS Imperial Course Main Dish Votes: 0
Rating: 0
You: Rate this recipe! Ingredients crust
Preheat oven to 400F.
In a medium mixing bowl or KitchenAid, combine all the ingredients for the crust.
Roll the crust out on a pieces of parchment paper. Then transfer the pizza on the parchment paper onto a pizza or baking dish.
Brush the olive oil over the pizza crust, followed by the pesto.
Layer on the chopped mushrooms, onions, olives, and chicken breast.
Bake on 400F for about 20 minutes.
Once the pizza has cooked you can opt to drizzle on more olive oil and pesto if you want.
Nutrition Facts Thin Crust Chicken Pesto Paleo Pizza Amount Per Serving Calories 274 Calories from Fat 153 % Daily Value* Total Fat 17g 26% Saturated Fat 4g 20% Polyunsaturated Fat 1g Monounsaturated Fat 8g Cholesterol 12mg 4% Sodium 555mg 23% Potassium 84mg 2% Total Carbohydrates 25g 8% Dietary Fiber 8g 32% Sugars 1g Protein 8g 16% Vitamin A 2% Vitamin C 3% Calcium 8% Iron 7% * Percent Daily Values are based on a 2000 calorie diet.
Read more