---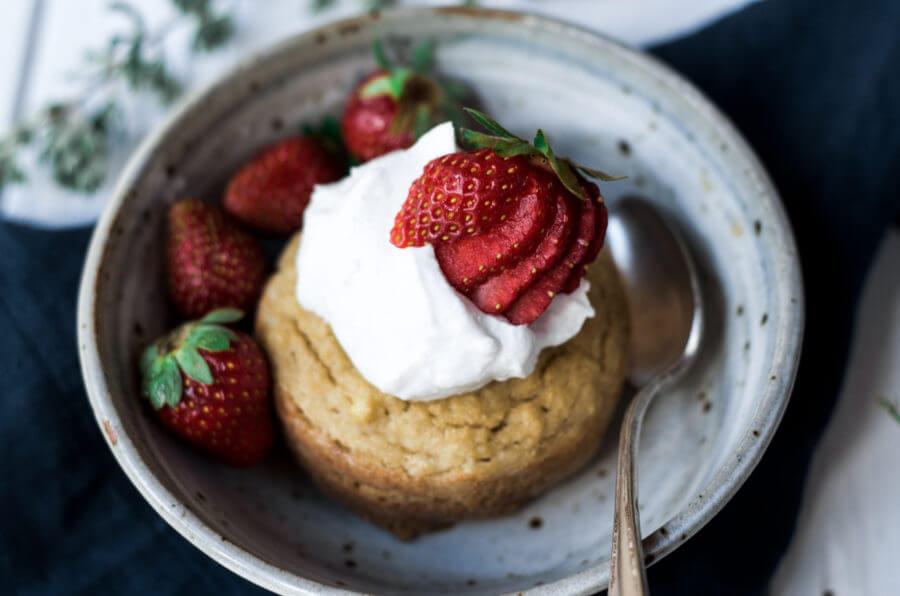 This soft grain free paleo mug muffin is made in a few minutes. Topped with lushes whipped cream and fresh strawberries, this easy to make recipe for strawberry shortcake mug muffin is a delicious time saver and makes for an easy breakfast, dessert, or snack.

Print Recipe Paleo Strawberry Shortcake Mug Muffin This soft grain free paleo mug muffin is made in a few minutes. Topped with luscious whipped cream and fresh strawberries, this easy to make recipe for strawberry shortcake mug muffin is a delicious time saver and makes for an easy breakfast, dessert, or snack. This recipe is sugar free and sweetened with stevia liquid. Ingredients muffin Main Dish Votes: 0
Rating: 0
You: Rate this recipe! Info Cook Time 90 seconds Prep Time 3 minutes Servings muffin MetricUS Imperial Course Main Dish Votes: 0
Rating: 0
You: Rate this recipe! Ingredients muffin
Whisk the egg with the coconut milk, coconut oil, vanilla, and stevia or maple syrup.
Add the coconut flour, baking soda, and salt. Mix well.
Transfer it to a ramekin or mug.
Microwave on HIGH (100 per- cent power) for 90 seconds. Cool. Or cook in a toaster oven on 350 degrees for 30 minutes.
Top with strawberries and whipped cream or coconut cream.
Nutrition Facts Paleo Strawberry Shortcake Mug Muffin Amount Per Serving Calories 328 Calories from Fat 180 % Daily Value* Total Fat 20g 31% Saturated Fat 17g 85% Polyunsaturated Fat 0.4g Monounsaturated Fat 1g Cholesterol 20mg 7% Sodium 486mg 20% Potassium 90mg 3% Total Carbohydrates 30g 10% Dietary Fiber 15g 60% Sugars 8g Protein 10g 20% Vitamin A 4% Vitamin C 60% Calcium 9% Iron 1% * Percent Daily Values are based on a 2000 calorie diet.
Read more