---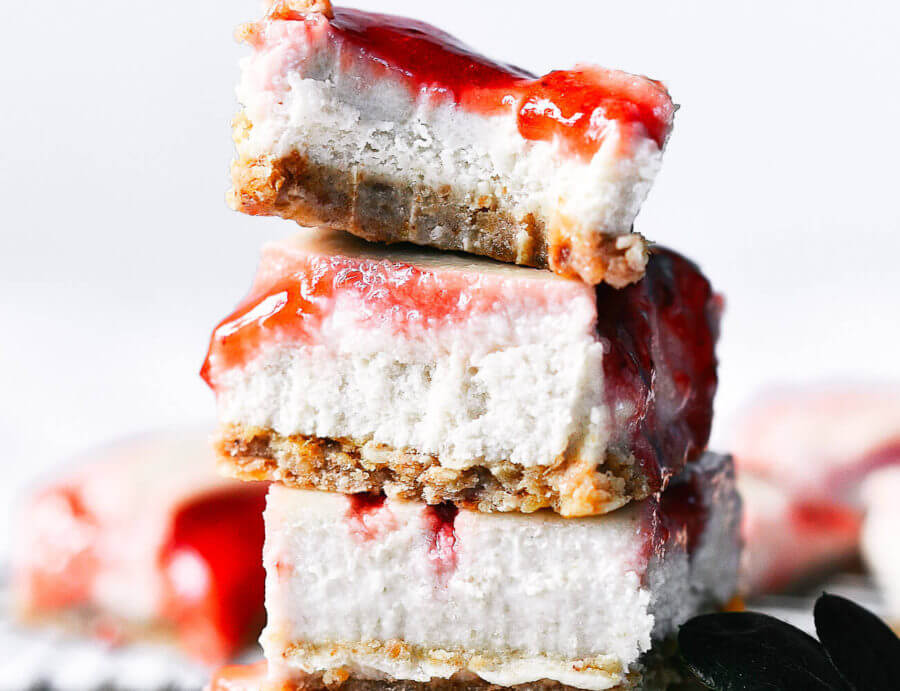 Best, no bake, easy, vegan strawberry cheesecake! Refined sugar free, paleo, raw, creamy, healthy, and addictive! This dairy free cheesecake will fool you into believing it's not healthy! So rich and soft with fresh fruit flavor and and incredibly creamy texture!

Print Recipe Easy Vegan Strawberry Cheesecake Best, easy, vegan strawberry cheesecake! Refined sugar free, paleo, raw, creamy, healthy, and addictive! This dairy free cheesecake will fool you into believing it's not healthy! So rich and soft with fresh fruit flavor and and incredibly creamy texture! Ingredients Filling Dessert Votes: 12
Rating: 4.33
You: Rate this recipe! Info Passive Time 3-6 hours chill time Prep Time 10-15 minutes Servings cheesecake bites MetricUS Imperial Course Dessert Votes: 12
Rating: 4.33
You: Rate this recipe! Ingredients Filling
In a food processor, combine the ingredients for the crust until the dough sticks together and is mostly smooth. Don't over blend it! The crust is better when it is slightly coarse in texture.
Line an 8" by 8" baking dish with parchment paper. Press the crust dough into the baking dish then set aside.
Filling
Begin by soaking the cashews in boiling water for about 1 hour until they are soft. Once the cashews are soft, drain the water.
In a food processor, blend the cashews until they become a pulp.
Heat the maple syrup and coconut oil on the stove to room temperature. Then slowly incorporate the warm maple syrup and melted coconut oil into the cashews while blending. Puree this mixture until completely smooth!
Heat both coconut milks to room temperature (If they were refrigerated). Then combine with the cashew mixture.
Add the vanilla and salt to the filling and finish blending until 100% smooth. Then pour the filling over the crust.
Topping
In a blender or food processor, puree the strawberry preserves until they become a bright red liquid.
To make the swirls, pour four diagonal lines of strawberry liquid across the cheesecake. Then take a toothpick and drag it vertically across the top of the cheesecake. As you do this, it will drag the strawberry preserves into a retro pattern.
Freeze the cheesecake until it is solid. It will still be soft enough to eat, so you don't have to worry about over freezing it. Freezing times vary depending on the type of freezer, but I recommend freezing it for 3-5 hours.
Nutrition Facts Easy Vegan Strawberry Cheesecake Amount Per Serving Calories 165 Calories from Fat 117 % Daily Value* Total Fat 13g 20% Saturated Fat 4g 20% Polyunsaturated Fat 2g Monounsaturated Fat 6g Sodium 19mg 1% Potassium 0.2mg 0% Total Carbohydrates 9g 3% Dietary Fiber 1g 4% Sugars 5g Protein 3g 6% Calcium 1% Iron 5% * Percent Daily Values are based on a 2000 calorie diet.
Read more