---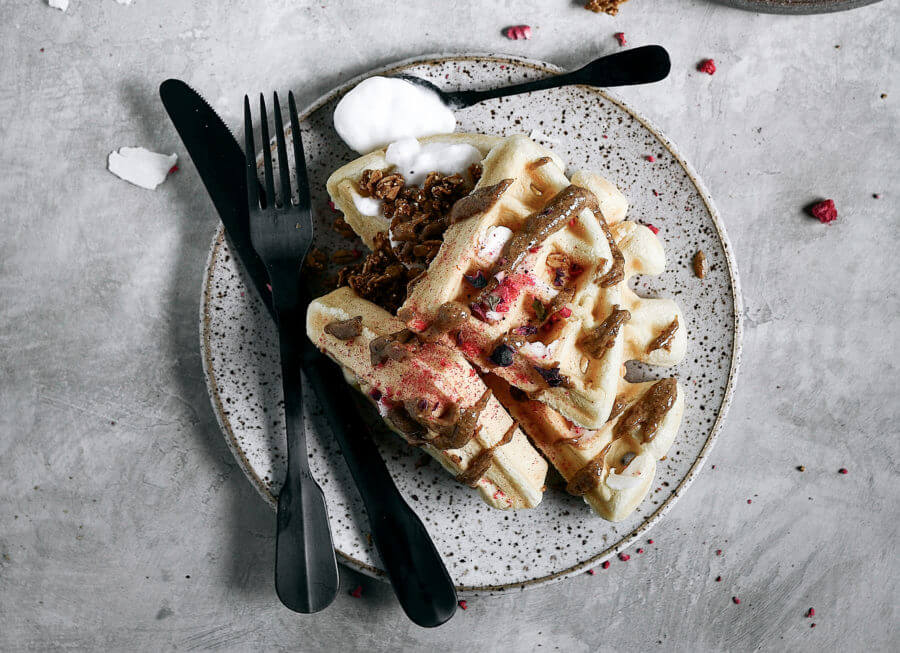 These Paleo Belgian Waffles are incredibly light and fluffy (and not "eggy")! This lovely stack of delicious waffles are nicely golden brown on the outside and soft on the inside. Incredible flavor, grain free, and easy to make!

Print Recipe Best Gluten Free Paleo Waffles These Paleo Belgian Waffles are incredibly light and fluffy (and not "eggy")! This lovely stack of delicious waffles are nicely golden brown on the outside and soft on the inside. Incredible flavor, grain free, and easy to make! Ingredients Info Prep Time 5 minutes Servings waffles MetricUS Imperial Course Main Dish Votes: 1
Rating: 5
You: Rate this recipe! Recipe Notes

Top with your favorite toppings. I topped with dairy free yogurt, almond butter, freeze dried raspberries, rose petals, and granola chunks.

Info Prep Time 5 minutes Servings waffles MetricUS Imperial Course Main Dish Votes: 1
Rating: 5
You: Rate this recipe! Recipe Notes

Top with your favorite toppings. I topped with dairy free yogurt, almond butter, freeze dried raspberries, rose petals, and granola chunks.

Ingredients Instructions
Heat the waffle iron and generously grease with coconut oil.
Combine all the ingredients for the waffles by hand in a mixing bowl or use a KitchenAid.
Pour batter into the waffle iron and cook until golden brown (You can cook them more or less, depending on your personal preference).
Top with your favorite toppings. I topped with dairy free yogurt, almond butter, freeze dried raspberries, rose petals, and granola chunks.
Nutrition Facts Best Gluten Free Paleo Waffles Amount Per Serving Calories 481 Calories from Fat 243 % Daily Value* Total Fat 27g 42% Saturated Fat 10g 50% Polyunsaturated Fat 1g Monounsaturated Fat 2g Cholesterol 186mg 62% Sodium 739mg 31% Potassium 137mg 4% Total Carbohydrates 43g 14% Dietary Fiber 5g 20% Sugars 2g Protein 19g 38% Vitamin A 4% Vitamin C 9% Calcium 22% Iron 11% * Percent Daily Values are based on a 2000 calorie diet.
Read more