Best Gluten Free Paleo Waffles
---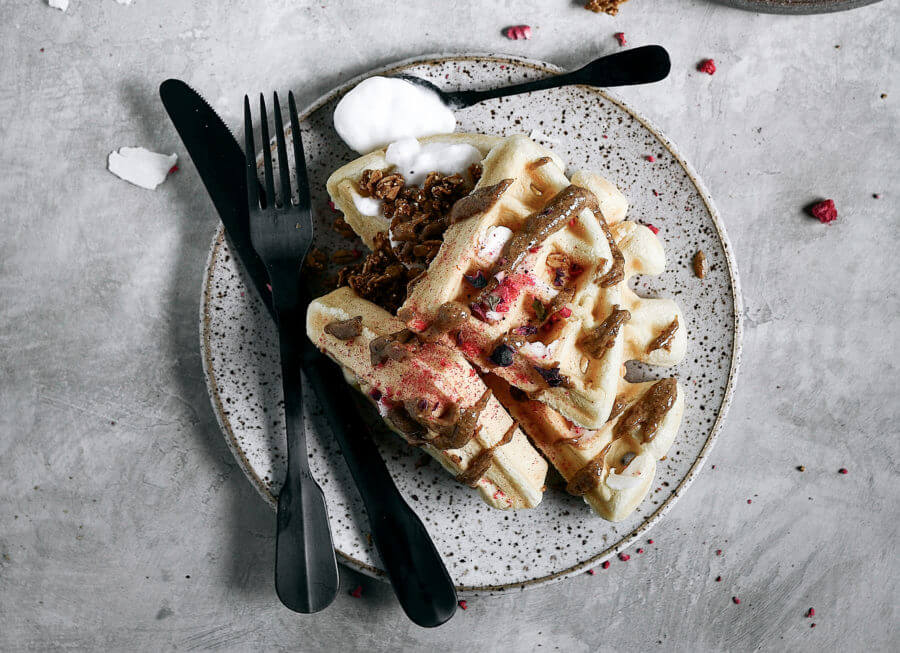 Two things I love about these waffles: each waffles has 19g protein! And second, they have legit good texture; light, soft, and yet hearty and filling at the same time. Boom! Easy gluten free, paleo, and grain free waffle recipe. Made with cassava flour.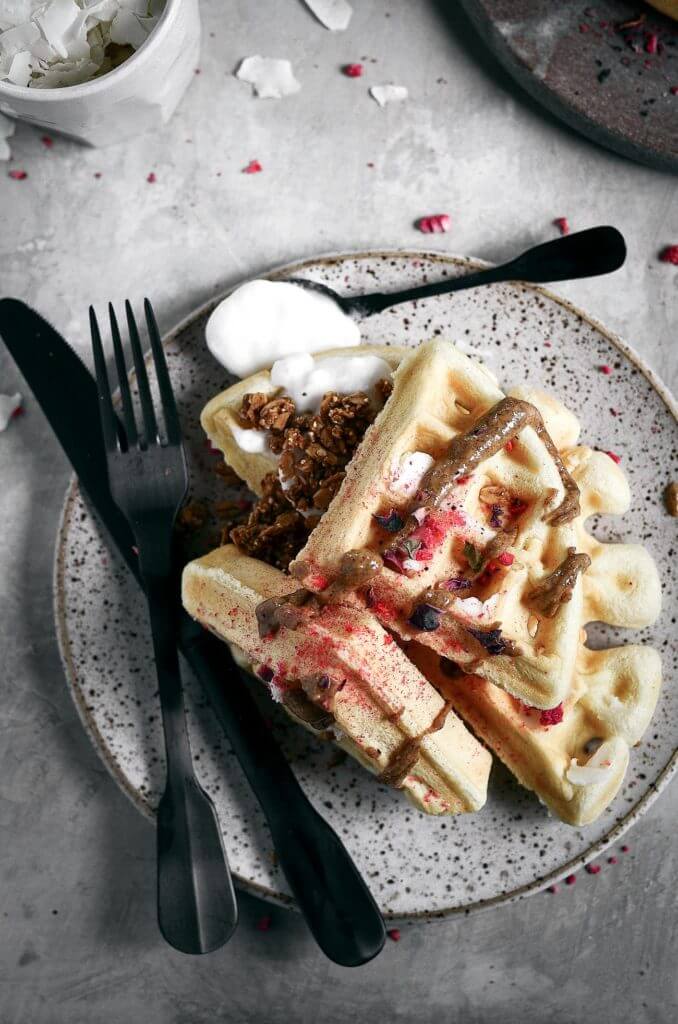 These Paleo Belgian Waffles are incredibly light and fluffy (and not "eggy")! This lovely stack of delicious waffles are nicely golden brown on the outside and soft on the inside. Incredible flavor, grain free, and easy to make!
Having waffles again for dinner tonight. Because, well waffles… and 19g protein (it's practically steak😂)!! Serving these beauties up on my new favorite dinning ware from Kettle & Brine (my absolute raddest new home goods/props find!).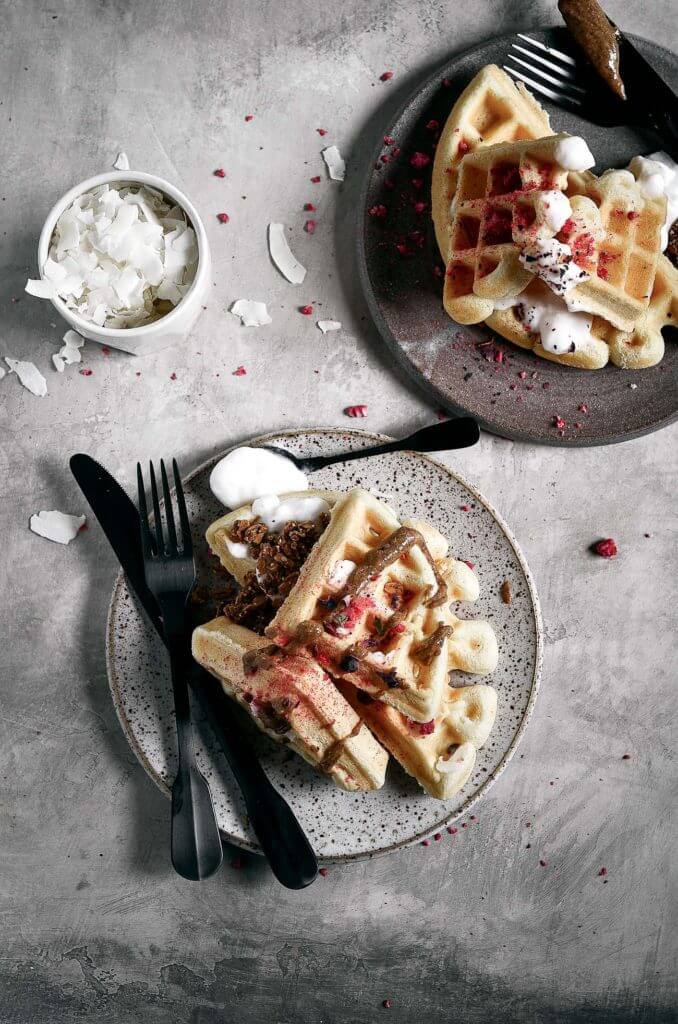 So, I am so in love with these waffles!!! Unfortunately, today's photoshoot went from perfect to utter chaos in 5 minutes flat. Here's the story:
First off, everything was going as planned. I woke up and was ready to make my favorite waffles ever. All was well. I was happily arranging berries and cream on top of light and fluffy waffles. I was soaking in the morning sun through the East window. But not long after, everything began to go downhill.
Earlier this week, my computer died on me. Like, completely failed me and left me unable to work. I shipped it off to be repaired. Because there was little I could do to produce more recipes without it, I enjoyed a tech break. Although, the break was nice, it left me with no place to store my photos… Whomp, whomp.
By the second day into photoshoots without my lap top, I quickly realized. There would be no place to store my photos once my memory cards were full.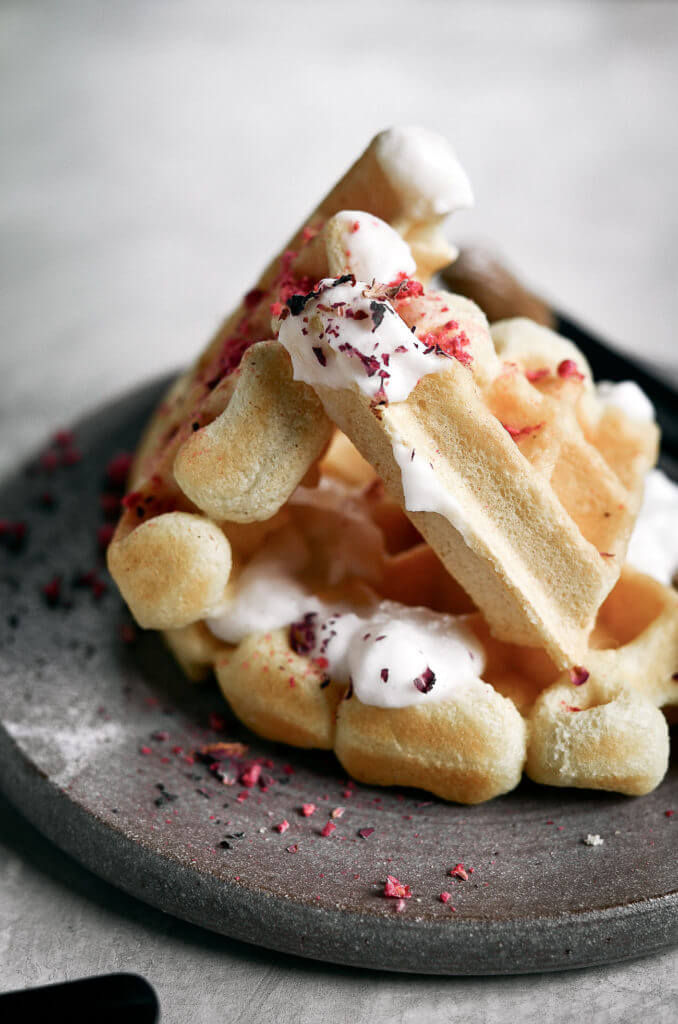 As I went to take pictures of my beautiful food, I saw those dreadful words, "card is full". I know, I'm being really dramatic! But, this happens to bee one of my pet peeves. Can't memory cards just empty themselves? I knew all three of my memory cards were completely full. And since driving an hour into town was out of the question, I called around. And thankfully, my dear friend loaned me her's.
So, I was rushing out of the door and my toe collided with a wasp. Normally, bee stings don't hurt too bad. But this one was something else! By the time I had returned home, my foot was swollen and I was hobbling around on one foot. A comical scene, I'm sure. I climbed the ladder for my perfect shot, with one foot and a camera in hand. Trying to balance on one foot, while leaning over the tippy top a tall ladder to grab that shot is easier said then done.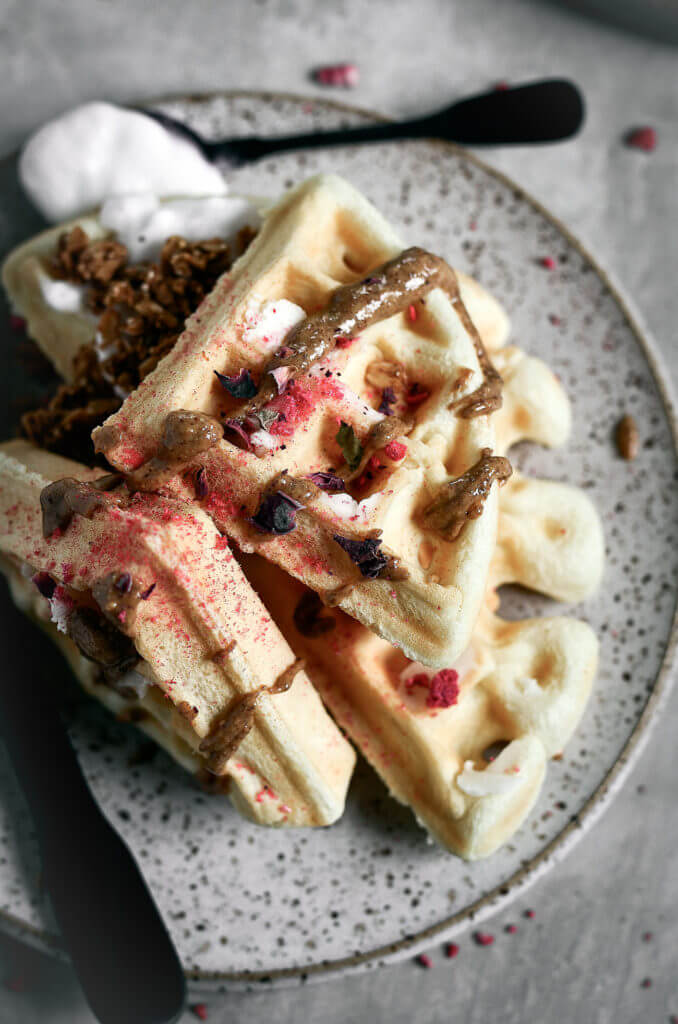 all for the waffles
I should have just given up and eaten the waffles. But I couldn't take a bite until I had pictures to share.
Trying to convince a 14 year old boy to pose as a hand model for your breakfast shoot… yea, maybe not the best idea. Telling a hungry boy to sit there and pour the maple syrup over the waffles and not eat them. Ha, ha… those photos didn't make it to the blog post. 🙂
A workman is worthy of his wages though. So after things were cleaned up, we both sat down to a nice stack of fluffy paleo waffles. My brother got to eat all he wanted. And I got my shot. So it all worked out. Finally, once the kitchen was cleaned, I laughed at the days events. Who knew food photography could be so exciting?
Sometimes the process isn't pretty, but the result usually turns out pretty rad. Note to self- life lesson in food photography 101.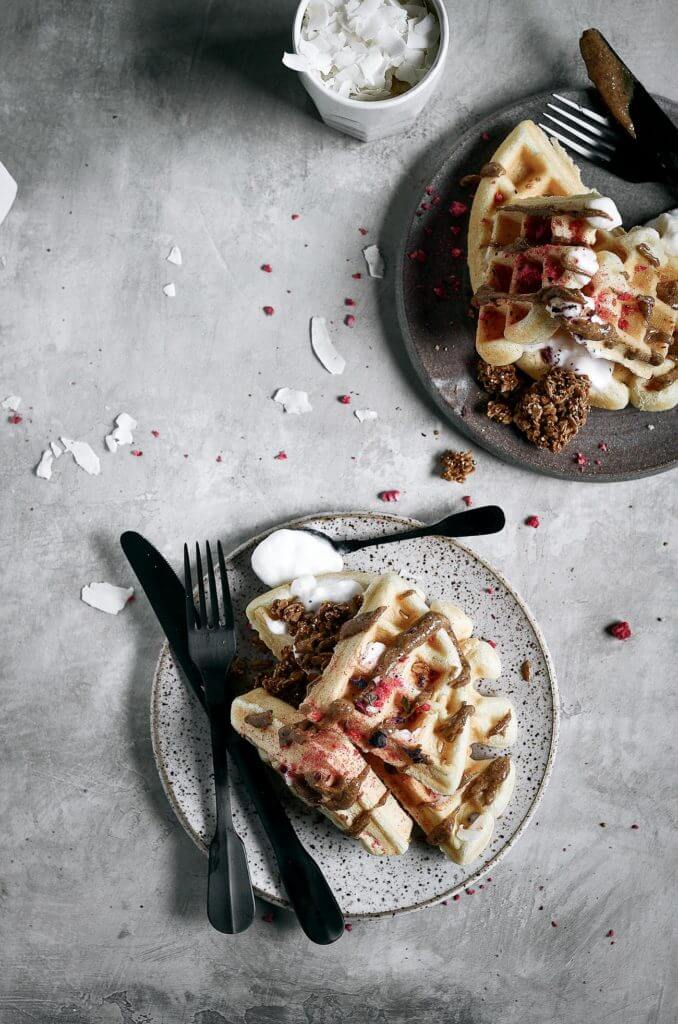 Between hauling ladders, stools, tables, curtains, and props from room to room. From rushing to photograph while the food looks fresh. And dealing with all the curveballs and making it work. From the long nights working till 3 am on posts and countless hours of meticulously editing photos. I can definitely say, food blogging isn't the most glamorous career choice.
But after the stacks and stacks of dishes (and I mean endless dishes) are done. And the recipe goes live. All I want to do is do it all over again. I hope you enjoyed a little peak into my world today. #RealMoment.
Enjoy these waffles. Keep cooking. Experiment. Make mistakes. But always learn from your mistakes. Make life beautiful. Have a good one friends!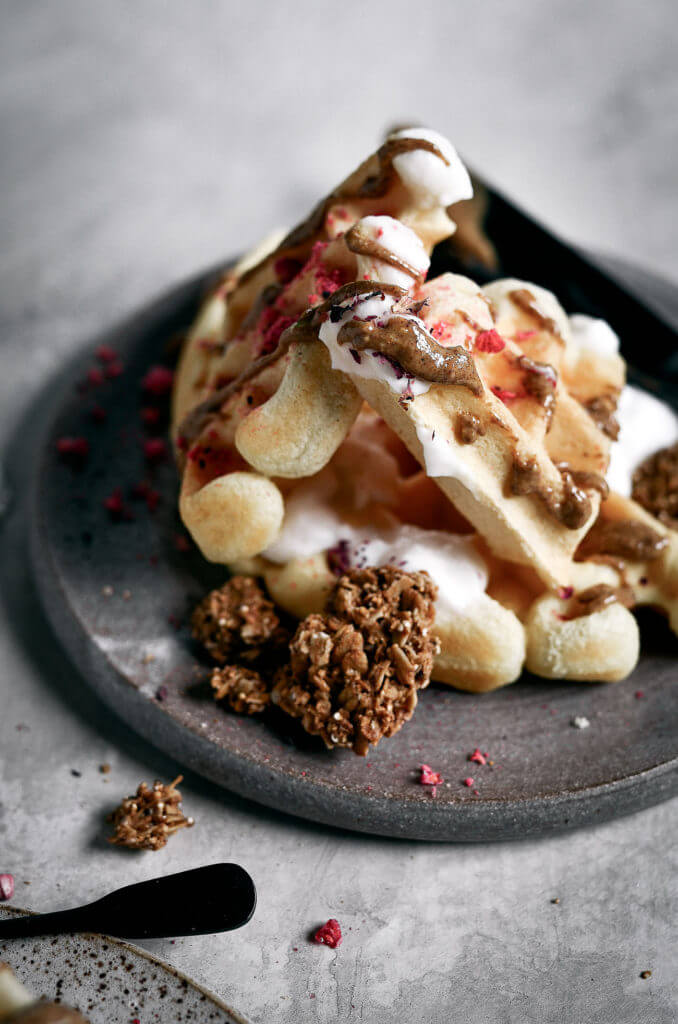 Top with your favorite toppings. I topped with dairy free yogurt, almond butter, freeze dried raspberries, rose petals, and granola chunks.
| | |
| --- | --- |
| Top with your favorite toppings. I topped with dairy free yogurt, almond butter, freeze dried raspberries, rose petals, and granola chunks. | |
Heat the waffle iron and generously grease with coconut oil.

Combine all the ingredients for the waffles by hand in a mixing bowl or use a KitchenAid.

Pour batter into the waffle iron and cook until golden brown (You can cook them more or less, depending on your personal preference).

Top with your favorite toppings. I topped with dairy free yogurt, almond butter, freeze dried raspberries, rose petals, and granola chunks.
Nutrition Facts

Best Gluten Free Paleo Waffles

Amount Per Serving

Calories 481

Calories from Fat 243

% Daily Value*

Total Fat 27g 42%

Cholesterol 186mg 62%

Sodium 739mg 31%

Potassium 137mg 4%

Total Carbohydrates 43g 14%

Protein 19g 38%

* Percent Daily Values are based on a 2000 calorie diet.