fresh apple slices
Category
---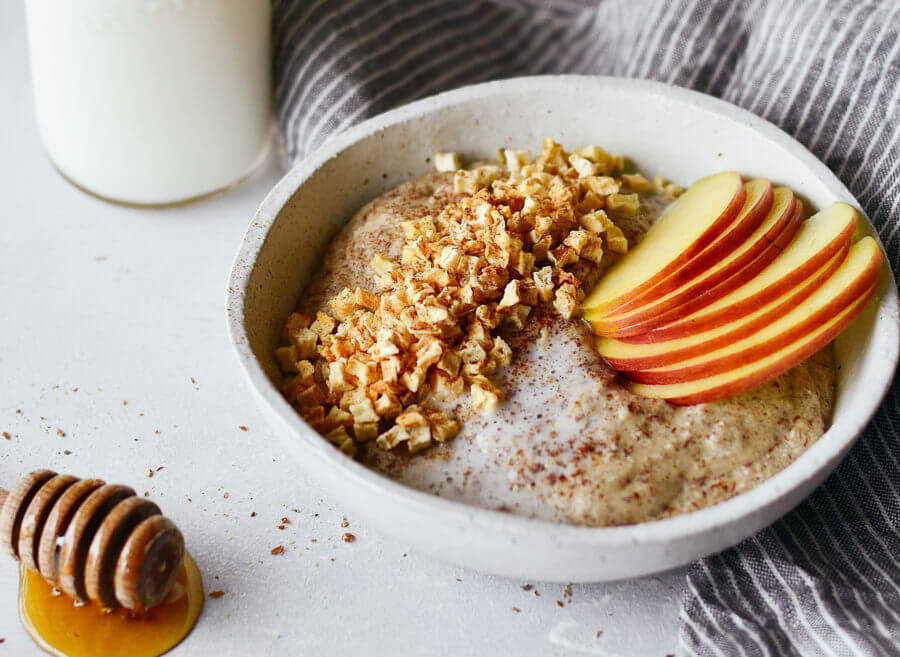 Rich and creamy whole30 breakfast cereal. Made in one minute! Can be made ahead. Paleo, gluten free, sugar free, and dairy free. A great alternative to malt-o-meal and oatmeal. Deliciously addicting and topped with apple crunchies and cinnamon.

Print Recipe Instant Paleo Apple Cinnamon Hot Cereal Rich and creamy paleo breakfast cereal. Made in one minute! Can be made ahead. Paleo, gluten free, sugar free, and dairy free. A great alternative to malt-o-meal and oatmeal. Deliciously addicting and topped with apple crunchies and cinnamon. Ingredients dry ingredients Main Dish Votes: 32
Rating: 3.75
You: Rate this recipe! Info Cook Time 1 minute Prep Time 1 minute Servings bowl MetricUS Imperial Course Main Dish Votes: 32
Rating: 3.75
You: Rate this recipe! Ingredients dry ingredients
Heat the liquid ingredients in a small saucepan until the full fat coconut milk melts (make sure to mix up the canned coconut milk so that you get an even amount of thick and liquid milk).
Add the dry ingredients to the liquid and cook over medium heat while stirring. Cook for about 1 minute.
Serve and top with coconut milk, cinnamon, dried apple bits and/or fresh apple slices.
Nutrition Facts Instant Paleo Apple Cinnamon Hot Cereal Amount Per Serving Calories 663 Calories from Fat 459 % Daily Value* Total Fat 51g 78% Saturated Fat 6g 30% Polyunsaturated Fat 9g Monounsaturated Fat 2g Sodium 278mg 12% Potassium 53mg 2% Total Carbohydrates 41g 14% Dietary Fiber 28g 112% Sugars 2g Protein 25g 50% Vitamin C 1% Calcium 23% Iron 32% * Percent Daily Values are based on a 2000 calorie diet.
Read more