Instant Paleo Apple Cinnamon Hot Cereal
---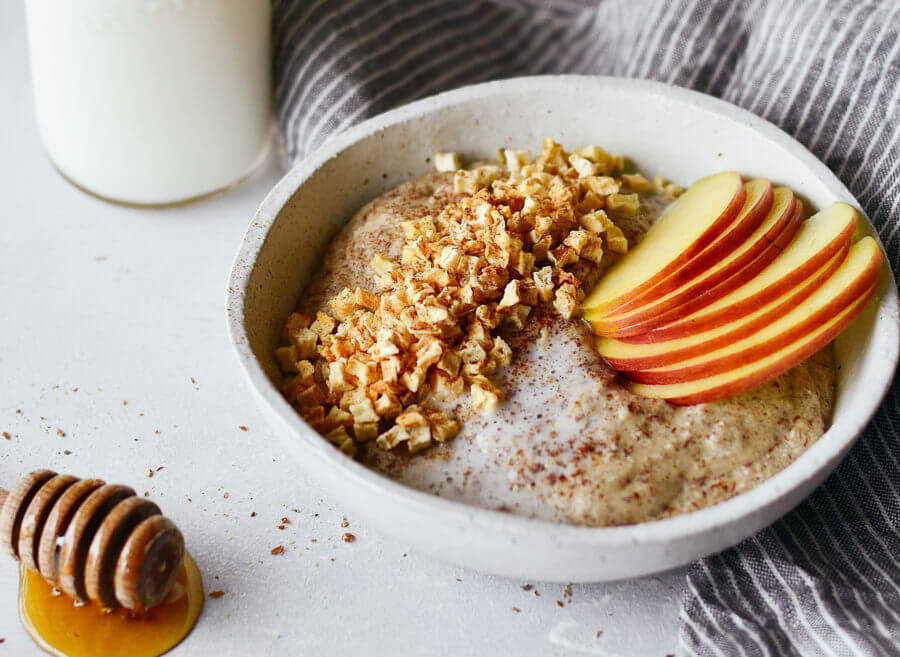 Rich and creamy paleo breakfast cereal. 28g protein! Made in one minute! Can be made ahead. Paleo, gluten free, sugar free, and dairy free. A great alternative to malt-o-meal and oatmeal. Deliciously addicting and topped with apple crunchies and cinnamon.
This creamy cinnamon spiced apple cereal is the BOMB! I am completely addicted to this easy breakfast cereal.
Get ready to indulge in malt-o-meal, meets oatmeal, meets mighty fine tasty hot cereal, meets paleo breakfast! All of those amazing things in one bowl. One flavor! One gorgeous healthy breakfast! I'm so in.
I almost wish I wasn't so in love with this cereal, because then I would stop eating it for breakfast (and even lunch). But until then, I guess you will have to listen to me go on about this hot cereal.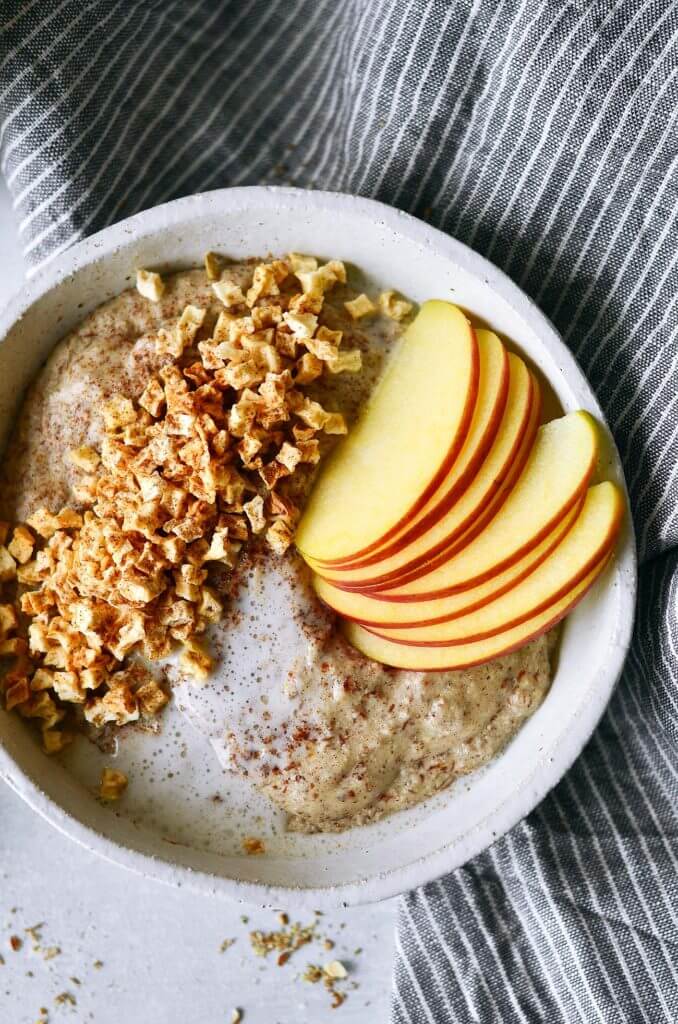 Sweet cinnamon spice and these lovely little dried apple bits from Bob's Red Mill make a perfect toasty pair. These itty baby apple chunks are so sweet and have a wonderful light texture (Unfortunately, it makes you want to reach in a grab another handful to snack on!).
I had to indulge a little and make this recipe with thick and creamy full fat coconut milk. I just had to. But I guess you could make it with regular coconut milk (or almond milk). But I highly suggest not missing out on all those good healthy fats for your brain… Not to mention that scrumptiousness for your tummy! 😉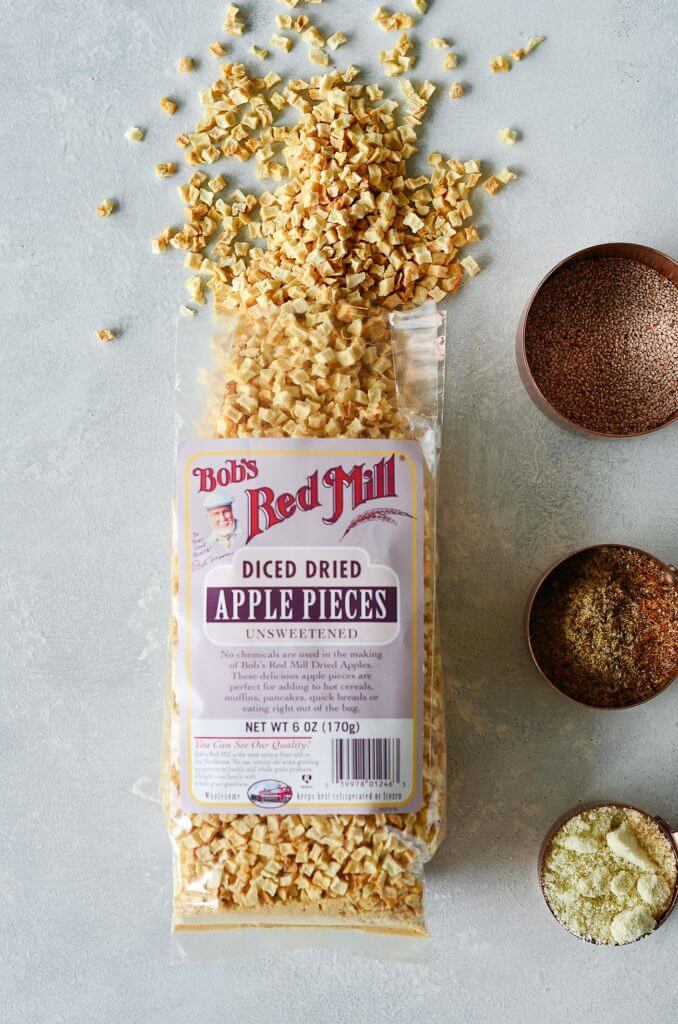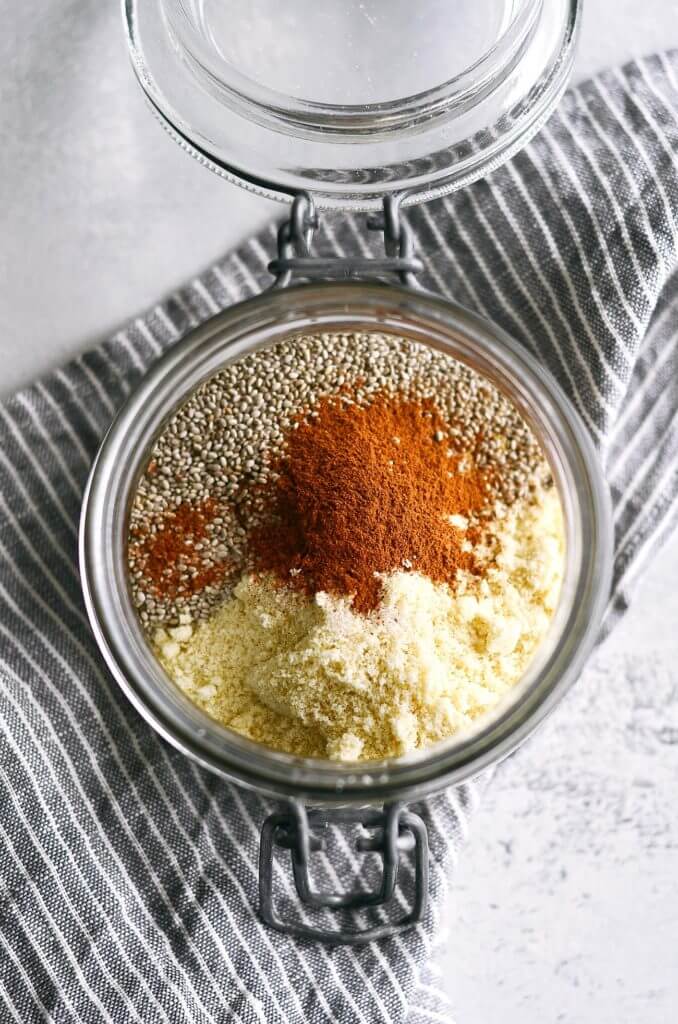 hearty, healthy, breakfast cereal!
A spoon of this thick and rich breakfast cereal was just what I needed this morning. The perfect sweetness from the apples and the creaminess from the coconut milk all sprinkled with cinnamon makes for a comforting way to start the morning.
Plus, it's loaded with natural protein from the almond flour (28 grams!!!) and topped off with some lovely omega's from the chia seeds. And don't forget about that healthy fiber form the flax meal!
P.S. I LOVE cooking with flax! Just in case you were wondering 🙂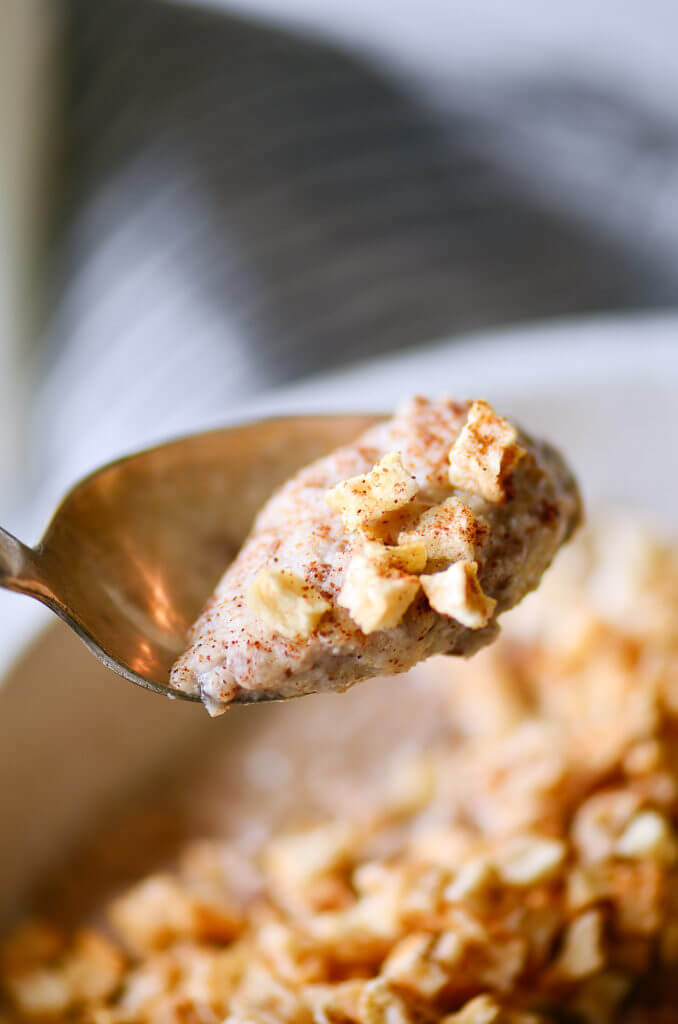 I used to wake up in the mornings to my Dad making his ritual breakfast cereal of choice. Some days it was grape nuts. Other days it was oatmeal or granola. And most days it was malt-o-meal. That breakfast cereal will always come bundled with childhood memories!
And now in present day, I don't make much malt-o-meal (because of the wheat 🙂 ) but I do love a bowl of grain free hot cereal from time to time!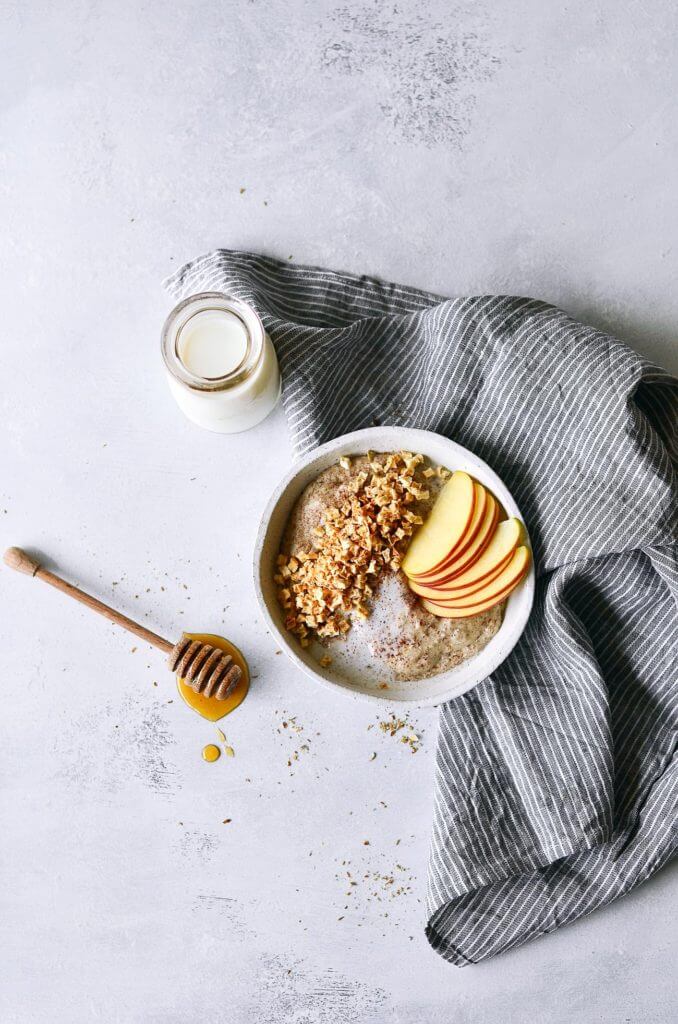 The wonderful things about this cereal is that it can be made ahead of time! Pre-prepared. Dry ingredients stored in a jar. Ready to be cooked up with coconut milk, vanilla, and date syrup. And spoiler alert: it only takes 1 minute to cook!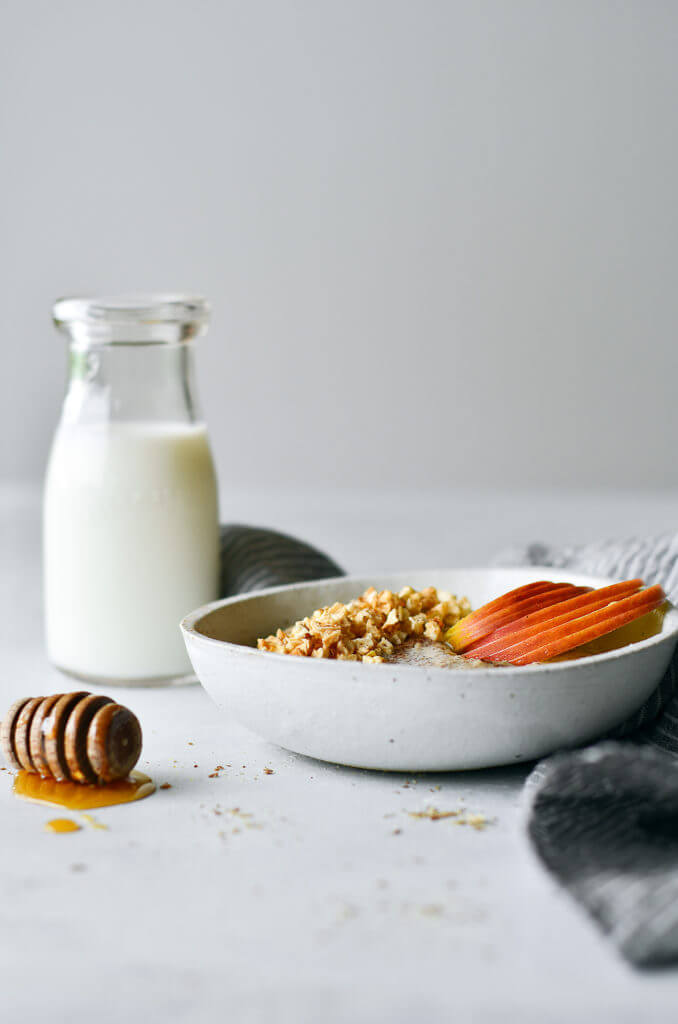 The natural sweetness from the apples is enough to be completely satisfied. But if you are looking for a little extra sweetness I suggest adding some homemade date syrup. Also, you really can't go wrong with a little stevia, maple syrup, or honey.
I topped my bowl off with dried apple bits, fresh apple slices, a little extra cream from the coconut milk, and a dash of cinnamon! Go wild 🙂
*Disclaimer: the calorie count on this recipe is high due to the healthy fats in the full fat coconut milk I used. But if you use regular coconut or almond milk, the calorie count will be normal and WAY lower! No worries; either way, you can't go wrong!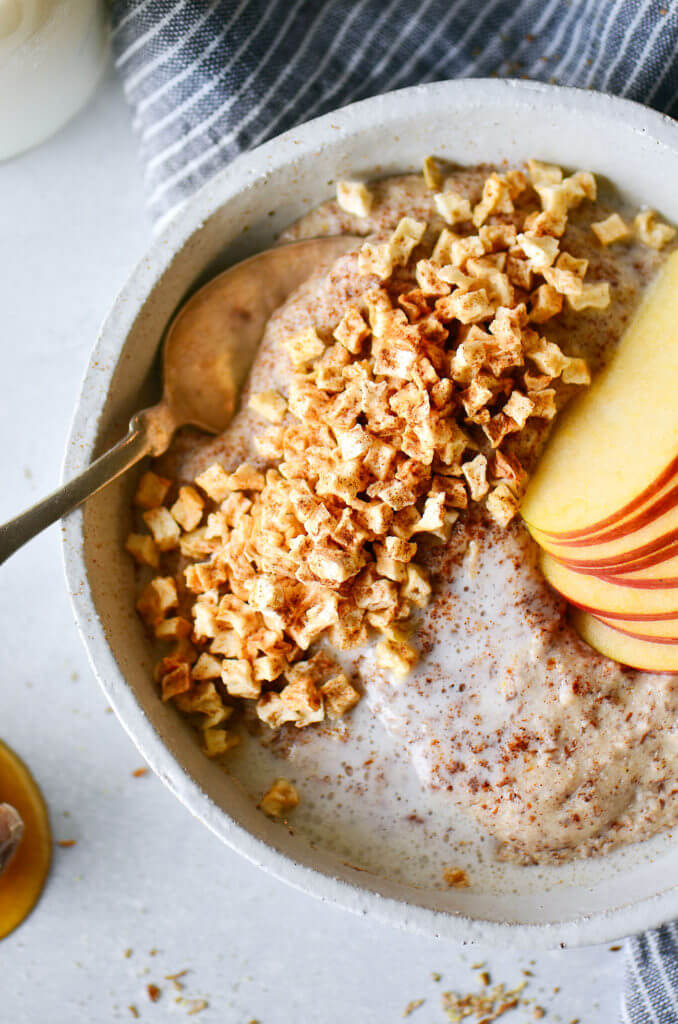 Heat the liquid ingredients in a small saucepan until the full fat coconut milk melts (make sure to mix up the canned coconut milk so that you get an even amount of thick and liquid milk).

Add the dry ingredients to the liquid and cook over medium heat while stirring. Cook for about 1 minute.

Serve and top with coconut milk, cinnamon, dried apple bits and/or fresh apple slices.
Nutrition Facts

Instant Paleo Apple Cinnamon Hot Cereal

Amount Per Serving

Calories 663

Calories from Fat 459

% Daily Value*

Total Fat 51g 78%

Sodium 278mg 12%

Potassium 53mg 2%

Total Carbohydrates 41g 14%

Protein 25g 50%

* Percent Daily Values are based on a 2000 calorie diet.