---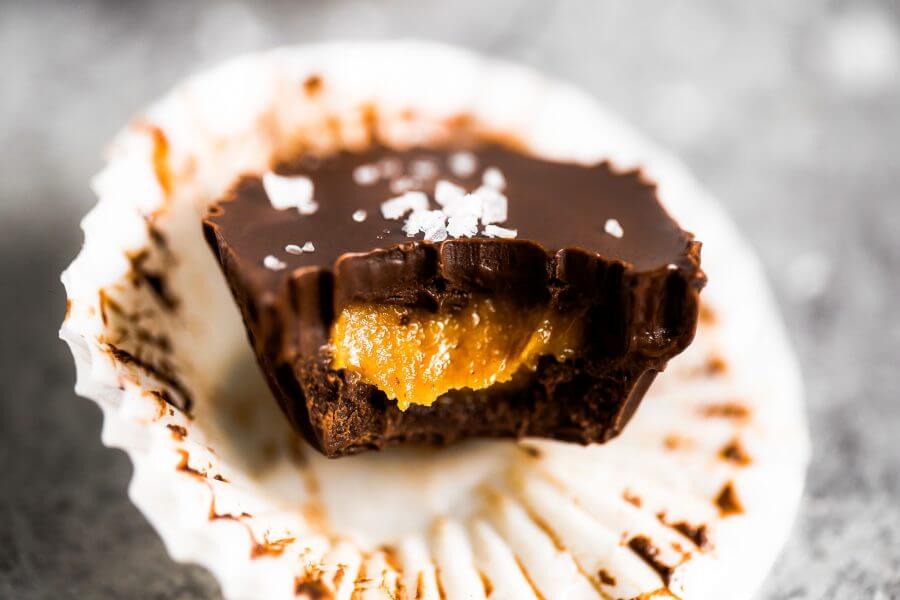 Healthier chocolate peanut butter cups. Make at home with this easy and fast recipe! See directions for a paleo version too. You're not gonna want to go back, once you have tasted these. Enjoy!

Print Recipe Healthy Chocolate Peanut Butter Cups Healthier chocolate peanut butter cups. Make at home with this easy and fast recipe! See directions for a paleo version too. You're not gonna want to go back, once you have tasted these. Enjoy! Ingredients Chocolate Layer Dessert, Snack Votes: 6
Rating: 3.67
You: Rate this recipe! Info Passive Time 30 minutes Cook Time 5 minutes Prep Time 10 minutes Servings cups MetricUS Imperial Course Dessert, Snack Votes: 6
Rating: 3.67
You: Rate this recipe! Ingredients Chocolate Layer
Melt chocolate chips and coconut oil in a double boiler on the stove over low heat until just soft, then remove and stir until smooth.
In a small bowl whip together ingredients for peanut butter filling until smooth.
Fill a mini muffin pan with paper liners.
Fill each cup halfway with melted chocolate. Then scoop about 1 teaspoon peanut butter filling into the center of each cup. Cover up with more chocolate and chill in freezer for 30 minutes.
Once chilled, sprinkle with sea salt flakes and serve or store in fridge/freezer (if storing the freezer, allow to thaw for 5 minutes before serving).
Nutrition Facts Healthy Chocolate Peanut Butter Cups Amount Per Serving Calories 123 Calories from Fat 81 % Daily Value* Total Fat 9g 14% Saturated Fat 5g 25% Polyunsaturated Fat 1g Monounsaturated Fat 1g Sodium 36mg 2% Potassium 24mg 1% Total Carbohydrates 13g 4% Dietary Fiber 1g 4% Sugars 9g Protein 2g 4% Calcium 0.2% Iron 7% * Percent Daily Values are based on a 2000 calorie diet.
Read more