---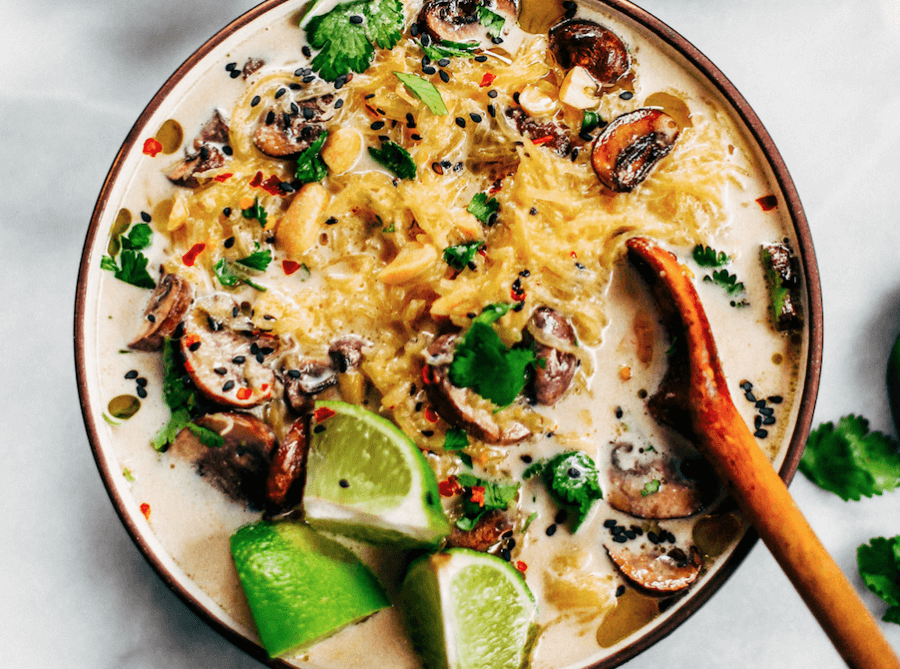 Whole30 and vegan spicy peanut ramen! Fast and easy spaghetti squash noodles with spicy peanut lime broth. A healthy vegetarian ramen recipe for the whole family.

Print Recipe Spicy Peanut Spaghetti Squash Ramen Whole30 and vegan spicy peanut ramen! Fast and easy spaghetti squash noodles with spicy peanut lime broth. A healthy vegetarian ramen recipe for the whole family. Ingredients Main Dish Votes: 38
Rating: 3.71
You: Rate this recipe! Recipe Notes

How to bake spaghetti squash: cut spaghetti squash in half lengthwise, use a large spoon to scrape the seeds from the center, lay face up on a baking tray, and brush lightly with olive oil. Bake on 450F for 25 minutes (cook longer for softer noodles). Then scrape the meat (noodles) from the squash with a large fork or spoon.

Info Cook Time 5 minutes Prep Time 15 minutes Servings servings MetricUS Imperial Course Main Dish Votes: 38
Rating: 3.71
You: Rate this recipe! Recipe Notes

How to bake spaghetti squash: cut spaghetti squash in half lengthwise, use a large spoon to scrape the seeds from the center, lay face up on a baking tray, and brush lightly with olive oil. Bake on 450F for 25 minutes (cook longer for softer noodles). Then scrape the meat (noodles) from the squash with a large fork or spoon.

Ingredients
In a fry pan add sliced mushrooms and a drizzle of olive oil. Saute until golden- stirring on occasion. Then set aside.
In a blender or food processor puree ingredients for sauce until smooth. Then combine with vegetable broth in a saucepan and heat on the stove over medium heat until simmering, then remove and set aside.
Add spaghetti squash ramen noodles and sautéed mushrooms to the saucepan and heat until it reaches eating temperature. Top with fresh lime juice/lime wedges, sesame seeds, cilantro, chopped peanuts, and red pepper flakes to taste.
Nutrition Facts Spicy Peanut Spaghetti Squash Ramen Amount Per Serving Calories 613 Calories from Fat 414 % Daily Value* Total Fat 46g 71% Saturated Fat 17g 85% Polyunsaturated Fat 9g Monounsaturated Fat 16g Sodium 1439mg 60% Potassium 940mg 27% Total Carbohydrates 43g 14% Dietary Fiber 12g 48% Sugars 18g Protein 16g 32% Vitamin A 14% Vitamin C 25% Calcium 10% Iron 17% * Percent Daily Values are based on a 2000 calorie diet.
Read more