---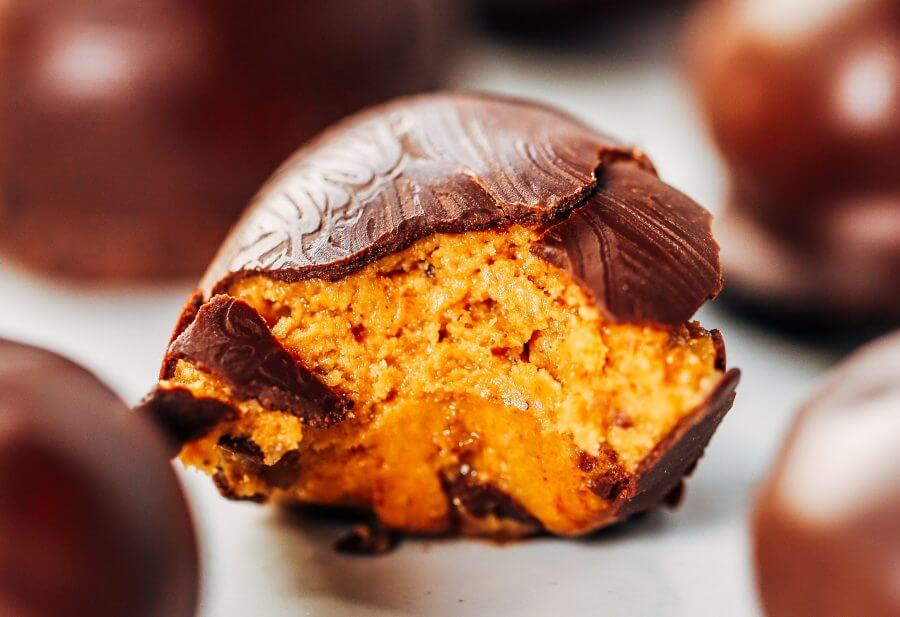 Low calorie snack balls made with nut butter and coated in a chocolate shell. An easy paleo snack for on the go! Perfect healthy snack or breakfast for kids and busy families.

Print Recipe Protein Snack Balls Low calorie snack balls made with nut butter and coated in a chocolate shell. An easy paleo snack for on the go! Perfect healthy snack or breakfast for kids and busy families. Ingredients Balls Snack Votes: 1
Rating: 5
You: Rate this recipe! Info Prep Time 10 minutes Servings balls MetricUS Imperial Course Snack Votes: 1
Rating: 5
You: Rate this recipe! Ingredients Balls
In a bowl mix together ingredients for the balls until smooth.
Prepare the double boiler and melt chocolate chips and coconut oil together until the chocolate has just melted, then remove from heat and stir until all the chocolate has melted and is smooth.
Scoop balls using a small ice-cream scoop and set on a baking tray lined with parchment paper. Chill balls in freezer until they solidify (optional). Then dip the balls in the chocolate and set back on the tray. Allow to set until chocolate has solidified before eating.
Nutrition Facts Protein Snack Balls Amount Per Serving Calories 106 Calories from Fat 63 % Daily Value* Total Fat 7g 11% Saturated Fat 2g 10% Polyunsaturated Fat 2g Monounsaturated Fat 3g Cholesterol 2mg 1% Sodium 66mg 3% Potassium 65mg 2% Total Carbohydrates 8g 3% Dietary Fiber 1g 4% Sugars 5g Protein 5g 10% Calcium 1% Iron 3% * Percent Daily Values are based on a 2000 calorie diet.
Read more