yellow bell pepper
Category
---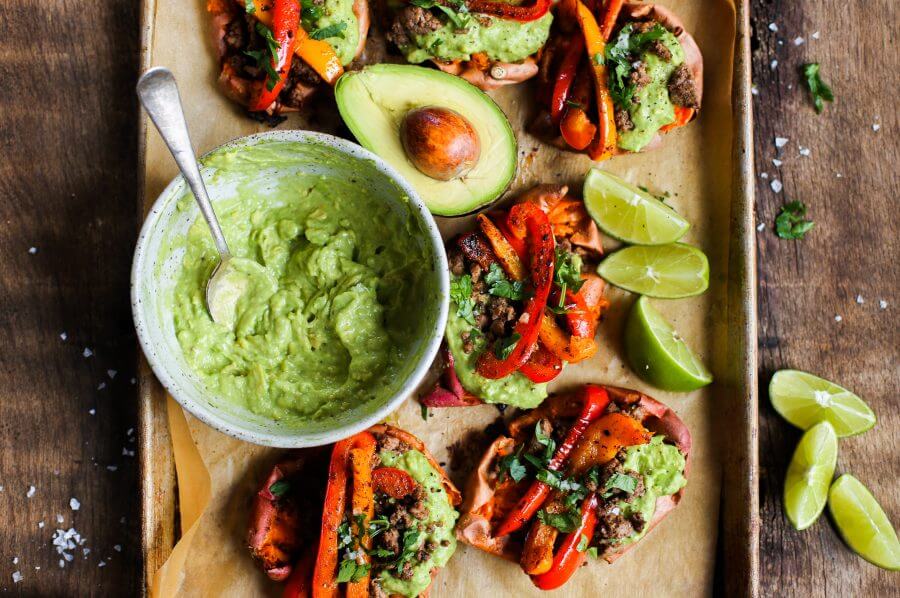 Easy vegan fajita smashed potatoes. This easy whole30 and paleo sheet pan dinner is delicious served with creamy avocado lime dip. Smashed baked sweet potatoes with fajita seasoned bell peppers.

Print Recipe Fajita Smashed Sweet Potatoes Easy vegan fajita smashed potatoes. This easy whole30 and paleo sheet pan dinner is delicious served with creamy avocado lime dip. Smashed baked sweet potatoes with fajita seasoned bell peppers. Ingredients Info Cook Time 60 minutes Prep Time 10 minutes Servings servings MetricUS Imperial Course Main Dish Votes: 1
Rating: 5
You: Rate this recipe! Recipe Notes

Avocado Lime Dip Recipe- Linked here.

Info Cook Time 60 minutes Prep Time 10 minutes Servings servings MetricUS Imperial Course Main Dish Votes: 1
Rating: 5
You: Rate this recipe! Recipe Notes

Avocado Lime Dip Recipe- Linked here.

Ingredients Instructions
Preheat oven to 425F. Line a baking tray with parchment paper. Poke each sweet potato with a fork or knife then set on a baking tray.
Bake sweet potatoes on 425F for about 40-50 minutes until soft when poked with a fork. Then take the tray out and slice them down the middle and smash the potatoes out, then put back in the oven to bake for another 20 minutes.
Slice bell peppers into strips, then saute in a skillet oven medium heat with a drizzle of olive oil, cumin, chipotle powder, and salt. Cook for about 5-8 minutes until soft.
Prepare avocado lime dip (recipe linked in recipe notes), and assemble the sweet potatoes with bell peppers, avocado dip, cilantro, and lime juice. You can add a protein of choice, if wanted or go vegan.
There is no Nutrition Label for this recipe yet.
Read more