Whole30 Thai Chicken Noodles
---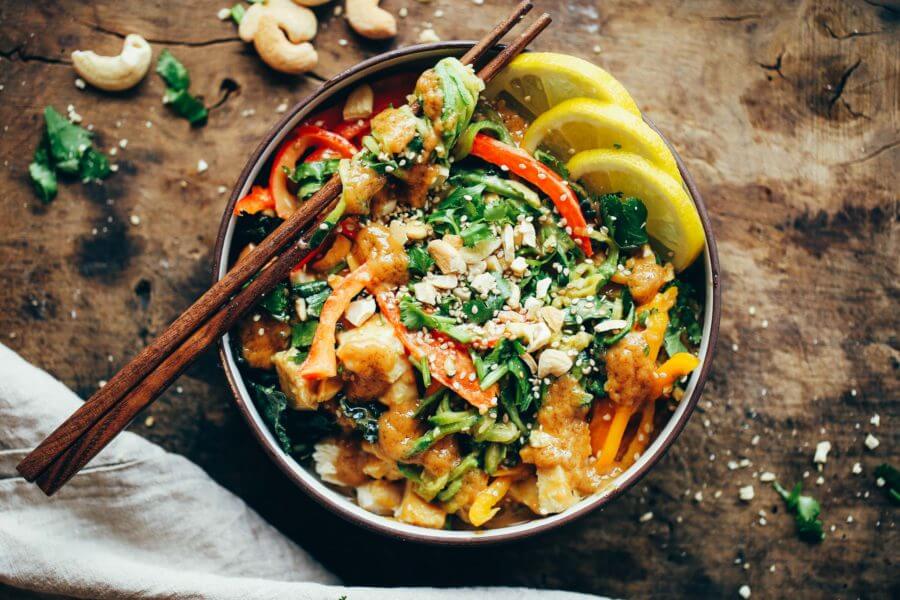 Meet your lunch plans. 🙂 Healthy whole30 Thai noodle salad with chicken, "peanut" sauce, and kale. An easy family friendly meal, serve hot or cold!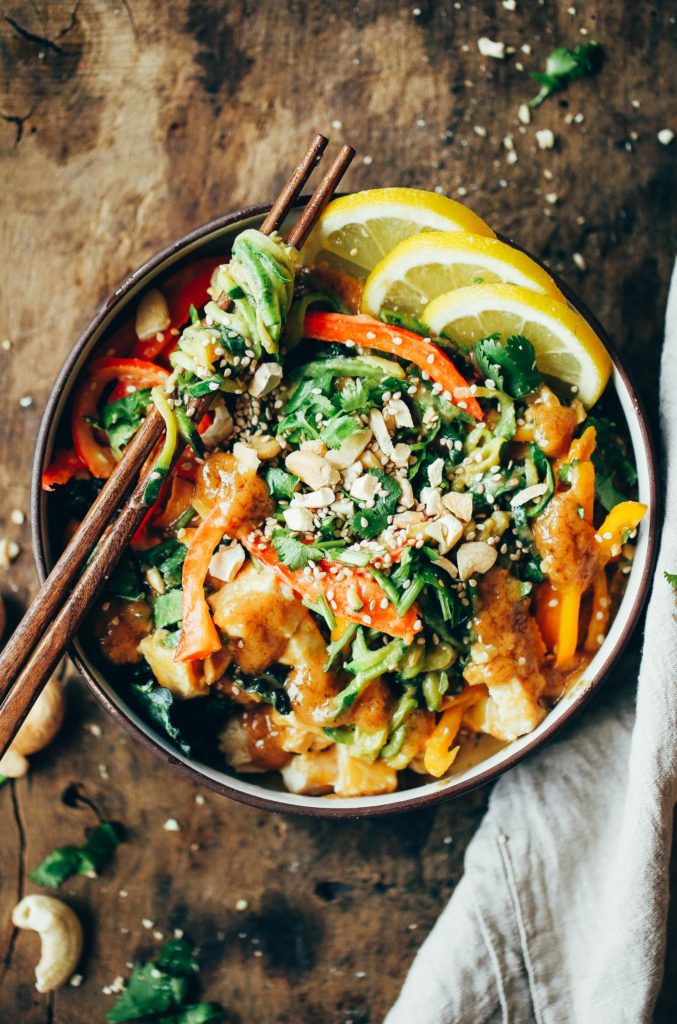 This salad.
You guys.
SO good!
And refreshing.
And addicting.
Is anyone else ready to rock the boat with some rad salad recipes this month?
I was ultra pleased with the result of these refreshing flavors popping in my mouth, YUM!
Also, it's a super kid friendly recipe- all the boys in my family were scrambling for the last serving.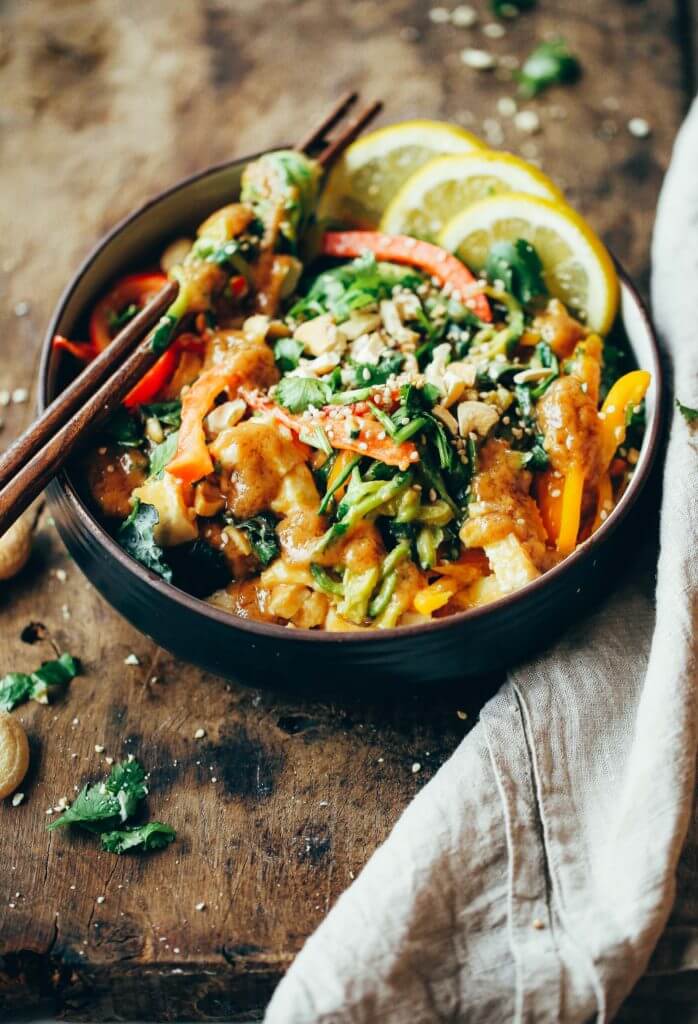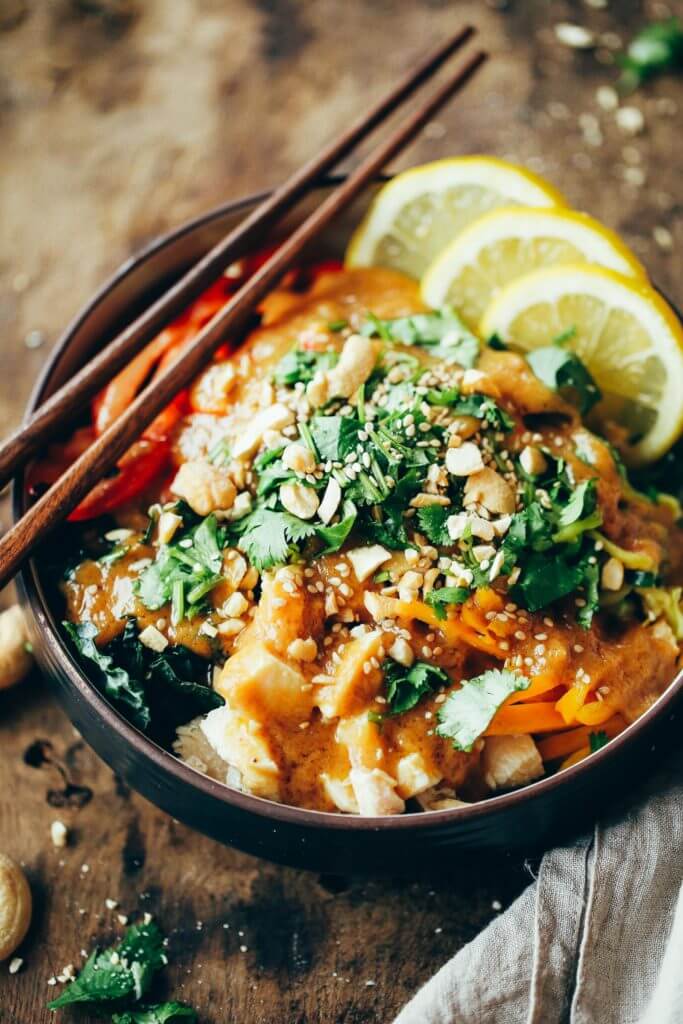 And this sauce!
Oh my word, so yummy and full of flavor!
I love salads, but usually all I top them with is my standard balsamic or poppyseed dressing.
Hey, I'm not saying that isn't delicious…
But come on.
How delicious and refreshing is a gorgeous rainbow colored salad tossed with this creamy and zesty thai peanut sauce!!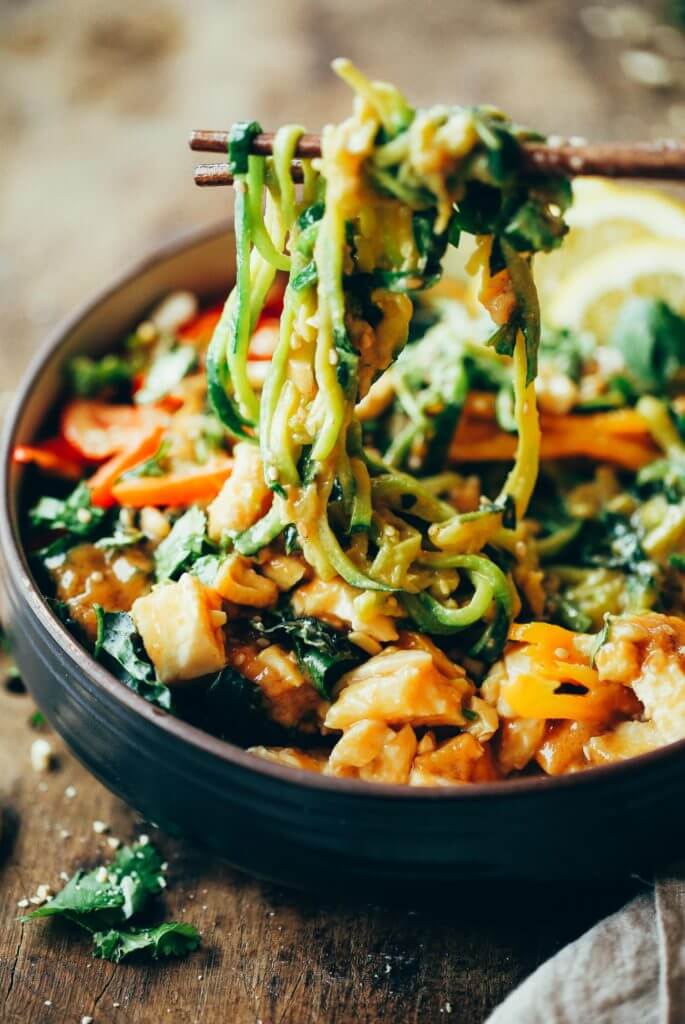 I served this for lunch yesterday, surprising myself how I got everyone at the table to eat kale (they claim to hate it, sooo…)!
Mid-bite, my younger brother lifted his shirt and said, "Look! I'm growing abs as we speak!… Because of all that kale!".
Oh my gosh, he never ceases to make me laugh!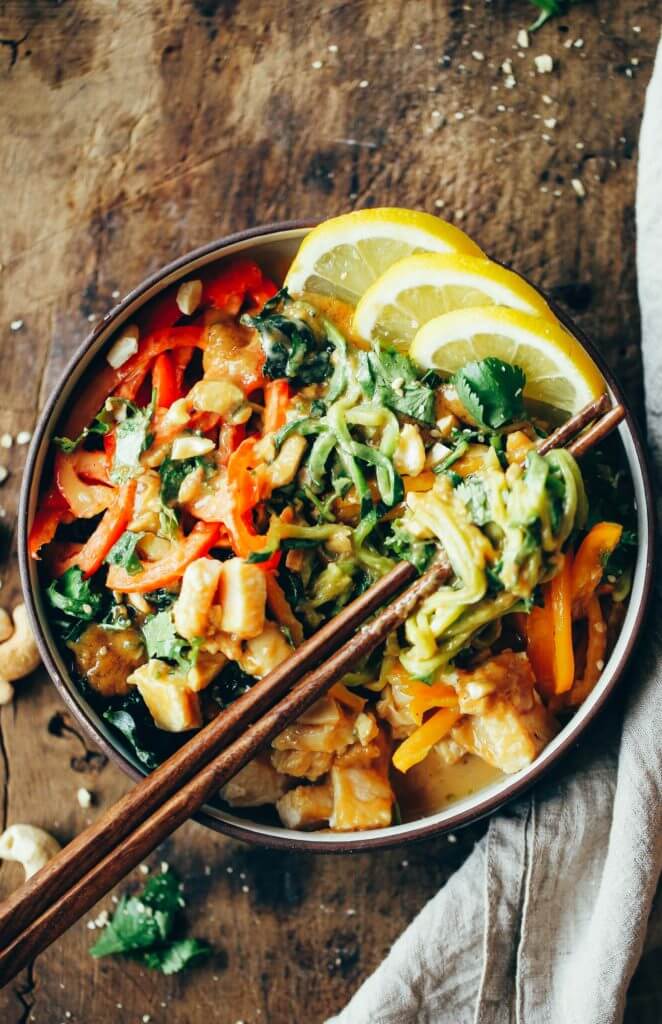 thai is far from boring!
I don't like that people think diets have to be bland and boring!
I've never thought of it that way, and always feel like there's an abundance of new flavors and opportunities to make yummy things- even if you're following a guideline.
For me, these healthy thai noodles are an excellent option for a whole30/paleo lunch or dinner!
You can make this dish with either rice noodles or zucchini noodles for both gluten-free and whole30 opportunities. 🙂
I want to dive face first into this bowl of red peppers, orange peppers, yellow peppers (okay, you get the idea), kale, garlic, roasted cashews, yeah…
Find me with a bowl of these noodles on my porch.
Enjoy!
In a blender (or food processor) puree all ingredients for the sauce until creamy and smooth.

Place the zucchini noodles on a baking tray and cook in a convection toaster (or oven) on 450F for about 10-15 minutes until soft. Then set aside. *You can also cook them in a skillet on the stovetop or steam them, but I have found that convection baking the noodles turns out perfect results every time and eliminates excess water! Be sure to drain excess water from the noodles after cooking!

In a large bowl add the chopped ingredients, chicken, noodles, and sauce. Toss together and top with cashews, sesame seeds, more cilantro, etc...
Nutrition Facts

Whole30 Thai Chicken Noodles

Amount Per Serving

Calories 542

Calories from Fat 288

% Daily Value*

Total Fat 32g 49%

Cholesterol 56mg 19%

Sodium 659mg 27%

Potassium 350mg 10%

Total Carbohydrates 30g 10%

Protein 32g 64%

* Percent Daily Values are based on a 2000 calorie diet.