---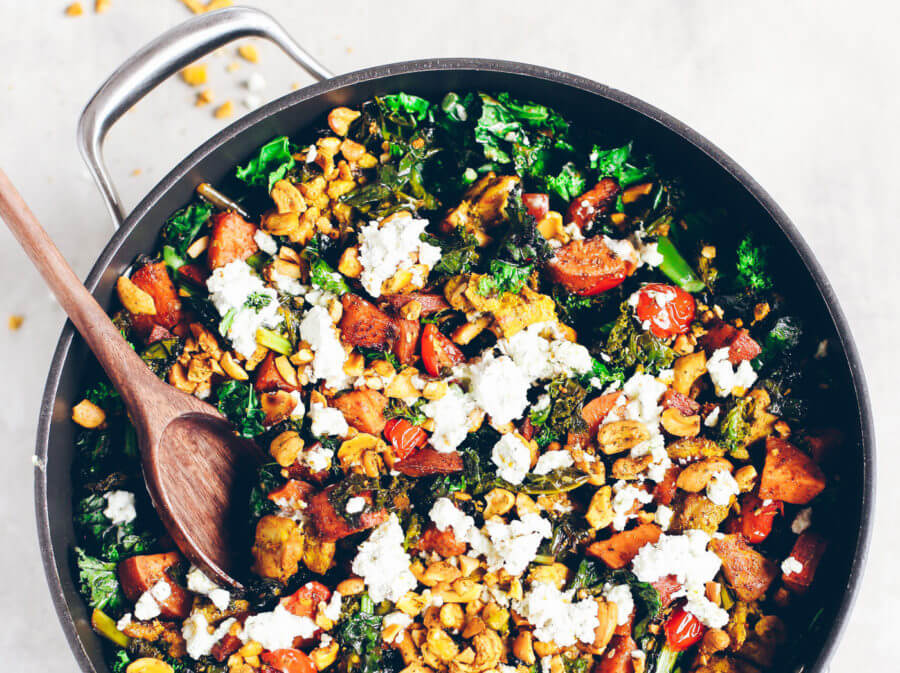 Quick whole30 and paleo kale chicken curry! Healthy, easy, and family friendly. A fusion of greek and curry goodness. Dig in!

Print Recipe Curry Fusion Kale Chicken Saute Quick whole30 and paleo kale chicken curry! Healthy, easy, and family friendly. A fusion of greek and curry goodness. Dig in! Naturally gluten free, dairy free, and paleo! Ingredients Kale Saute Main Dish Votes: 2
Rating: 5
You: Rate this recipe! Info Cook Time 15 minutes Prep Time 10 minutes Servings servings MetricUS Imperial Course Main Dish Votes: 2
Rating: 5
You: Rate this recipe! Ingredients Kale Saute
In a large fry pan (or wok) toss together the ingredients for the sweet potatoes. Cook in the fry pan over medium heat until the sweet potatoes are crispy. Stir them on occasion, so they don't burn! Once they are cooked, remove them from the pan and set aside.
For the chicken, use kitchen scissors and cut the thighs into bite size chunks. Toss the chicken together with spices and olive oil. Saute the chicken in the fry pan over medium heat for about 8-10 minutes until cooked (stirring on occasion). Once the chicken is cooked, remove from the pan and set aside for later.
Toss the kale and coconut oil in the fry pan and saute for 5-8 minutes until soft then drizzle with greek dressing (I used Primal Kitchen brand). Add in the chicken, sweet potatoes, chopped tomatoes and toss together. Top off with tzatiki and thai chili cashews.
Nutrition Facts Curry Fusion Kale Chicken Saute Amount Per Serving Calories 649 Calories from Fat 288 % Daily Value* Total Fat 32g 49% Saturated Fat 8g 40% Polyunsaturated Fat 1g Monounsaturated Fat 5g Cholesterol 94mg 31% Sodium 1277mg 53% Potassium 816mg 23% Total Carbohydrates 50g 17% Dietary Fiber 16g 64% Sugars 13g Protein 39g 78% Vitamin A 732% Vitamin C 373% Calcium 59% Iron 36% * Percent Daily Values are based on a 2000 calorie diet.
Read more