---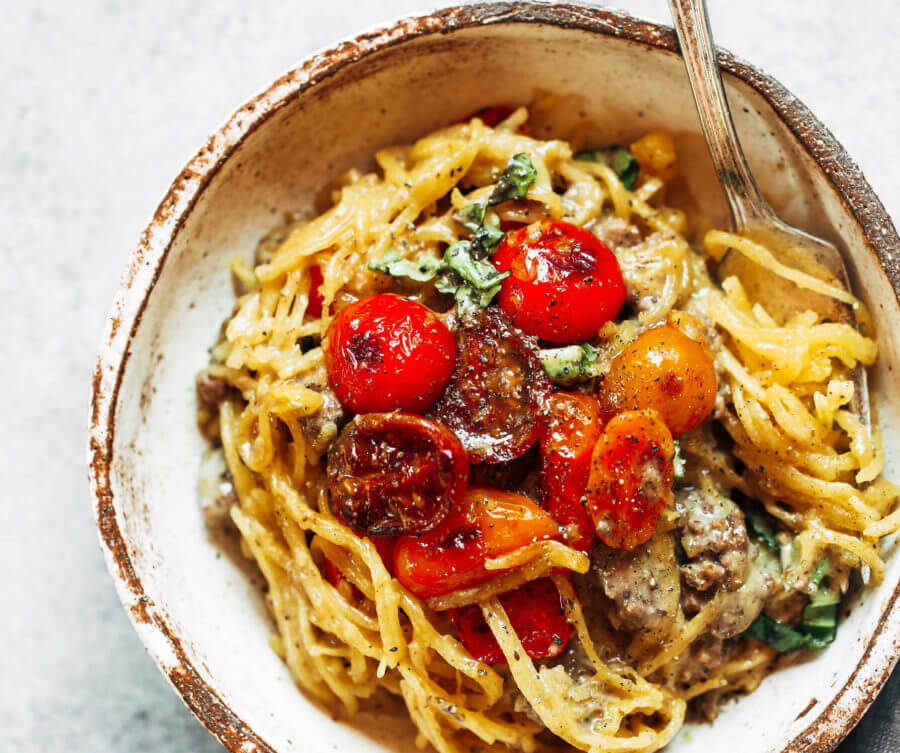 Easy family dinner idea- whole30 spaghetti noodles with ground beef and cream sauce. A healthy paleo meal that is warm, comforting, and easy to make! Whole30 dinner done right. 

Print Recipe Whole30 Spaghetti Noodles With Beef And Tomatoes Easy family dinner idea- whole30 spaghetti noodles with ground beef and cream sauce. A healthy paleo meal that is warm, comforting, and easy to make! Whole30 dinner done right.  Ingredients Noodles Main Dish Votes: 8
Rating: 4.5
You: Rate this recipe! Recipe Notes

How to cook spaghetti squash: cut squash in half lengthwise and lay face down on a baking tray with 1/2" water. Bake on 350F for 40 minutes (longer for softer noodles). Once cooked, use a large fork and scrape meat out for "noodles".

Info Cook Time 10 minutes Prep Time 10 minutes Servings servings MetricUS Imperial Course Main Dish Votes: 8
Rating: 4.5
You: Rate this recipe! Recipe Notes

How to cook spaghetti squash: cut squash in half lengthwise and lay face down on a baking tray with 1/2" water. Bake on 350F for 40 minutes (longer for softer noodles). Once cooked, use a large fork and scrape meat out for "noodles".

Ingredients Noodles
Prepare spaghetti squash if you have not done so yet- see notes on how to cook.
In a sauce pan over medium heat blend ingredients for sauce together until smooth and simmer until sauce thickens, then remove from heat (otherwise it will start to thin out again or become too thick). I use a hand blender to stir sauce- you can also whisk it by hand. Stir/blend continuously to prevent clumps.
Brown ground hamburger in a skillet over medium heat then remove from heat and stir into sauce.
Slice tomatoes in half and brown in a skillet over medium heat with a dash of olive oil for about 1 minute until golden, then remove from heat and serve with spaghetti squash and sauce.
Nutrition Facts Whole30 Spaghetti Noodles With Beef And Tomatoes Amount Per Serving Calories 340 Calories from Fat 180 % Daily Value* Total Fat 20g 31% Saturated Fat 10g 50% Polyunsaturated Fat 1g Monounsaturated Fat 2g Cholesterol 59mg 20% Sodium 678mg 28% Potassium 258mg 7% Total Carbohydrates 23g 8% Dietary Fiber 5g 20% Sugars 6g Protein 18g 36% Vitamin A 16% Vitamin C 16% Calcium 6% Iron 20% * Percent Daily Values are based on a 2000 calorie diet.
Read more