---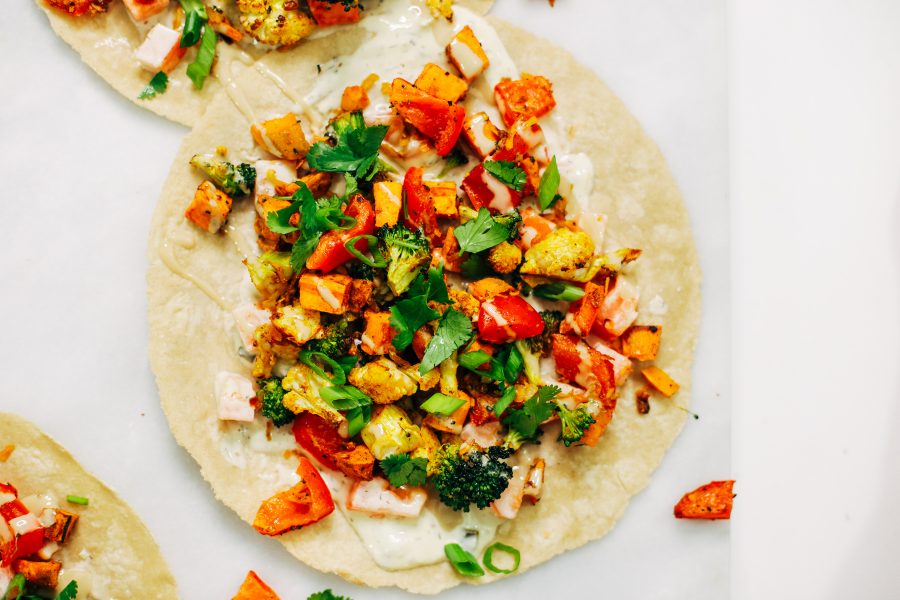 Easy roasted vegetable curry wraps with fresh herbs and loaded with flavor! Get ready for a refreshing and filling plant-based meal. I love making this recipe for meal prep- it's so satisfying and nourishing and easy for on-the-go.

Print Recipe Curry Roasted Vegetable Wraps Easy roasted vegetable curry wraps with fresh herbs and loaded with flavor! Get ready for a refreshing and filling plant-based meal. I love making this recipe for meal prep- it's so satisfying and nourishing and easy for on-the-go. Ingredients Roasted Vegetables Main Dish Votes: 2
Rating: 5
You: Rate this recipe! Info Cook Time 20-25 minutes Prep Time 10 minutes Servings servings MetricUS Imperial Course Main Dish Votes: 2
Rating: 5
You: Rate this recipe! Ingredients Roasted Vegetables
Preheat oven to 425F. Line a baking pan with parchment paper.
Add diced sweet potato, cauliflower, broccoli, and pepper to the baking tray and toss with avocado oil and spices. Bake on 425F for about 20-25 minutes until golden.
Assemble wraps by spreading a thin layer of mashed avocado, dairy-free tzatziki sauce, or yogurt over your Bfree tortilla. Add roasted vegetables, diced tomato, chopped cilantro, green onions, and finish off with a drizzle of tahini.
Nutrition Facts Curry Roasted Vegetable Wraps Amount Per Serving Calories 311 Calories from Fat 108 % Daily Value* Total Fat 12g 18% Saturated Fat 2g 10% Polyunsaturated Fat 1g Monounsaturated Fat 7g Cholesterol 1mg 0% Sodium 281mg 12% Potassium 213mg 6% Total Carbohydrates 41g 14% Dietary Fiber 12g 48% Sugars 13g Protein 10g 20% Vitamin A 184% Vitamin C 305% Calcium 20% Iron 16% * Percent Daily Values are based on a 2000 calorie diet.
Read more