Perfect Whole30 Blender Cauliflower Falafel Tahini Bowl
---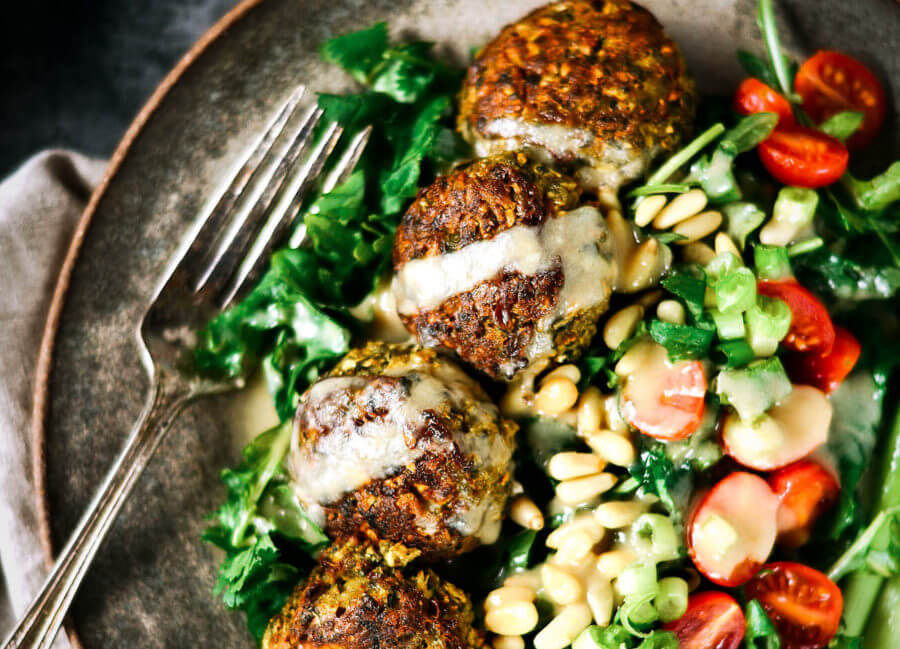 These warm flavorful falafels are better than the real deal, because they are packed with cauliflower and fresh herbs! A low carb delicious whole30 meal that is easily made in a blender.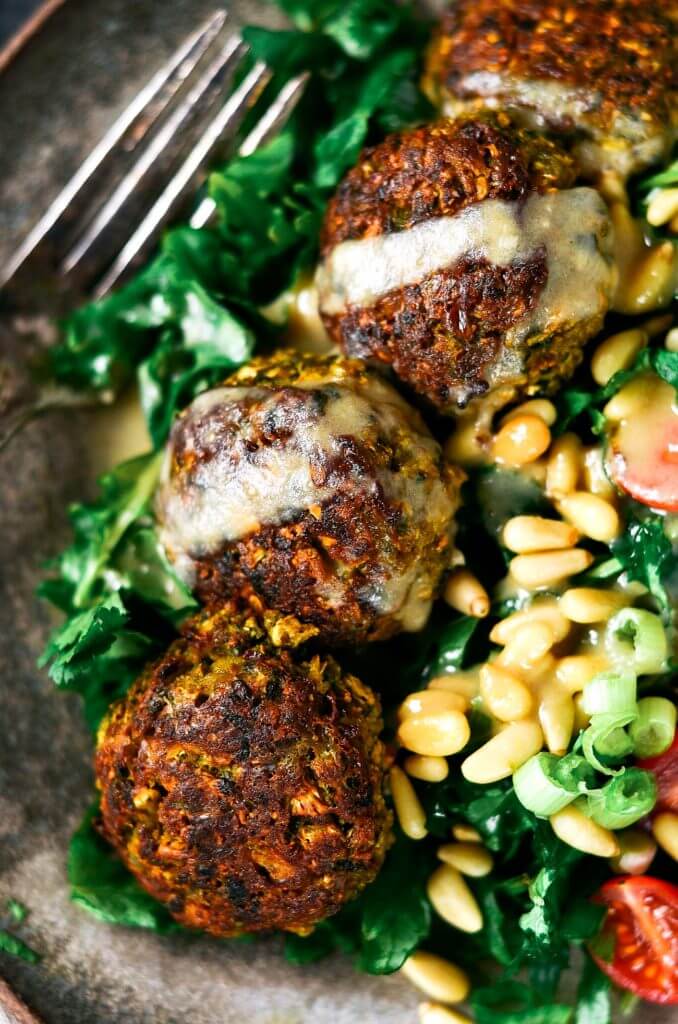 Take me back to my health food store days, falafel!!!! (when I actually lived close to the store; thank you amazon, where would I be without you?!). These warm scrumptious balls of herbs and earthy flavor are pretty much heaven.
When I was a kid, my treat from Mom would be a warm falafel from the health food store. It came wrapped up in natural brown parchment paper. And each bite was like a teleport machine, where I was instantly whisked away to a European town, standing on a cobblestone bridge, clicking my leather boots together, and happily munching on my epic falafel. Don't ask me why I correlate falafel with world travel.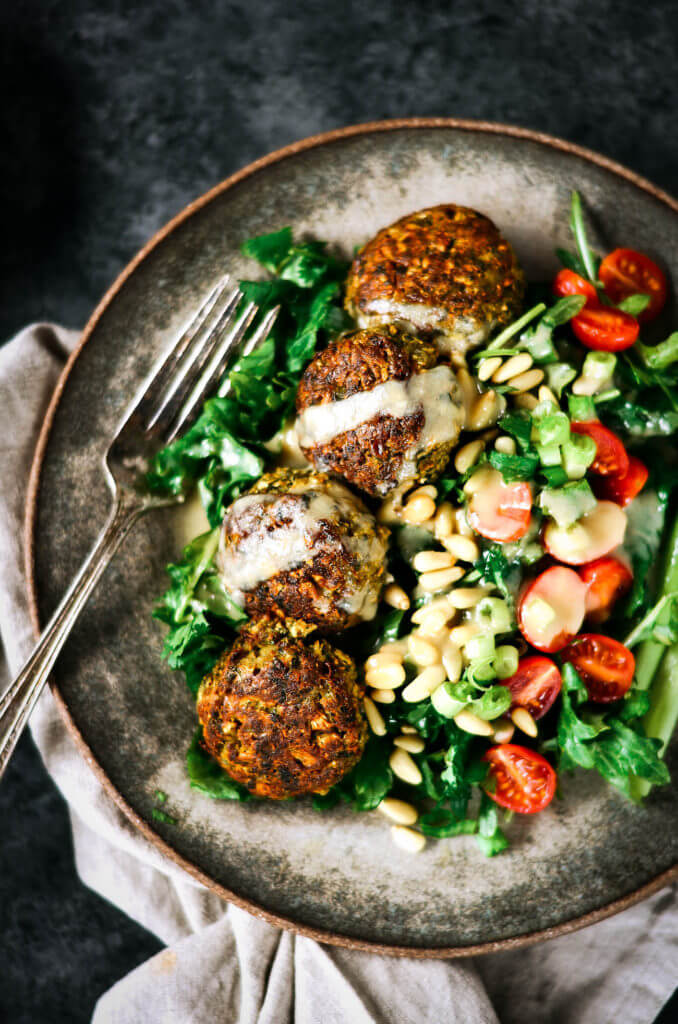 falafel obsession. Nothing has changed.
Things haven't changed much since then. I am still carried away with each bite of falafel. Maybe it's the rich flavors that burst in your mouth, making each bite as exciting as the first. Maybe it's the cute little round shape they come in that lends to it being such a whimsical experience. All I DO KNOW is that I could eat these all. day. long. And on this rainy day in the Cascades- I think I'll do just that!
Don't you just love mixing up things with cumin, turmeric, and cilantro! All those happy colors and vibrant feels makes my heart so happy! Go ahead, try it; resist not being happy when you make these paleo falafels.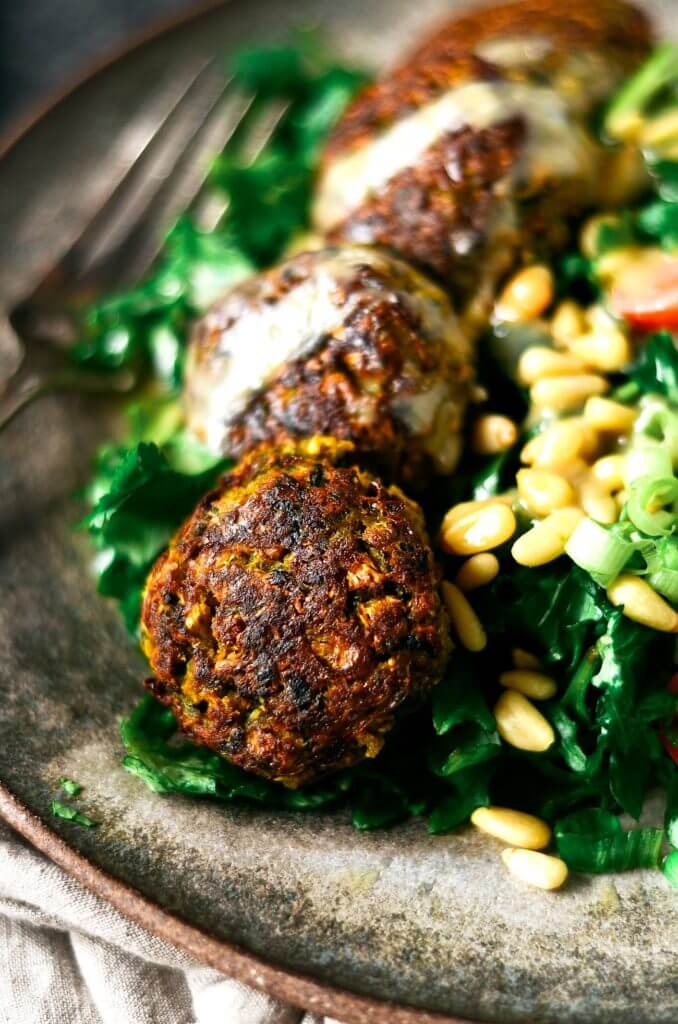 Who else is jumping for joy that these falafels are PALEO!!!! And Whole30!!! What?! So super stoked!! All that yumminess packaged up in a beautiful crisp little offering has to be one of the best things ever… But my absolute favorite part about falafels is their distinct aroma. I could catch it a mile away (and come running!). This bowl of healthy goodness is incredibly easy to make! Because, I used my food processor to make the entire batch of falafels and tahini dressing.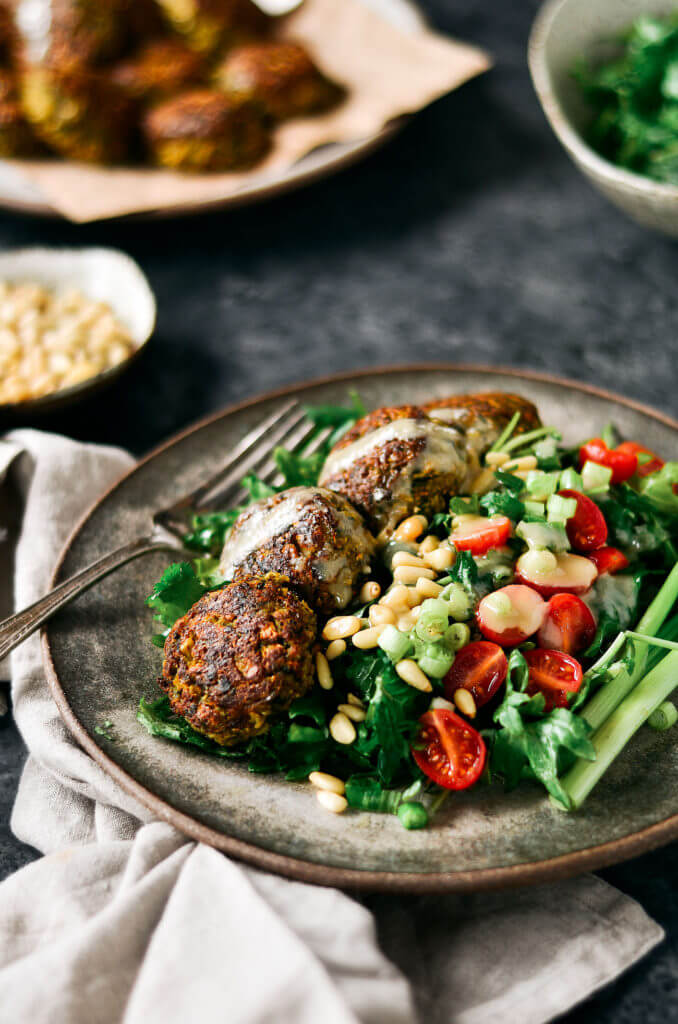 Preheat oven to 400F. Line a baking sheet with parchment paper.

In a food processor blend all the ingredients, except the minced cauliflower and olive oil. Blend until the herbs are minced.

Once the herbs are minced, add in the minced cauliflower and pulse until combined.

Form the falafel dough into 16 1 1/2" round balls. Use a pastry brush and brush each falafel with olive oil.

Cook for 20 minutes on 400F then rotate the falafels and cook for another 20 minutes.
Combine all the ingredients for the tahini dressing in a blender or food processor and blend until smooth.
Plate the greens then top with falafel and tahini dressing.
Nutrition Facts

Perfect Whole30 Blender Cauliflower Falafel Tahini Bowl

Amount Per Serving

Calories 216

Calories from Fat 180

% Daily Value*

Total Fat 20g 31%

Cholesterol 12mg 4%

Sodium 169mg 7%

Potassium 105mg 3%

Total Carbohydrates 8g 3%

Protein 4g 8%

* Percent Daily Values are based on a 2000 calorie diet.